Opinion
Yom Kippur marks the Jewish holiday of free speech
As legislators in the U.S. aim to withdraw protections from social media platforms, the Jewish Day of Atonement offers a chance to reflect on how to restrain offensive speech, through regulations that ultimately promote free speech
A number of new terms, as well as new usages of old terms, have entered our shared lexicon over the past year: from the phrase infodemic, used to describe the misinformation regarding the nature of the coronavirus (Covid-19) pandemic, to the now seemingly discarded expression 'flattening the curve,' which at least seemed to be the primary goal of the harsh social efforts meant to control the pandemic.

But perhaps one of the most used repurposed words of our period has been Zoom. For most, Zoom Video Communications Inc., the video communication company founded almost a decade ago, seemed to emerge out of nowhere earlier this year. Although only becoming profitable in 2019, the company saw its value surge these past quarters as it overtook its heretofore much more well-known competitors like Microsoft's Skype and Cisco Systems' Webex. As Zoom became a staple of our pandemic vocabulary, we even saw related terms pop-up, like Zoom bombing, or the usage of the company's name as a verb —to Zoom, à la to Google.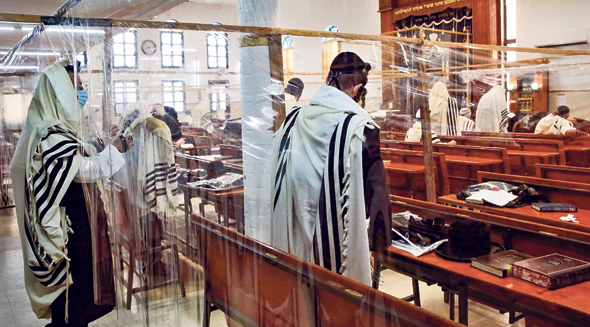 Jewish worshipers praying in an Israeli synagogue separated by nylon Covid-19 barriers during the High Holidays. Photo: AFP

Zoom has not been without its share of problems and missteps, particularly those related to privacy and security, but, overall, the platform has held up under immense pressure, scaling rapidly to provide basic video services for hundreds of millions of users worldwide.

As far back as April, some had warned that Zoom's China-based research and development center, which employs at least 700 people, could result in Chinese pressure to censor interactions using the platform. Even Zoom admitted as much.

Aiming to quell concerns of overt Chinese pressure on other conversations, Zoom noted that it is developing technology to "remove or block at the participant level based on geography," which will enable it "to comply with requests from local authorities when they determine activity on our platform is illegal within their borders."

More recently, Zoom—likely after substantial legal and political pressure—informed San Francisco State University that an event featuring Leila Khaled—a Palestinian woman who took part in the hijacking of a TWA flight headed to Tel Aviv from Rome in 1969 and the attempted hijacking of an Israeli plane flying from Amsterdam to New York in 1970— violated the terms and conditions of the platform. As such, Zoom denied the university the ability to use its platform for that event.

The university attempted to justify the talk as falling under free speech in an opinion column by its president Lynn Mahoney published in regional Jewish newspaper, The Jewish News of Northern California.

Notably, the university did not take a similar stand in 2016 when protestors interrupted an event with former Jerusalem mayor Nir Barkat.

This incident and another similar to it were eventually brought to court by a group of pro-Israel students and former students who only recently agreed to settle with the university.

While Khaled's talk violates Zoom's terms of service and, as it turns out, Facebook and Youtube's terms as well, due to U.S. anti-terrorism laws, among other things, Silicon Valley's censorship, in this case, could quickly become a slippery slope. This entire debacle again raised the seemingly unlimited and unrestricted power internet companies have to either promote or restrict online speech.

Notably, some of these streaming platforms, especially those that simply carry calls and videos, may or may not enjoy the same legal liability protections granted to online social media platforms vis-à-vis censorship under Section 230 of the 1996 U.S. Communications Decency Act, depending on the outcome of a recent class-action case.

Discussed extensively in a previous column, the issues arising from Section 230, remain a hot button topic for both U.S. presidential candidates, who are similarly interested in changing it.

President Donald Trump recently tweeted that Section 230 should be repealed immediately, while his counterpart, Democratic candidate Joe Biden, told the New York Times in January that he also wanted to revoke it.

The U.S. Department of Justice also has concerns regarding Section 230, particularly that it can be used as a shield to "unlawfully censor speech," and "knowingly facilitate criminal activity online."

But it is not only the U.S. executive branch that has a beef with Section 230; the US Senate just unveiled two bills, the Online Content Policy Modernization Act, which aims, among other intellectual property goals, to limit the nature of protections currently afforded to online platforms, and the Online Freedom and Viewpoint Diversity Act, which serves to limit what type of material can be removed from online platforms without liability, namely, only content relating to self-harm and terrorism or other illegal content.

In response to these attacks on a law that arguably allowed the internet to thrive but also to grow increasingly ugly and hateful, some social media platforms, including Facebook, have recently amended their own terms of service to shore up their editorial discretion under the First Amendment and to stave off any liability that might arise from removing content if Section 230 is changed or revoked.

If Rosh Hashana, the Jewish new year, is the holiday of big data, as we established last week, then Yom Kippur, also known as the Day of Atonement, which starts Sunday evening, can be considered the holiday of free speech and, importantly, its critical limits. Many in the Jewish community will spend their Yom Kippur engaged in speech, whether with God, asking for forgiveness, or with their government, through protest.

A central and repeated part of this extended monologue-fest is the Al Chet confessional prayer in which, of the 43 sins confessed, nearly a quarter are related to improper speech.

Judaism has long recognized that speech is immensely valuable but has important limits. This is especially true when said speech can be harmful to ourselves or to third parties. To this end, the halacha, the code of Jewish law, aims to restrict harmful speech, such as gossip and slander, so that society can function.

With the Day of Atonement upon us, we should especially value those efforts to retain our own thoughtful and valuable free speech, by helping to figure out how to optimally restrain offensive and incendiary speech on social media platforms—such as fake news and hate speech—through regulations that ultimately promote free speech, not eviscerate it for political gain.

Dov Greenbaum is a director at the Zvi Meitar Institute for Legal Implications of Emerging Technologies, at Israeli academic institute IDC Herzliya.