Interview
Content streaming model can't hold water, the future is bundles, says Synamedia exec
"At the end of the day everybody wants a bundle. We believe that the ones that will be the winners will be the ones with the infrastructure," says Yael Fainaro, SVP security
There are few sectors that underwent a transformation of the magnitude experienced by the video content sector over recent years, even before the Covid-19 pandemic arrived and shook up virtually every industry.

Aiming to provide solutions for the broadening challenges and helping companies transform their approach to bringing video experiences to audiences is Synamedia, whose long history makes it uniquely equipped to cover content distribution and delivery, video processing, and video security. The company was formed in Israel in 1988 as News Datacom and was acquired in 1992 by News Corporation and renamed News Digital Systems (NDS). In 2012, Cisco Systems Inc. bought NDS and it became the foundation of Cisco's Service Provider Video Software Solutions (SPVSS) business. In May 2018, Permira acquired the SPVSS business from Cisco, with the deal including Cisco's Infinite Video platform, the former Scientific Atlanta video processing portfolio, cloud digital video recording, video processing, video security, and video middleware. Finally, two years ago, the business was launched as Synamedia.

Synamedia, which employs around 2,500 people, 650 of them from its offices in Jerusalem, has over 200 pay TV and media clients, including giants fo the likes of AT&T, beIN, Bharti Airtel, Charter, Comcast, Disney, Foxtel, Rogers, Sky, Tata Sky, Verizon, Vodafone, and YES.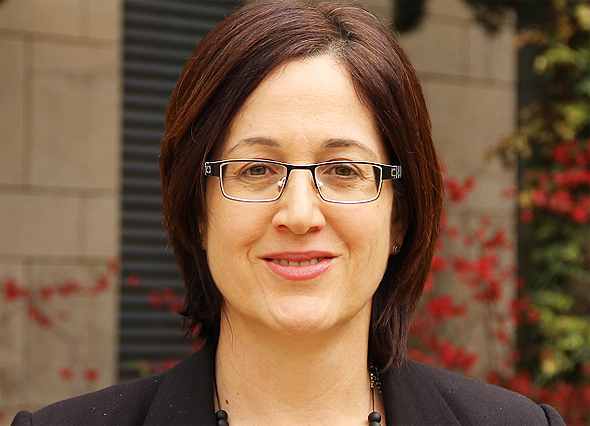 Yael Fainaro, SVP security at Synamedia. Photo: Courtesy

According to Yael Fainaro, SVP security at Synamedia, there is plenty of competition in the sector, but few if any companies that can offer a solution as comprehensive as Synamedia in helping service and content providers to deliver, protect and monetize video content.

"We provide solutions more than products. There is a lot of customization and project work. In a lot of cases we manage the operation of the platform for them. It is a lot more than just selling a product and then supporting that. It is a much more intimate relationship and that is why they tend to be very long term," Fainaro told CTech. "It takes them a long time to implement our solutions and because it is at the core of the business, either how they take the video and stream it to their subscribers or the software that sits in the subscriber's home, they remain with us for a very long time."

Fainaro explained that while Synamedia doesn't have thousands of potential clients like in the enterprise business, every customer is an intense and significant engagement and they also work with the Disney, Discovery and NBAs of the world to help them distribute to service providers or directly to consumers.

"We have the best and most advanced solutions in terms of performance. Secondly, we have the full portfolio. Many of our competitors have a solution or technology in one of the areas but we provide it all and integrate it together," explained Fainaro. "One of the biggest challenges we have in the market we operate in is the integration, to make it work within their environment. And we have that capability. Our solutions come integrated with each other but also we have integration capabilities so we can take third parties systems and make it work for the customer and it is a big plus for them."

Fainaro said the market is still going through a lot of changes and transformation, but that most of them are extremely beneficial to users.

"We are seeing much better content than we saw in the past. Spending on original and local content has increased considerably and that is something we are expecting to continue seeing," she noted. "There are two challenges that will impact this continuous spending that all of us have an interest to see continuing. The first one is that the ability to monetize that content is really challenging these days. In the first phase of this—I would call it the Netflix transformation—the ability to monetize the amount of money that is being invested is a big challenge because the whole business model that I'm creating content and licensing it to pay TV operators who then charge subscription at a premium in order to get the money back for their investment, that model is being challenged, specifically in the Western world. There is pressure on pay TV operators with people saying they won't pay $80 for a package and instead subscribing for multiple streaming services that give them some kind of package. Fragmentation means that customers need to subscribe to 4-5, maybe 6-7 packages, which ends up costing more than a pay TV package. So we are seeing pressure on pricing because the streaming services are under extreme competition and don't have much ability to increase prices. Their ability to increase revenue from subscriptions is very limited and also a lot of them don't do advertising. Additionally, we have piracy skyrocketing and taking a bigger share of those who are cutting the cord on pay TV but aren't subscribing to legitimate streaming services. So we see people subscribing to 2-3 streaming services and the rest they will consume through piracy. The economic model of that huge investment in content, pressure on subscription, limited addition on revenues and increasing piracy makes the whole economical model of the video entertainment industry not work."

Fainaro said the new streaming services don't care about their revenue for the first few years as they just want to increase their market share and presence. "But when you look at the financial model longer term it is just never going to make money. So can they justify spending the kind of money they spend on content when they don't see a return? We don't see this economic model being able to hold water for a long time."

Fainaro added that the fragmentation of the services on the content also have a negative impact on the user experience. "If you want to watch a certain movie now you need to think where can I find it and where is it in the subscriptions I have? this is becoming a very uncomfortable experience for users who just want to sit back and relax and not search for the content in many places."

Fainaro believes that eventually there will be a movement towards bundling. "At the end of the day everybody wants a bundle. The only question is who will create that bundle. Who is best positioned to do that? We believe that the ones that will be the winners will be the ones with the infrastructure, the ones that provide broadband and mobile. The ones that already have a relationship with the subscribers and are a must for consumers. They are the ones that will create a bundle for clients," she said. "We are seeing SKY starting to implement this in the UK and Europe. They take the relationship they have with 20 million households and start adding streaming services and content that isn't theirs but they integrate into their platform.

"There will still be direct to consumer platforms, but in general you will have a bundle you pay for and you will be able to add and drop content as you wish," she added. "You will customize your package and you will go back to a laid back TV experience."

Fainaro noted that the Covid-19 pandemic had a generally positive impact on their sector as people are at home more and need entertainment. It has also presented some challenges, though, including for another major player in the business.

"Piracy became extremely prevalent in the last 5-6 years and we are seeing in Europe 20 million active paying subscribers to illicit pirate sites. And when you take into account that there are 100 million legitimate subscribes in Europe this is a massive number. Obviously, the pirates also got hit by Covid-19. It is fascinating to see similar trends of viewing among legitimate services and pirates. You see the switch from live to VOD because live in many cases was sports. You saw that trend in both, and also the reduction in subscription and advertising revenue. What the pirates did is take advantage of their time at home and really upgraded their infrastructure. Invested in their infrastructure and marketing and in getting more sophisticated. So once sports came back they returned even stronger. And economically people are worse off so they are turning to cheaper alternatives."