Via set to acquire Israeli fleet management company Fleetonomy
It is estimated that Via will integrate Fleetonomy's vehicle and driver management technology, gaining it a foothold in the logistics and delivery sector
Israeli ridesharing company Via Transportation Inc. is set to acquire Tel Aviv-based car fleet management startup Fleetonomy Ltd. a person with knowledge of the deal told Calcalist under the condition of anonymity. The deal is estimated to be worth several tens of millions of dollars. Following the acquisition, Fleetconomy's 15 employees are expected to join Via which was founded in 2012 by Daniel Ramot and Oren Shoval.

Through its app, Via connects a number of passengers traveling in the same direction and allows them to share a ride. Founded in 2012, Via operates transportation services in over 70 locations and more than 20 countries, including in Europe where it is better known as ViaVan, offering various modes of operation in different places, including on-demand shuttles and ridesharing services. Via and ViaVan cooperate with more than 100 public transportation providers, private transit companies, taxi fleets, corporate shuttles, and school and university transport services. In Israel, it is available through the Bubble Dan service in the Tel Aviv area, and last week Jerusalem started operating a Bubble-like service that also uses Via's platform.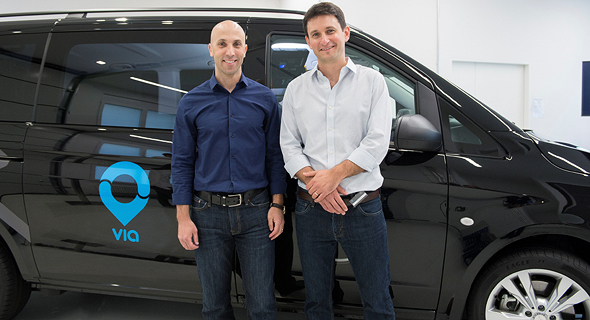 Via co-founders Daniel Ramot (left) and Oren Shoval. Photo: PR

It is estimated that Via will integrate Fleetonomy's vehicle and driver management technology, gaining it a foothold in the logistics and delivery sector. This is Via's first acquisition and it provides it with an opening to some of the world's leading automotive companies as Fleetonomy already collaborates with brands such as Jaguar, Land Rover, and Audi.

Fleetonomy, which develops a cloud-based fleet management service for carmakers, car rental companies, and ride-sharing services was founded in 2016 by Lior Gerenstein and former Check Point Software Technologies Ltd. executive Israel Duanis. So far it has raised $4.5 million.

In 2019, Fleetonomy provided Jaguar-Land Rover with technology to launch and operate its premium electric chauffeur service Havn. The company provided Audi with its platform to help manage its Bits autonomous transportation services in Germany.

In March, Via raised $400 million, half of it from Exor at a valuation of $2.25 billion. Exor holds shares in Ferrari, Fiat Chrysler, and the Juventus Football Club.