Cisco is acquiring Israeli startup Portshift
The acquisition is the second for a Team8 portfolio company following the sale of Sygnia to Temasek in 2018
American tech giant Cisco is acquiring Israeli startup Portshift Software Technologies Ltd. a Team8 portfolio company, the company announced in a blog post on Thursday. The terms of the acquisition were not disclosed.

Founded in 2018 by serial entrepreneur and former head of security infrastructure division at Check Point Technologies, Ran Ilany (CEO), and former VP R&D at CTERA Networks and SofaWare technologies Zohar Kauffman (CTRO), Portshifts is one of Team8's early stage portfolio companies. The company is backed by $5.3 million in Seed funding by Team8.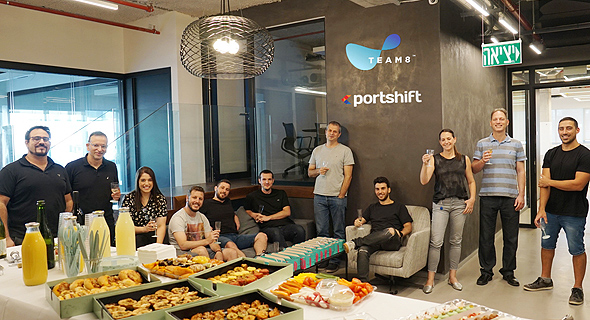 The Portshift team. Photo: Portshift

Portshift is a Kubernetes-native security platform, enabling DevOps, security, and operations teams to continuously secure the entire containerized applications life-cycle. Portshift protects from vulnerabilities across images, containers, Kubernetes, and runtime deployments and provides visibility, configuration management, compliance, encryption, and network segmentation.

"Today the application security space is highly fragmented with many vendors addressing only part of the problem. The Portshift team is building capabilities that span a large portion of the lifecycle of the cloud-native application, from its development, policy enforcement, vulnerability management and through its run-time protection. They bring cloud-native application security capabilities and expertise for containers and service meshes for Kubernetes environments to Cisco, which will allow us to move towards the delivery of security for all phases of the application development​ lifecycle," Liz Centoni, Senior Vice President for Strategy, Emerging Technologies & Incubation at Cisco, wrote in the post.

"Portshift also complements Cisco's approach of providing secure connectivity between users, devices, and apps, wherever they reside; visibility and actionable insights from the end-user to the application; a simplified consumption model that includes cloud-first Secure Access Service Edge (SASE) capabilities; commitment to an open-source and open standards philosophy; and breaking down the siloes between developers, security teams, infrastructure teams, operations and SRE teams. Once the acquisition closes in the first half of Cisco FY'21, the Portshift team will join Cisco's ET&I (Emerging Technologies & Incubation) group," Centoni added.

Yuval Shachar, Team8 Group Managing Partner and a board member of Portshift said: "Cisco is among Team8's first investors and an important partner in our community that is helping to shape the companies we build. We're happy to continue this collaboration ."

Portshift is the second Team8-incubated company being acquired following the acquisition of Sygnia by Temasek for $250 million at the end of 2018. Industry sources told Calcalist that Cisco was not the only company competing to acquire Portshift.