Game Changers: The evolution of Israel's video game industry
Is the local gaming ecosystem ready to make the leap from casual mobile games to Triple-A titles?
For the last few weeks, a shiny new recruiting campaign video for Israeli gaming company Playtika has been running on a loop on the giant screen on Azrieli Towers in Tel Aviv. Smaller ads have been put up on bus stations around the city. It is an odd time to be running a public employee recruiting campaign, while the daily news reports record unemployment numbers and everyone is waiting for the shockwaves of the second lockdown to hit. Playtika is not content to present business as usual. It is expanding and it wants everyone to know about it. People are barely coping with their present and Playtika is already living in the future. It is not just a "come and work for us" campaign, it is a show of force, projecting stability, coolheadedness, and a business vision.

But it is not only a testament to Playtika's durability, it goes further than that. Over the last seven months, there has been an unprecedented cultural, perceptual, and financial shift in the way the world treats the gaming sector. The giant industry has gone completely mainstream. Gaming is no longer for gamers alone, it has become a leisure and cultural activity that has reached over half the world. But it was only this year that gaming has, by virtue of global lockdowns amid the spread of Covid-19, become "recession-proof," as Forbes asserted in June.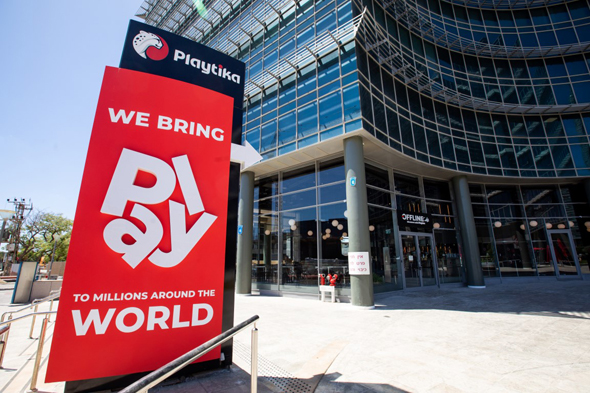 An advertisement for Playtika. Photo Efi Sameich

The change in terms of the amount of talent and level of exposure that the gaming industry has received in recent years is nothing short of astounding, said Sagi Schliesser, the CEO of Crazy Labs, one of the world leaders of the Hyper-Casual gaming market (small mobile games that make money off of advertisements). "At the end of the day, we are living in a country that relies extensively on people who left successful companies to launch or take part in the next generation of enterprises. We saw it happening before in the cybersecurity market. It used to be that a job applicant came in having studied computer science, business management, psychology, or even game development, and said 'trust me, I'm a gamer.' and I had no choice but to put my faith in them. Nowadays, there are people out there with five or six years of experience in the industry. That's a real game-changer," he said.

The Israeli gaming ecosystem is made up of roughly 8,000 people in 360 companies according to Nir Miretzky, the former CEO of GameIS—the Digital Games Industry Association in Israel— which compiled the figures, and is currently a member of Crazy Labs' team and a lecturer on game development at the Shenkar College. Relatively speaking, it means that the industry is still very small since according to figures provided by the Israel Innovation Authority, the entire tech sector employs about 320,000 people.

Alongside companies that develop and distribute games, the ecosystem includes companies that provide things like advertising networks, apps that piggyback off existing games providing assistance to players, tools for digital advertising campaigns, hardware upgrade services, and many more. According to GameIS, the local industry saw $1.5 billion in revenue in 2017, which grew to $1.8 billion in 2018 and $2.5 billion in 2019. It is estimating that the revenues for 2020 will grow to an astounding $3.5 billion.

"It is a very healthy and organic growth chart. You can't rush these processes. If you were building lego houses, your next project can't be a hotel," said Guy Bendov, the current CEO of GameIS. "And that's totally fine. Each country has its own DNA and there is no country that is great at everything. Bendov, like Schliesser and others who were interviewed, often repeats the word 'ecosystem' when referring to the local industry. It serves to address all the companies active in the sphere, who shape the industry as a whole. When employees cross the lines and split into new companies or ventures, they transfer knowledge, work procedures, tools, business practices, and management methods that seep into the entire sphere.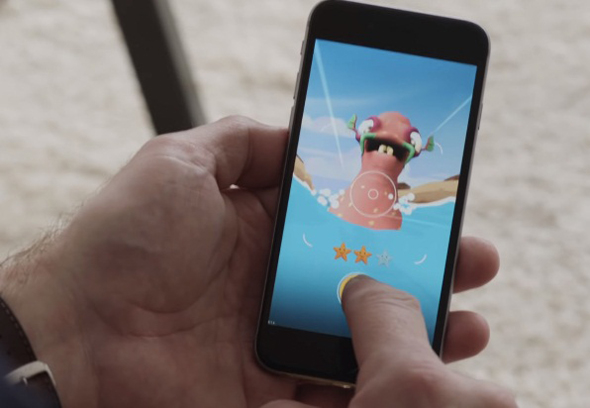 A person playing on his phone.

In order to get to the inner workings of the industry, some definitions are required. In the gaming world, it is customary to talk about, not only genres of games (action, strategy, role playing etc…) but also types of games, which can be addressed according to several parameters, including budget, tech quality, consumer price, and player commitment. Similarly to the debate around "Hollywood films" vs. "Independent cinema," the lines here are blurred, but it is still possible to draw some distinctions. There are the Triple-A titles, the big games designed for Playstation, XBox and personal computers. Developing such games can take years and their budgets are measured in the millions. As a result, they end up costing the consumer a pretty substantial amount, usually around $60, not including expansion packs that can be added on. In return the games provide — or demand, depending on how you look at it — between 20 and 100 hours of playing time. Such titles include series such as Grand Theft Auto or Call of Duty.

On the other end of the spectrum are the Casual or Hyper-Casual games — minigames, usually designed for smartphones that can be played for several minutes at a time. They are nearly always free to play and their business model is built around in-game ads, as players of Candy Crush are all too familiar with. The rest all fall somewhere in between: independent games, experimental or artistic games, and classic genre games made at a budget and with readily available resources. These all fall under the umbrella definition of "Indy." Games whose business model is the same as Casual games, but whose production value is higher are called "Midcore"-- Not Hardcore and not Casual. And, of course, there are an array of surprising hybrids, with the runaway hit Fortnite being an example of a free to play game, with a business model based on a digital shop where you can purchase various virtual nick-nacks, just like in a Casual game, but with production value and development costs that don't fall in any way from those of Triple-A titles.

"There is some frustration among Israeli companies by the attitude of purists towards gaming companies who are simply in it to make money," Ofir Katz, the head of the game development and design school at the Tiltan college in Haifa. Katz is also the head of Cloverbrite, a commercial studio that was developed by the college and exclusively employs its graduates. Cloverbrite is currently developing its first big game, titled Grime, which was showcased in a gaming expo two months ago and garnered great reviews ahead of its anticipated launch in the middle of next year, on consoles and PCs — a rare move for the Israeli market which mainly produces Casual games. "A major part of the frustration is due to the fact that Indy productions often rely on the Casual gaming companies. They provide a better launchpad for others games to grow even if the games they are currently putting out don't necessarily match the preferences of dedicated gamers," Katz said.

For most of its history the Israeli gaming industry existed in what could be called a gaming "grey zone." In its earliest days it was online gambling and more recently it has transitioned predominantly to social casino games— virtual casinos that enable gambling without actual betting. It is based on classic card games and games of chance in which players "bet" on virtual coins that cannot be converted or withdrawn, though players can purchase more virtual coins that will allow them to keep playing, for real money. The loss/gain potential in these sorts of games is small, but their addictive nature is similar, and they are treated accordingly.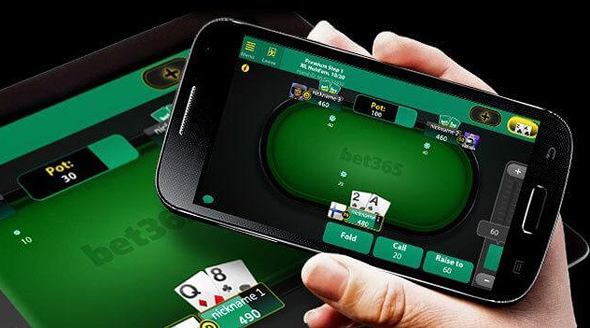 An online poker app

Why are those the types of games that dominate the industry? Ohad Barzilai, one of the pioneers of the local industry and a former CEO of GameIS, says the nimble, informal and fast-money-loving nature of the foreign gambling companies found a perfect match in the equally fast-paced entrepreneurial spirit of Israelis.

A more prosaic explanation is that lacking the initial funding, and traditional access to capital that their overseas counterparts enjoyed, the only sustainable model available to Israeli game makers was to quickly develop a game and have it immediately start producing revenues, through ads or in-game purchases. This corralled them into opting for the quick-fix solution of casual gaming rather than the longer, riskier and more labor intensive route of developing more substantial games with a world, characters and plot and then hoping that it becomes a hit and offers a return on the investment.

Though these games are not going anywhere and they still sustain a majority of the local game developing industry, there is a sense that we have reached a point of saturation that prevents new companies from entering the field. Just as it would be unwise to open a new casino on the Las Vegas Strip, so it is with entering the crowded social casino scene, where marketing and new user recruiting expenses are climbing.

Most people in the industry agree that we won't be seeing companies changing their core model and allowing their keen developers to pursue their dreams anytime soon.

"Naturally, a successful company will keep doing what it does, but on the other hand, you have to rejuvenate," said Bendov. "Crazy Labs began as a children's game developer, but today, it's core business is Hyper-Casual games. I can tell you that in every large and successful company there is a team, or several teams, working on projects that are outside the core business. That said, when the process involves not only the product, but also the marketing, finance and business development sides of the business—who are geared towards continuing with what works— you will naturally be drawn to focus on that. People can ask their bosses for a certain degree of autonomy, to develop in-house, or externally, and use their knowledge, passion and money they can raise based on their experience to develop the things they dream of. It doesn't occur often, but it does happen more than it used to. If I am a veteran of Playtika or Plarium and decide to build a console game, fewer people will tell me that I'm chasing a pipe dream."

So, what do we need in order to develop bigger games?

"At the end of the day, just like in the mobile gaming sector, what's needed is success stories. Successes drive new starts and additional successes, which in turn are built on many failures. One game that is not being talked about enough is Plarium's Raid: Shadow Legends — it was designed for both mobile and desktop, is completely free to play and features amazing 3-dimensional graphics and a brilliantly managed economy. It is played by streamers and a real Israeli success story."

One Israeli company does have a unique relationship with Triple-A games. Tel Aviv-based Overwolf doesn't develop games itself, but instead has developed a platform that links to existing major titles, mostly multiplayer strategy games. They design a wide range of add-ons that help players improve their performance, be exposed to additional data and broadcast themselves playing. The apps are developed by both professionals and amateurs. The apps are free, but their developers earn money using ads or other support models such as Patreon pledges.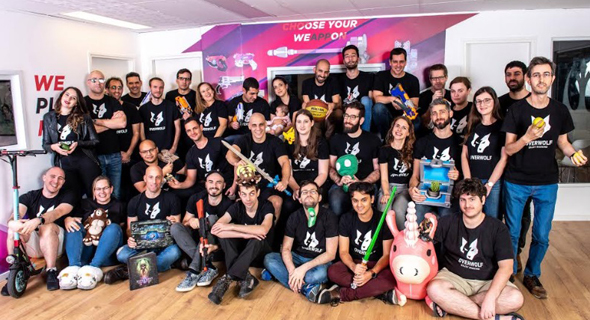 Overwolf's team. Photo Yisrael Hadari

"I anticipate that we will gradually see more and more content from outside our familiar social casino and Hyper-Casual spheres because those that are doing it are finding success," said Overwolf co-founder and CEO Uri Marchand. "The people who sit in the management meetings of the local companies are gamers. They may produce Hyper-Casual games, but that's not what they play themselves, or if they do it's only for market research purposes."

Marchand referenced a Polish gaming company called CD Projekt Red, which transitioned from translating other games from English to Polish to developing their own games. The company's soon to be launched Cyberpunk 2077 has been under development for a decade and is one of the most anticipated games of the year. "If it succeeded in Poland, far from the Los Angeles ecosystem, it will one day succeed here too," Marchand said.

Why Los Angeles?

"The U.S. game industry is concentrated around L.A., and the reason is the proximity to Silicon Valley, but also to Hollywood. There is a type of investor that is accustomed to investing $2 million for a movie that will make $300 million in ticket sales — those are the orders of magnitude that they're used to thinking about. When game budgets began to meet those of Hollywood productions, these investors had the deep pockets and patience to invest in games too. This will also be the main thing to advance the Israeli industry: if its big winners start investing in ambitious games, even those they don't necessarily develop themselves. Sometimes a spark is all it takes to make this fire spread."

Is the size of games even an important parameter? Many game developers dream of designing Triple-A titles, just like film students fantasize about making it in Hollywood. None of the people we interviewed could provide a clear vision for the local industry, but one thing all agreed on was that the dream of Triple-A games is distant and may not even be possible, but there is room here for more than just Casual and Hyper-Casual games. "I think Indy game development is like the modern version of starting a rock band," said Bendov. "In the 1970s people would say 'let's start a band,' today they say 'let's start an independent gaming studio.'"

Computer games are a cultural product as much as they are a technological product. When an Israeli startup is sold to a foreign company, it sparks pride in Israeli entrepreneurship, the Startup Nation and all the familiar cliches. When it comes to companies like Waze or Mobileye, they tend to be purely technological products. Computer games are more complicated, more reminiscent of the way Israeli films are celebrated. The culture sections of the news didn't report on how much money "Waltz with Bashir" made, but closely covered its road to the Best Foreign Film Oscars. The same goes for Fauda and its sale to Netflix - the media cared about the critical acclaim and not the financial aspects.

"To say that 'when the industry matures we will produce more hardcore games' is not interesting," said Katz. "What is interesting is seeing what the Israeli DNA will create in the industry's next generation. There are a lot of gamers who enter the industry imagining that they will develop the types of games they grew up on. But that is not necessarily where we'll end up. I'm interested in seeing what happens after the dust settles from the first breakout by the companies who made fortunes in recent years, who rely on the money, the experience and the knowledge that has been compiled here and start doing other things. This is particularly relevant nowadays, when content creators seep into the industry and not only tech, design and marketing people. It won't be the cash machines we know today, but it also won't necessarily be a copy of the leading global companies."

It is also true that making these types of games wasn't always the dream or vision that developers entered the industry with— at least not until they saw how much money it could bring in. Just ask Ohad Barzilai, who headed Mytopia, which developed gambling games and later was also a VP at Ilyon Games, a Casual game producer that was sold to a company owned by Chinese giant Tencent earlier this year for $100 million. He says that in order to placate his programmers back in those early days, he had to promise them that the day would come when they could develop a "Star Wars" game of their own, a big shiny console game of the kind they dreamed about as players. Mytopia won't be making such a game. Ilyon probably won't either and it's doubtful any of Barzilai's programmers from back in the day have had a chance to work on such projects. But game developers who gained professional tools in the first wave of Israeli gaming companies, alongside frustrations, will go on to form companies of their own that will perhaps develop games that are more similar to those they dreamed of making. The third wave, which we're experiencing now, will see another leap in volume, ambition and achievements.

How do we get there? It's tempting to say that 'with patience,' but perhaps it will actually be the impatient nature of these people who got the cogs of the industry moving and will continue marching it onwards.