Israel's ElectReon inks deal with transport infrastructure giant Eurovia to install wireless electric road systems in Europe
ElectReon has developed a technology that enables electric vehicle batteries to be charged while the car is in full motion using copper coils placed under the middle lane of the road
Israeli company ElectReon has signed a deal with transport infrastructure company Eurovia, a subsidiary of the VINCI Group, one of the world's largest construction companies, to collaborate on the installation of wireless electric road systems in Germany, France and Belgium. ElectReon has developed a technology that enables electric vehicle batteries to be charged while the car is in full motion using copper coils placed under the middle lane of the road.

As part of the collaboration, Eurovia will integrate the technology into its commercial products in different countries, with ElectReon to provide the charging system as well as maintenance services.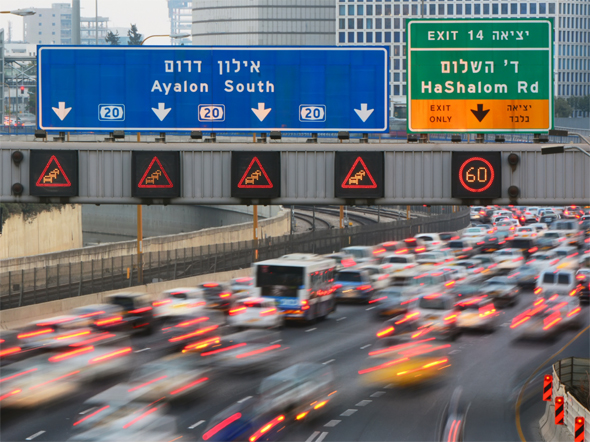 Ayalon Highway. Photo: Shutterstock

ElectReon began a pilot program in Tel Aviv two weeks ago, in partnership with the local municipality and the Dan Bus Company. The first of its kind project in Israel, will be carried out between Tel Aviv University Railway Station and Klatzkin Terminal in Ramat Aviv – a two-kilometer route including 600 meters of electric road.

The pilot project will enable specially-equipped electric buses, capable of being charged directly from under-road electric infrastructure, to travel on the route. A complementing static wireless charging station will be installed at the terminal, to be used by the bus in between rounds.

Meanwhile, Ayalon Highway, the major intra-city freeway in the center of Israel that runs through Tel Aviv, is preparing to select the company that will provide it a wireless electric charging system for its roads. The winner of the tender is set to receive tens of millions of shekels. The agreement is for three years, with Ayalon Highway having the option to extend it for two additional years.

Ayalon Highway is expecting foreign companies to join the bid, in addition to ElectReon.