On its way to another exit: Permira is setting up an Israel representative office
Former Netafim CEO Ran Maidan to lead the $50 billion fund's local activities seeking to help companies grow to become industry leaders
After recording handsome exits with Netafim and NDS, European investment firm Permira Holdings Inc. wants to repeat those Israeli success stories, and to do that is establishing a local representative office.

People familiar with the move who spoke to Calcalist on condition of anonymity said Permira, one of the world's leading technology investment firms, will appoint Ran Maidan, who served as CEO of Netafim between 2014-2018 and led its sale to Mexichem at a profit of over a billion dollars, to lead its Israeli operations.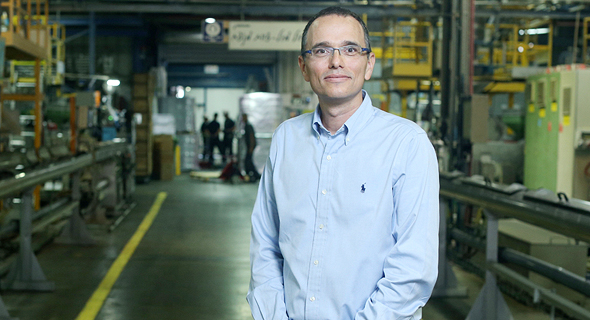 Former Netafim CEO Ran Maidan is set to head Permira's Israel operations. Photo: Amit Shaal.

Permira sold Netafim at a $1.9 billion valuation in 2018 having gained control of it in 2011, when it was valued at $850 million.

Maidan will also function as a senior consultant for Permira's global operations, primarily for the tech sector. Maidan who served as CEO and president of Netafim, the world's largest drip irrigation company, led it to a 50% growth in sales over the course of five years, doubling its operational profit.

Permira's second major investment in Israel came in 2009 with the acquisition of NDS, which was a leader in the software for pay-TV industry. Three years later, it sold NDS to Cisco for $5 billion. The company faltered under Cisco's control and in 2018, Permira bought it back and rebranded it as Synamedia.

The new Tel Aviv representative office will join Permira's 14 existing global offices, including in New York, London, Paris, Shanghai, Hong Kong, Frankfurt, and Tokyo. The firm manages assets worth upwards of $50 billion and has invested in 260 companies over its 35 years of operation, with 40 of them still currently active. The firm invests in four main sectors: consumer, services, healthcare, and technology.

"Growth, technology, and collaboration are part of the fund's culture. Most of its portfolio is made up of tech companies. We want to complete deals here and generate companies like Check Point, Fivver, and Nice," Maidan told Calcalist. "We believe we can take companies with strong technology that are worth one billion dollars and turn them into companies that are worth five to 10 billion dollars."

"The fund's global reach, alongside its culture of growth and very clever investment teams will help us in our local investments. The fund has the know-how to provide Israeli companies looking for new clients a broad connection to the international and public capital market. Our portfolio companies will benefit from it. We examined the Israeli market for six months and saw that there are companies that we can help become global leaders in their fields," added Maidan.

Maidan cited Polish company Allegro ("Permira acquired it for $3 billion four years ago and issued it at a value of $20 billion two weeks ago") and remote support software company TeamViewer ("acquired for under $1 billion in 2015 and currently being traded at a value of close to $10 billion") as examples of Permira's record.

"Permira knows how to develop companies, just like they helped me with Netafim. I would be happy to bring all those connections here and help other companies grow," Maidan added. "We will not invest in locally-focused enterprises. There are a lot of tech companies orientated towards exports. There are also $50-100 million companies that want to sell at $1 billion and that is a game we are also good at."

Is technology the only direction you are looking at?

"Not only, but technology is both the fund's and Israel's area of expertise and they go well together. Our advantage is that we can do both minority and majority investments. We won't hesitate to invest $100-$200 million to acquire 20% of a company if we think it is good enough. But we will also conduct deals for 60% or 100%. We have no limits. It all depends on how much they want to sell to us. We resemble Insight and Francisco Partners more than Fimi or Apax."

"We are looking for growth companies that we can help turn into world leaders. The Israeli market is dynamic and suits our investment strategy. Ran's experience and reputation will help us expand our activities in Israel," said Jörg Rockenhäuser a partner and member of Permira's investment committee.