Eyeclick's 'Obie For Seniors' product helps engage the elderly during lonely lockdowns
Using an interactive projector, seniors can engage in physical and cognitive games helping them keep active while isolating
The coronavirus (Covid-19) pandemic rages on and the elderly remain a vulnerable group faced with isolation during lockdowns around the world. Eyeclick's latest product, Obie, has been specifically designed to help seniors who may be feeling lonely or unstimulated in old age homes.

Obie is an interactive projector that can turn any floor, wall, or tabletop into a fully-interactive surface for multiple users. The device uses sensors to identify movements such as tapping, touching, or waving and hosts more than 200 games designed to help with physical exercise or cognitive skills. The colorful and animated games incorporate different needs and can include memory tests, musical quizzes, or speed coordination challenges.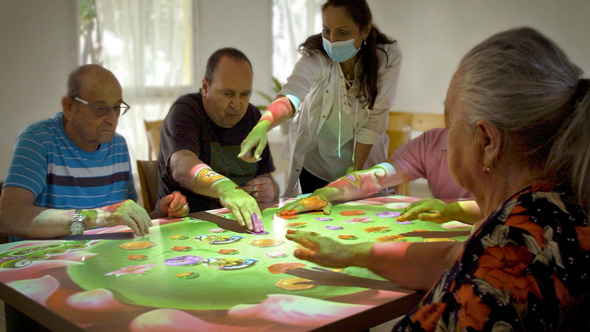 The Obie platform in use. Photo: Eyeclick

"We started by focusing on kids but obviously when the Covid-19 situation started, many kid-related businesses were affected," explained Eyeclick's CEO, Ariel Almos. "Schools were closed, kindergartens were closed, and naturally this affected our business."

When Eyeclick was founded in 2005, its primary product was BEAM, a similar projector tailored to kids to help with their physical activity and social interaction. This year, Almos says that Obie is their "latest and greatest" product designed for the other end of the generational spectrum: seniors. "We felt elderly people these days are isolated, especially in senior homes. They don't receive visits… they suffer from isolation and it could be a very good solution for them."

While there are currently more than 10,000 BEAM units used by enterprise vendors like McDonald's and Ikea, Eyeclick's Obie product is specifically tailored to smaller SMB clients. Some of the games needed to be adjusted for the different players - Almos explained that older users require seats and table surface games more than floors for running - but it was a relatively easy task since the foundations of the games were already there.

Covid-19 accelerated the need to help seniors keep their cognitive skills and remain socially engaged with each other, and Obie has already deployed more than 1,000 units in Israel and around the world to meet the newly increased demand. However, concerns can arise when players are touching the same surface in an era where social distancing is encouraged to prevent the spread of viruses or disease.

"Compared to other types of entertainment or equipment that are much more difficult to sanitize and keep hygienic, when projecting Obie on a table, you just have several people sitting at different sides of the table, not touching each other, and at a safe distance from each other," Almos told CTech when challenged on hygiene concerns. "Yes, they're all touching the table, but you can sanitize the table very easily before and after you use it and that's it, you're ready to go."

The 200 games available are all made in-house by Eyeclick's team in Vietnam. While it is not open to 3rd-party app developers yet, the company hopes to one day open it up to other companies similar to Apple's App Store. In the future, Almos believes that Obie can be deployed in more senior homes, schools, special needs institutions, fitness, and in-home uses.