Israeli thermal sensor manufacturer AdaSky raises $15 million in series B funding
Company says it has signed a contract with an undisclosed car manufacturer to augment autonomous vehicle safety measures
Israel-based AdaSky Ltd. which develops and manufactures systems combining high-resolution thermal vision sensors with artificial intelligence for the advanced vehicle industry announced on Thursday that it has completed a $15 million series B financing round. The round was led by its previous backers including Japan's Kyocera Corporation and South Korean parts manufacturer Sungwoo Hitech. So far the company has raised a total of $55 million, following its latest $20 million round in 2018.

AdaSky was founded in 2015 by Avi Katz and Yaakov Dagan, former engineers at government-owned Israeli defense contractor Rafael Advanced Defense Systems Ltd. It employs 70 people, mostly in the northern Israeli city of Yokneam. The company's CEO is Colonel (Ret.) Yakov Shaharabani.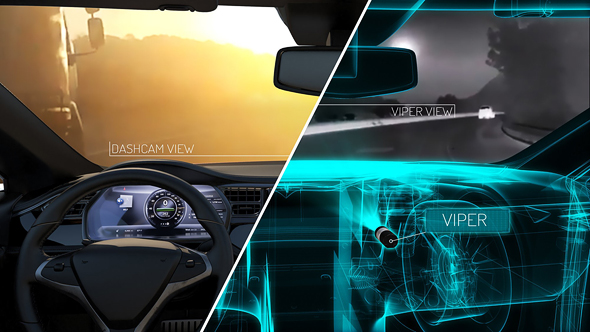 AdaSky's sensor system. Photo: PR

AdaSky develops and manufactures intelligent, high-resolution thermal sensing systems based on technology that operates on different wavelengths than the human eye or ordinary cameras do. The company's sensor technology detects the heat radiated from bodies to create a precise thermal image of the surroundings. It is passive, does not require an external energy source, and is not dependent on lighting or weather conditions. The sensor can recognize pedestrians at distances greater than 200 meters, can see and classify vulnerable road users, such as pedestrians and cyclists, as well as animals and inanimate obstacles at distances far beyond high-beam headlights.

AdaSky's Viper thermal camera augments vehicles existing assistive technologies that similarly to cruise control or ABS adapts to the traffic conditions. According to the company, Viper will in the future increase the safety of autonomous vehicles as it has signed a contract with an undisclosed car manufacturer. They add that they are currently conducting commercial processes with additional clients.

AdaSky adapted its thermal vision sensors for a series of additional products. Sharp Vision is AdaSky's intelligent high-resolution LWIR thermal camera, designed for smart city infrastructure to be installed at street intersections or low visibility zones to issue warnings in cases of danger, such as a car stuck on train tracks or jaywalkers.

Amid the Covid-19 outbreak, AdaSky developed the Viper-R, which can measure the body temperature of an unlimited number of individuals in real-time from a distance of up to 10 meters, and alert of specific individuals with elevated body temperatures.
Yakov Shaharabani. Photo: AdaSky

"We are generating interest around the world and plan to continue the company's growth and development. We plan to raise funds from additional investors in the near future, alongside a recruitment push for engineers and additional roles. We also plan to establish a unique and state-of-the-art new facility in Yokneam in order to meet market demand," Shaharabani said.