SimilarWeb raises $120 million in latest round
The company takes its total fundraising to $240 million and plans on using new funds to speed up record growth
Israel-based SimilarWeb announced on Tuesday the completion of a $120 million series funding round. The round includes both a primary direct investment in the company and a secondary investment in which shares will be purchased from current holders. The round was led by ION Crossover Partners and Viola Growth, bringing the current fundraising to a total of $240 million.

SimilarWeb was founded in 2007 by Or Offer, and has developed a way to measure and predict customer behavior in the digital era. Its tools are used by large leading brand name companies to analyze customer behavior and compare it to competitors. The company's technology gathers information from hundreds of sources and uses them in advanced machine learning algorithms to provide a complete picture of digital activity in real-time. SimilarWeb says that more than half of Fortune 100 companies, such as Walmart Inc, Google LLC, P&G, and Adidas AG, rely on these tools to gain digital insights.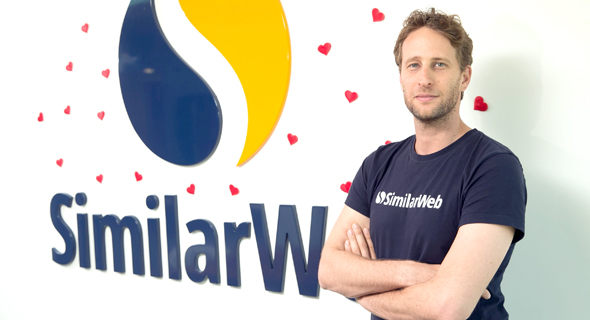 SimilarWeb CEO and founder Or Offer. Photo: Orel Cohen
"Since the outbreak of the coronavirus (Covid-19), there has been an accelerated rate of digitalization," CEO and founder Or Offer told Calcalist. "The digital world is becoming very important for companies due to changes in customer behavior, and this has been expressed by our company's exponential growth, which is why we have decided to raise additional funds."
Didn't your company experience a less successful period prior to Covid-19?
"The coronavirus (Covid-19) hit us during the first two weeks of the first fiscal quarter. As a company, we prepared ourselves for what was yet to come for that year, and we hired several people in line with our plans for growth. We raised funds in January, but when the wave hit we had to furlough some employees. However, within a few months the need for our product grew significantly and we called back most of our team."
The coronavirus (Covid-19) brought an increasing need for your product in consumerism and other additional categories, but this growth could turn around when the pandemic is over. Does this worry you?
"No, we're not worried. Even if our growth slows, companies will still need to get a general picture of where they stand in comparison to their competitors. The markets are in chaos. In addition, customer behavior and the massive use of online digitization will remain."
The company added that it plans to open new offices in North America and Europe in the coming months. It also hired two new managers Ron Asher became the CTO, while Kevin Spurway was appointed as CMO. SimilarWeb employs nearly 600 people, and is in the process of hiring an additional 200 employees, planning to grow nearly 30% by the first quarter of 2021. It also hopes to expand its existing office in Israel by hiring 100 people, mainly in its R&D sectors, marketing, and sales departments.