Salto raises $27 million for business apps configuration solution
The Israeli startup aims to streamline day-to-day efforts of configuring applications by extracting the information and translating it to a standardized, structured textual representation
Salto.io announced on Tuesday the completion of a $27 million series A funding round led by Bessemer Venture Partners, Lightspeed Ventures and Salesforce Ventures.

With more and more companies becoming reliant on a growing number of business platforms in order to manage their business operation, Salto aims to streamline day-to-day efforts of configuring applications by extracting the information and translating it to a standardized, structured textual representation.

Salesforce, NetSuite and HubSpot are three examples of such platforms being used by companies, whose success is dependent on the ability to keep these platforms updated and synchronized with the company's changing demands. This becomes more challenging as companies grow, with out-of-date processes wasting vast resources and being prone to errors.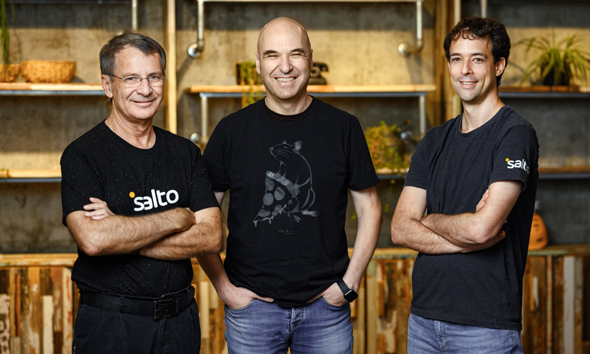 Salto.io co-founders Benny Schnaider (left), Rami Tamir (center) and Gil Hoffer. Photo: Doron Letzter

This is the challenge that entrepreneurs Rami Tamir, Benny Schnaider and Gil Hoffer have decided to solve with Salto. After their success with Pentacom (which was acquired by Cisco), Qumranet (which was bought by Red Hat) and Ravello Systems (which was purchased by Oracle), Tamir and Schnaider founded Salto to completely restructure the manner in which companies organize the configuration processes on their business platforms.

"We understood that teams that are responsible for the business operation at companies are experiencing similar problems to the ones facing R&D and DevOps teams on a daily basis," said Rami Tamir, CEO and co-founder of Salto. "So we adopted and adapted the principles and methods from the software development sector to the business operation sector. There is no need to reinvent everything. The same techniques that are used to develop quality software can also be implemented to serve the needs of managing and controlling business platforms."

Salto's platform makes different configuration elements searchable and allows to meticulously plan the implementation of significant changes, while tracking them and synchronizing them across all the platforms the company is using. The effect of the changes in configuration in a number of business platforms can be easily examined and changes can be tracked and even rolled back, if necessary.

Alongside the launching of its product, Salto also offers an open-code solution. "We imagine an open ecosystem which doesn't require users to use only Salto's solution. Similarly to other open-code projects, we are expecting the growth of a thriving community of developers who will add integrations, solutions and open-code for their uses, and hand them back to the community," added Tamir.

"The ability to move and react quickly is very important in today's business world, and adapting external business platforms to the true needs of companies that use them has grown in its strategic importance," said Alex Kayyal, Partner and the Head of Salesforce Ventures International. "The business operations teams are becoming more and more vital to the success of their companies. Salto provides these teams with modern mythologies and a vast and rich toolkit to allow them to succeed in their tasks."

"We decided to focus on the business activity of the organization and to bring together all the different parts that make iup this activity like the CRM, financial marketing and HR," said chairman and co-founder Benny Schnaider. "In the past systems from companies like SAP and Salesforce would be supplied by a single provider but now these systems are coming from many different companies.

"When I began my career software updates were something that would happen twice a year. Today software updates happen several times a day without almost being noticed and that demands mythologies that weren't previously in use. The software development revolution has moved to infrastructure and analysis and we want to adapt it to business systems."

Salto was founded in 2019 and employs 30 people in Tel Aviv and several additional staff in the U.S.