Tel Aviv Stock Exchange to accept companies' reporting exclusively in English
The Israel Securities Authority is expecting the revision will help increase the number of foreign investments in Israel
The Israel Securities Authority's (ISA) attempts to boost the Tel Aviv Stock Exchange (TASE) continued on Tuesday when the Israeli Parliament's Finance Committee approved a revision that will allow traded companies to submit reports solely in English.

Until now, all public companies were required by law to submit their annual and financial reports to the Israeli Stock Exchange in Hebrew, alongside any other language of their choice. While the revision seems somewhat minor, the ISA and TASE are expecting it will help increase the number of foreign investments in Israel.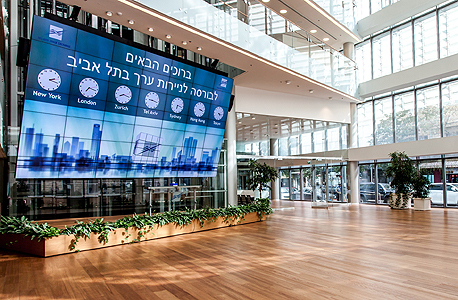 The Tel Aviv Stock Exchange. Photo: Courtesy

"This is a simple revision that generates a significant change," said Chairman of the Israel Securities Authority, Anat Guetta. "This is an important step in opening up the stock market to international investors."

The revision is expected to come into effect in approximately three months. According to research conducted by the ISA, there is a direct correlation between the presence of foreign investors in Israeli companies and the quality of those firms. Therefore, the ISA sees value in any change that can help bring in more foreign investors to Israel's public companies.

There are currently 53 companies traded on the Tel Aviv Stock Exchange that file their reports in English. The trading in these companies makes up approximately 40% of the exchange's trade volume. These companies are also traded abroad and therefore are required to file reports in English in addition to Hebrew.