Round B
The tech community's solidarity is a key feature of what makes us the Startup Nation
Shaul Olmert sheds a light on the behind the scenes acts of kindness that help make the Israeli tech sector thrive
When I first founded Playbuzz back in 2012, we subleased two small rooms that were sufficient for our six-person team. A short time later, the company we were renting from shut down, and the six of us were left in a large empty space that we were sad to see go to waste. So I published a post calling for startups that had yet to raise money to come and join us and as expected the requests streamed in. For the rest of that lease term, we hosted several young companies in the space, free of charge, simply because we had the opportunity to help and felt that was what startups do — help each other out when they can. For those young companies, it wasn't just about the few thousands of shekels they saved on rent, but a framework that helped them transition from being an idea into an active company.

This anecdote is just one of the many expressions of startup solidarity that are fairly common within the Israeli tech ecosystem. Others include discussion groups for data sharing and requests for assistance between entrepreneurs (I am personally a member in a large number of such groups), willingness to consult and take part in discussions with other companies, brainstorming and training sessions with companies that need it — all involving pro bono investment of time and resources. I have often reached out to fellow entrepreneurs with questions and requests for assistance such as: which database should we embed, who can suggest a design studio specializing in mobile applications, who knows a lawyer that specializes in launching subsidiaries in Brazil, who knows a good product manager who's looking for a job, and many many more. In most cases, the community answers the call and these fairly busy people go out of their way to ensure not only that you got your answer, but that your problem is being solved in the best way possible.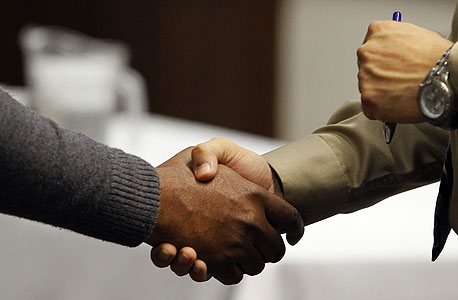 Collegues shaking hands. Photo: Bloomberg
On the other hand, there are also other types of moments. We usually don't talk about them, but they exist and we all know about them. After every announcement of a new financing round or acquisition, you see many congratulations and positive feedback on social media, but also a fair share of bad-mouthing and malicious gossip from entrepreneurs or employees of other companies who seem to have a hard time giving praise. Often when it comes to conferences or industry networking events, there is a bustle over the selection of guest speakers and the politics around who is invited to talk, CEOs who cancel their appearances at the last minute because they were put on a panel with a competitor and other examples of envy and ill will. The truth is, it's only natural. We are in a competitive and emotion-driven market, with lots of public attention and noise. Jealousy, though it may be painful to admit, exists in all of us. That is the nature of our industry — it has a bit of everything — examples of mutual help, respect, and good will, alongside politics, envy and malice. It is safe to assume that readers from other industries are also familiar with this duality, which is far from being unique to the tech sector.
When an entrepreneur who runs a startup company hears about another newly founded company that managed to close a major funding round or be acquired for a substantial sum even prior to completing its product, it's only natural that they may be frustrated. When an entrepreneur reads scalding criticisms in the news and sees the same publication posting a photo of a grinning competitor next to a glowing headline and warm praise a week later, it's natural that their frustration shifts to anger too. We are all human and though negative feelings are counterproductive, they exist and are nothing to be ashamed of. Despite all that, in my experience, the positive tends to beat out the negative, and as I go about co-founding a new initiative, I am enjoying discovering the nicer side of the Israeli tech community.
Last week, after the pandemic lockdown was lifted, we finally switched from working remotely to sitting together in the same office. Something that would have been the routine in normal times, became a landmark event. We were deliberating whether it was wise to commit to renting out an office given the future uncertainty surrounding travel guidelines, especially seeing as rent payments are often a major expense for a startup with limited resources. Fortunately, a friend who is the CEO of another startup (one that is a direct competitor of my former company Playbuzz) offered to host us in his office until things stabilize and we move into our permanent space. Many of the service providers I retained were referred to me by other startup founders I consulted with, people who also dedicated time to ensure I receive the best possible offers. When I asked questions on a WhatsApp group of tech entrepreneurs I belong to, not only did I receive a long thread of advice and recommendations from the busy executives, one of them, a CEO of a fast-growing company, even invited me to a meeting in his office to provide one-on-one assistance.
The industry giants like Amazon, Google, and Facebook (who I often criticize regarding other issues) put aside time to help train companies that are just getting started sometimes even offering free services. Investors and funds who ordinarily invest in later-stage companies, have referred me to colleagues who may be interested in backing a company in its early days. Though these contributions are incredibly helpful, their real value is not in the practical aid they produce, but primarily in generating a feeling of solidarity, that you are not in this alone and that people around you want you to succeed.
These are tumultuous and challenge-filled days for startups given the market uncertainty amid the economic crisis. It is because of the circumstances that startup solidarity is more vital than ever and it is heartwarming to see that many people are able to rise above the obstacles and make an effort to help. I too find myself dedicating significant time to consulting companies in things I am familiar with, referring job applicants that don't fit our needs to other potential employers, lecturing to beginner entrepreneurs and students, judging various startup competitions, mentoring for accelerator programs, in short trying to help where and when I can. So, if you are asked about Israel being the Startup Nation and the community's high success rates, consider that a large part of the credit goes to the fact that alongside our desire to succeed, we (usually) also don't forget to be good people.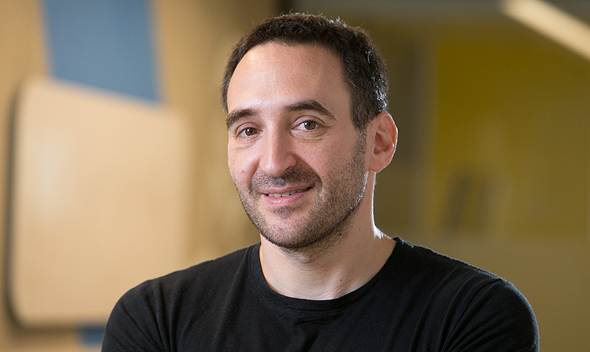 Shaul Olmert. Photo: Orel Cohen
Shaul Olmert is a serial entrepreneur and the co-founder and CEO of mobile app developer Piggy. He formerly founded interactive content company Playbuzz Ltd. You can find his previous columns here