Interview
"Everyone's an expert in something," Kasamba is taking the gig economy to the next level
The company's new platform HeyExpert soft-launched six months ago and CEO Shpitalnik believes it won't be long before it has many millions of users
So confident is Kasamba CEO Liran Shpitalnik in the success of the company's new platform HeyExpert, that he is predicting that it won't be long before it gains tens of millions of users. HeyExpert is a platform, currently only available on mobile, that allows any person with any sort of expertise to monetize their skills online. Sign up is free and experts can charge as much or little as they like for their services. HeyExpert provides a platform that includes services such as client management and video hosting, and plans on generating its income from cross-sales between different experts. Once a user signs up to take part in an activity by a certain expert, that expert will also earn a passive income on any additional money spent by that user on other experts on the platform. HeyExpert's cut, which is in the region of 15%, also comes from those cross-sales.

Kasamba, which employs around 80 people, mainly in Israel, has been around for 20 years and is a leader in online psychics and spirituality B2C services. It generated in the region of $50 million in income in 2019 and is expecting even greater revenue this year, with Covid-19 boosting business. Since 2008, Kasamba has been owned by Nasdaq and Tel Aviv-listed customer engagement company Liveperson Inc.

"We have a very interesting view of the market. We have had various platforms with millions of paying customers over the past 20 years. Out of this perspective and from our knowledge and understanding we have identified interesting trends in the market. We recognized that essentially every person has an expertise which doesn't receive enough exposure," Shpitalnik told CTech. "For example, I know someone who works in security and as a hobby she takes photos with her iPhone. She gained many followers online and when they would ask her what camera she used to take these photos with she'd surprise them by saying she used an iPhone. She never realized that she could take this skill of making the most out of your iPhone camera and create an income from it. We believe everyone has some expertise they can translate into a small business. This is where the idea of having a platform like HeyExpert came from, in which everyone can turn their skill into a small business at scale."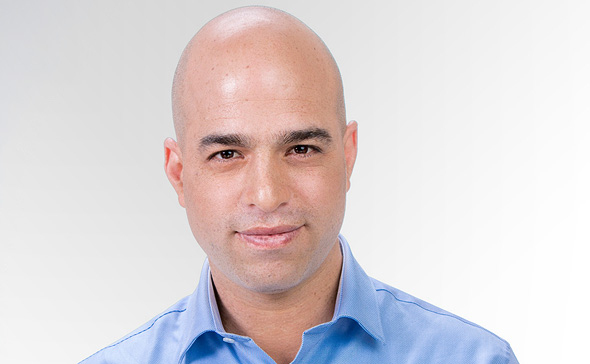 Kasamba CEO Liran Shpitalnik. Photo: Inbal Marmari

HeyExpert soft-launched six months ago and had around 500 registered experts at the time of the interview. But with the number doubling every month, Shpitalnik believes it won't be long before it has many millions of users.

"We don't see any other similar solution to the one we provide. We believe that it won't be long before there are tens of millions of experts on this platform and if you look at such a big platform the ability to create a bit of revenue from sign ups isn't as interesting as the ability to create a framework for cooperation that will be so big and will ultimately lead to big money," explained Shpitalnik. "Right now there are platforms that focus on blockbuster verticals. Kasamba, for example, which focuses on spirituality, or platforms like Freelancer and Upwork. But there aren't any platforms that allow anyone to take their expertise and turn it into a source of income. HeyExpert offers a hassle-free experience with the platform taking care of all the details like scheduling, payment, and client management. There are many aspects to running a business and people find themselves dealing with everything surrounding the business and very little in what they really want to do, and that is something we are trying to solve."

Shpitalnik noted that HeyExpert is aiming to smash the glass ceiling and the equation that time equals money. "One of the biggest issues for service providers and experts is that they have a glass ceiling and it is very low. They only have a certain amount of hours a day in which they can work and that limits how much they can earn compared to a business that has leverage and knows how to create an equation that doesn't leave it dependent on time," he explained.

Kasamba had initially planned to launch HeyExpert later in the year, but the economic crisis brought on by the Covid-19 pandemic led the company to push forward the launch of its mobile app, with the desktop and web platforms to arrive in the coming months.

"We started developing the platform at the end of last year. Covid-19 arrived and changed everything for everyone," said Shpitalnik. "During the first lockdown in Israel we saw how many people lost their jobs and were in great uncertainty and we understood that there was real pain and a real need here. We decided to change our plans of launching all the platforms at the same time and decided to bring forward the launch of the mobile app to help people. We launched the app 4-5 months earlier than planned to answer this need."

Kasamba has a major role in Liveperson's ambitions to create a more significant footprint in the consumer world. Part of the core of the HeyExpert system is built on Liveperson's conversational cloud. It is also Liveperson's financial backing which allowed Kasamba to build HeyExpert and implement a long-term plan, which will see it enter the U.S. market in 2021.

"The main reason no one launched a platform like this before is that in order to do so you need a lot of patience and broad financial backing which allows you to postpone your profits until you have millions of users and considerable activity," said Shpitalnik. "This is what we have with Liverperson, with our financial model allowing us to profit only when we create value and there is a cross-sale and passive income for those involved. As someone who is also responsible for expert platforms from the current and previous generation, I know that it is much easier to calculate your income from selling an ad to a certain vertical. Here we are talking about a decentralized platform that uses very advanced principles to create these cross-sales. It comes down to when are you expecting to create income and how large is your financial backing, as well as how well are you executing the principles of decentralized platforms which create these partnerships and cross-sales."