New guidelines allow business people from 'red countries' to enter Israel under strict restrictions
Meetings that are deemed as "essential" and cannot be held virtually allowed to go ahead in person for the first time since March
For the first time since March, business people from countries designated as "red locations" will be allowed to enter Israel for essential meetings under new guidelines approved by the government.

The arrangement, approved by the Ministries of Interior, Health, Foreign Affairs, and Economy stipulates that visitors arriving from countries where the threat of Covid-19 is considered high will be able to able to remain in Israel for a maximum period of four days and even that under specific conditions, including providing proof of a negative Covid-19 test, limiting the number of locals the visitors come in contact with and maintaining strict social distancing practices.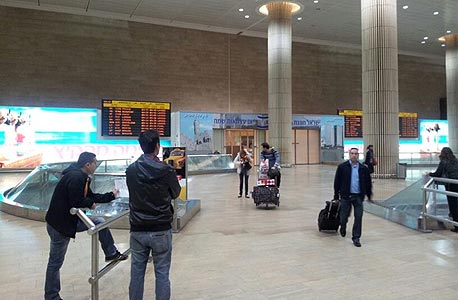 The arrival hall at Ben-Gurion Airport. Photo: David HaCohen
Business meetings permitted under the new guidelines must be defined as "essential to the market" and will only be approved if they cannot be held virtually.
"The harm to Israeli and foreign business people who could not meet with their colleagues during this period has been substantial. I believe this new arrangement will help local and international companies return to routine business practices and help expedite Israel's economic exit from the crisis," said Minister of Economy Amir Peretz.
For a list of red locations as defined by the Ministry of Health click here