Going Big: Israeli 3D printing company signs $80 million deal with Italy's Biesse Group
MASSIVit 3D, the maker of large-format three-dimensional printers expects to sell 20-40 new machines a year
Israeli large-format 3D printing company MASSIVit 3D will supply its printers to Italian company Biesse Group, people familiar with the deal told Calcalist on condition of anonymity. The deal's details have not been disclosed but it is estimated to generate the Israeli company revenues of between $60 million and $80 million over the next five years. The deal was signed during a recent visit to Israel by Italy's Minister of Foreign Affairs Luigi Di Maio.

"We expect to sell between 20 and 40 printers a year through the Italian company, with each one costing several hundreds of thousands of dollars, " Erez Zimerman, MASSIVit's CEO said. "At the same time, we will jointly develop a product that will combine our 3D printing technology with the Italian company's computer numerical control system. The new product which will launch next year will be sold at a higher cost than our current system."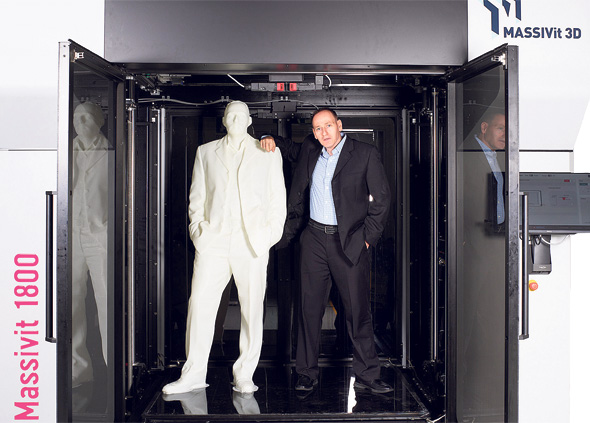 MASSIVit 3D CEO Erez Zimemran. Photo: PR

MASSIVit was founded in 2013 by veterans of the Israeli printing industry led by Gershon Miller who was behind the launch of Objet. The company specializes in high-speed three-dimensional printing and is capable of producing large items made out of complex materials. According to Zimerman, the company has sold 150 printers to companies in the U.S., Singapore, South Korea, and Japan. "The new agreement is very significant for us and constitutes a major milestone," Zimerman said.

At the start of the Covid-19 outbreak MASSIVEit 3D placed many of its employees on unpaid leave and has gradually been bringing them back. According to the company, with the help of the new deal, all the employees will be able to return by the end of the year. The company currently employs 60 people in its headquarters in central Israel and another 11 in the U.S., Europe, and Asia. To date, the company has raised $30 million. One of the companies that invested in it was 3D printing company Stratasys.

The 3D printing industry suffered a blow amid the pandemic in part because printing factories were forced to cease operations and in part because less printing was being carried out around the world. The new agreement is a booster shot for MASSIVit and for the industry as a whole. "We are taking the first step towards a new and profitable path for innovation. We seek to expand our company's range. The collaboration was enabled by our homegrown expertise as well as our ability to look outward," said Biesse Group CEO Roberto Selci.