LivePerson to lay off 30 Israelis in the wake of a new deal with India's Infosys
The Indian giant is shifting LivePerson's cloud-based activity to the public cloud, 30 other Israelis to transfer to Infosys following the strategic agreement
A strategic partnership agreement signed between Nasdaq and Tel Aviv-listed customer engagement company LivePerson Inc. and India-based Infosys Ltd. will bring about layoffs in the Israeli team. As part of the agreement, the Indian giant will shift LivePerson's cloud-based activity to the public cloud. As a result of the deal, LivePerson will lay off 30 of its 350 Israeli employees and an additional 30 people will be transferred to work for the Indian company. LivePerson employs 1,300 people worldwide.

The shift to the public cloud and the agreement with the Indian company is part of a transition the company is experiencing amid the Covid-19 pandemic. The increased demand for the company's customer engagement platform required it to upgrade its systems and the agreement with the Bangalore-based company is meant to reduce LivePerson's costs and the possibility of significantly upgrading its cloud service. In July, LivePerson announced that it would be shifting completely to a work from home model and foregoing its offices worldwide.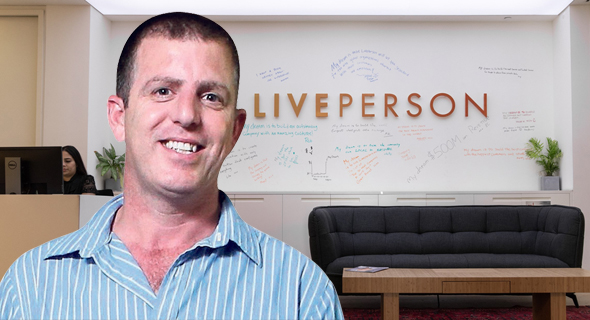 LivePerson Israel GM Yuval Matalon. Photo: Micha Lubton and Nimrod Glickman

LivePerson is a publicly-traded software company that provides real-time intelligent customer engagement solutions that help companies enhance their relationship with their customers. The company's technology allows customers to communicate with brands through their favorite channels, primarily via text messages like WhatsApp or Facebook Messenger, and amid the Covid-19 pandemic enabled client companies to maintain full business activities remotely.

"LivePerson is partnering with tech giant Infosys, a collaboration that is estimated at tens of millions of dollars a year, which will allow the company to accelerate its growth and meet the high demand for its products, particularly in the age of social distancing. As a result of the strategic move, the company will be making adjustments to its personnel in Israel and around the world, including changes to a small number of positions and the transfer of 30 cloud infrastructure, and technical support roles to Infosys," LivePerson said in a statement.