With a SAP collaboration and a round A underway, Pico comes out punching from Covid-19 crisis
The Israeli startup is currently working with over 60 sports teams globally from some of the biggest leagues in the world and was selected to take part in SAP's first-ever fan experience–focused startup accelerator program
It is no secret that there are many tech companies that benefited from Covid-19. For Haifa-based startup Pico, which has created a technology to turn engaged, anonymous sports and entertainment fans into identifiable customer profiles to support business objectives, the pandemic has not only been good for business but has helped validate what the company has been preaching for years.

"Covid-19 accelerated our growth tremendously. In the last two years we were running around with our sales pitch that you have to know who your digital fans are because most of your fans are online and not at your stadium and you don't have data about them and need to start building this database. Now it isn't us doing the pitch, it is the teams and the leagues doing it," Pico CEO Asaf Nevo told CTech. "Everyone in the industry now says we have to understand who these people are. They suddenly realize there is a void, sometimes of tens of millions of fans, that they are spending tens of millions of dollars a year to engage with, but have no idea who they are. In these rough times when we don't know when people will be back at stadiums, we have to understand who they are, start monetizing them, and begin to look at digital engagement as a new revenue stream."

Pico is currently working with over 60 sports teams globally from some of the biggest leagues in the world, including the NBA's Los Angeles Clippers, German football Bundesliga clubs Werder Bremen and Borussia Dortmund and several NHL teams.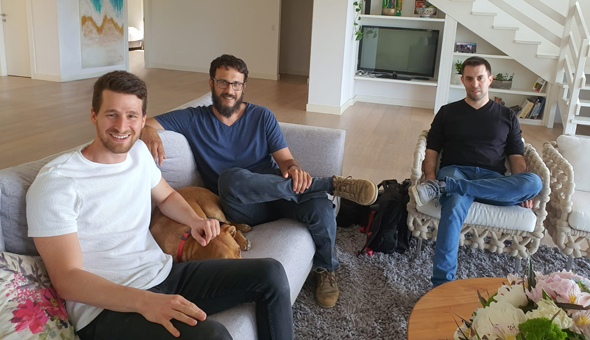 Pico co-founders (from left) Aviv Paz, Roi Mozer and Asaf Nevo. Photo: Courtesy

Pico was selected last month as one of eight companies to participate in SAP's first-ever fan experience–focused startup accelerator program. The cohort will be held at the SAP.iO Foundry location in Munich in collaboration with SAP Garden, a multipurpose sports arena being built by Red Bull in Munich's Olympiapark. SAP.iO Foundry Munich is part of SAP's strategic business unit designed to accelerate innovation and drive new business models for SAP, the German multinational software corporation. The selected startups will work closely with mentors at SAP, Red Bull, and FC Bayern to develop proofs-of-concept, access SAP technology and application programmable interfaces (APIs), and identify opportunities to collaborate with SAP executives and customers. The accelerator program will run for three months and conclude with a demo day in early December.

"Pico has a great added value because we manage a much larger chunk of potential customers for brands that are currently using SAP products," explained Yaron Talpaz, VP of Strategic Partnerships at Pico. "This collaboration means that we are going to be seamlessly integrated into their systems which opens new markets for us, not only in sports where we have focused so far. The Pico data will be super easily accessible for those who already have SAP. Pico captures this data from interaction done on the digital side for these customers or teams, in the case of sports, and then the teams can add this to their SAP-based system automatically."

Talpaz noted that part of this collaboration will see Pico be presented in the SAP store and marketed by the corporation's 80,000 salespeople around the world, ultimately opening up new verticals for the company.

Pico uses user-generated content finders, fan polls, trivia quizzes, find the difference games, Emoji messaging, and more to entice fans to communicate with brands directly over digital channels, such as Facebook, Twitter, a mobile app or websites. With AI (Artificial Intelligence) and machine learning algorithms, it creates detailed profiles on each fan.

Pico, founded in 2014 by Nevo, Aviv Paz and Roi Mozer, closed earlier this year a $3 million funding round led by Silverhorn Group and RSBG Ventures. It is currently deep into a series A round, which Nevo expects to be completed in early 2021.

"Once this started to really grow we started to look at other verticals that can use our technology. We are still developing additional products for the sports industry to leverage the data that we have, but we also started to run tests on other markets. E-sports is a big market for us," said Nevo, with Pico set to announce in the coming weeks a big partnership in that sphere. "We also see a lot of business coming from other markets like music, broadcasters and foodtech. They all want to solve the same problem of high engagement numbers but low knowledge on who is engaging. They want to know how they can actually learn and get data about these people so that they can then market to them better in a more personalized way."