Omnix Medical completes $8.5 million round to develop next-generation antibiotics for treatment of life-threatening infections
The Israeli startup has successfully completed testing in animals and the new funding will allow it to begin clinical trials with humans
Omnix Medical, which is developing novel antibiotic agents for the treatment of hospital-acquired infections involving drug-resistant bacteria, has completed an $8.5 million round led by Tal Capital and Entrée Capital, with participation by the CBG Group, Xenia Ventures, VLX Ventures, and with the support of the Israel Innovation Authority.

Omnix medical has successfully completed testing in animals that proved the effectiveness and safety of its solution. The new funding will allow the company to begin clinical trials with humans. The company has raised $10 million in total since it was founded in 2015.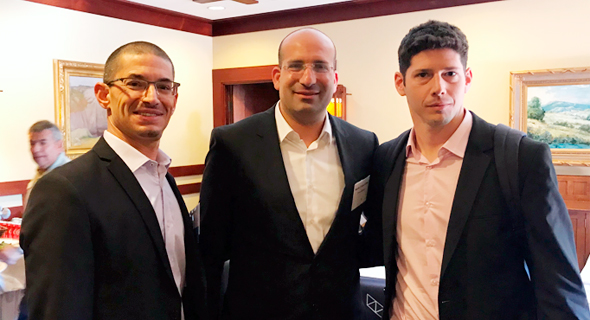 Omnix Medical founders Rom Lakritz (from right), Moshik Cohen-Kutner and Niv Bachnoff. Photo: Courtesy

Omnix Medical was founded by Dr. Moshik Cohen-Kutner (CEO), Dr. Niv Bachnoff (CSO) and Rom Lakritz (CFO/COO). They came up with their unique idea for their solution after analyzing the way in which the immune systems of insects act against infections. Insects deal with disease-creating germs by penetrating their exterior and destroying them with unique molecules, known as natural antimicrobial peptides, which afflict only the germs and aren't poisonous to human cells. Omnix recognized the massive potential in these molecules and is developing patented technology based on their activity.

Omnix started off at the VLX Ventures incubator, which invested in the company with the Israel Innovation Authority when it had little more than an idea. Omnix now plans to clinically test in humans its flagship solution, OMN6, which employs a unique mechanism of action, representing a new antibiotic class, characterized by a rapid-bactericidal effect.

"The completion of the funding round allows the company to progress in a professional and safe manner towards the next stage of developing the drug - the clinical trials, and to bring to the market groundbreaking and life-saving technology," said Cohen-Kutner.

"We adopted a natural technology which has proven itself as being very effective in destroying germs for 200 million years," added Bachnoff. "We improved it with Omnix's unique engineering in order to develop it into an innovative antibiotic and life-saving drug."