IAI privatization back on track after a ministerial power struggle
Israel's largest aerospace and defense company is aiming for a $12 billion issuance
The privatization of Israel Aeronautics Industries, the country's largest aerospace and defense company is back on the table. Calcalist has learned that Minister for Cyber and National Digital Affairs David (Dudi) Amsalem has called for a meeting of the ministerial committee on privatization to be held on November 15.

The ministers are set to approve the issuance of the publicly-owned company's shares at a planned valuation of $12 billion.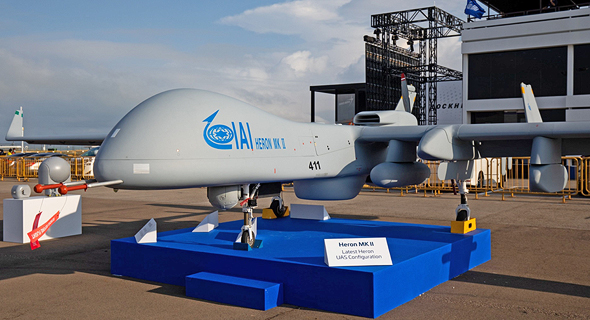 An IAI-made UAV. Photo: Bloomberg

The move had been held up in recent weeks by the Ministry of Defense, led by Benny Gantz and its director-general Amir Eshel. Officially it was claimed that the delay was due to demands by the Ministry of Digital Affairs and the Government Companies Authority that some of the money ($3-4 billion) for the public issuance go to the state treasury, while the defense ministry officials wanted it to remain in the company's coffers.

Unofficially, the delay was tied to Eshel's desire to appoint former general Hagai Topolansky as IAI's CEO while an internal selection committee preferred a candidate from within the company. The Ministry of Defense declined to comment on the claim.

On Tuesday, the ministries of defense and digital affairs reached an understanding on the timing of the meeting and the approval of the public issuance. Gantz supports the company's privatization and prefers that it be approved while the government is functioning as it won't be possible if new elections are called and the government becomes a transitional one.

Additional outstanding issues between the two government ministries include the right of the worker's union to veto the issuance and the amount of funds from the issuance that will eventually pass on to the treasury.