JFrog eyes continued growth after posting 40% revenue increase in first quarter following Nasdaq IPO
Israeli DevOps technology company reported better-than-expected results, displaying accelerated growth by posting $38.9 million in revenue for the quarter
Israeli DevOps technology company JFrog Ltd. announced on Wednesday its financial results for its third quarter of the year, and its first as a public company after completing its IPO on Nasdaq during September. JFrog reported better-than-expected results, displaying accelerated growth by posting revenue for the quarter of $38.9 million, up 40% from a year ago and a modest 7% increase from the previous quarter. JFrog recorded a handsome GAAP gross margin of 81.3%, but the high marketing costs, that exceeded a third of the revenue, resulted in a GAAP operating loss of $5.4 million, with the GAAP net loss per diluted share being 14 cents. Non-GAAP operating income was $5.1 million and the company registered a record free cash flow of $9.7 million in the quarter.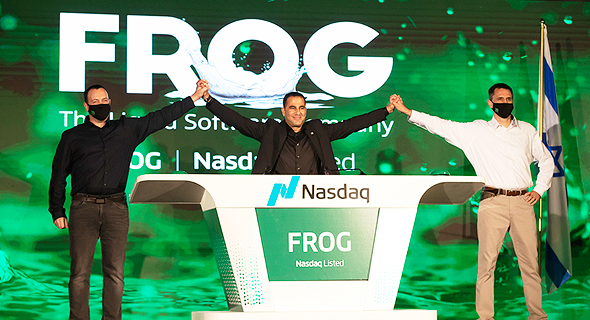 JFrog IPO. Photo: JFrog
JFrog is continuing to grow and is predicting revenue in the region of $40.9 to $41.9 million in the fourth quarter of the year. The non-GAAP operating income is expected to be between $1.2 million and $2.2 million and should mean the company will break even for the quarter. Nevertheless, this will still represent a big drop from the third quarter results. For the full year, the company is expecting revenue between $149 million and $150 million, with non-GAAP operating income between $12 million and $13 million, and non-GAAP net income per share between $0.11 and $0.13.
Following the IPO in which the company raised $393 million, it reported in its results $578 million in cash, cash equivalents and investments as of September 30. JFrog is currently being traded at a valuation of $6.4 billion after almost reaching $7 billion during October.