Analysis
Analysis: Teva Pharmaceuticals is bogged down by legal issues, fails to kick-start growth
CEO Kare Schultz managed over the past three years to keep the boat steady and lessen its debt, but slow growth won't satisfy investors
"Frustration" was the key word that was weaved throughout Teva Pharmaceutical Industries Ltd.'s third-quarter earnings report. Kare Schultz, the cold and calculated CEO of the pharmaceutical giant, uttered it in a rare moment of openness, after leading the company for the past three years in the boiling cauldron that is Israel. His time at the company began with a plan to make severe cuts that were meant to shift the company toward operational stability and balance, and allow it to return and focus on its future growth.

However, strong legal winds are driving Teva away from its goal, which is precisely the source of Schultz's frustration. "It's frustrating that the plan was fully implemented, yet the legal situation in the United States has worsened from what it was three years ago," he said in a conference call after the latest publication of the results last Thursday, where the company announced a $4.6 billion write-off.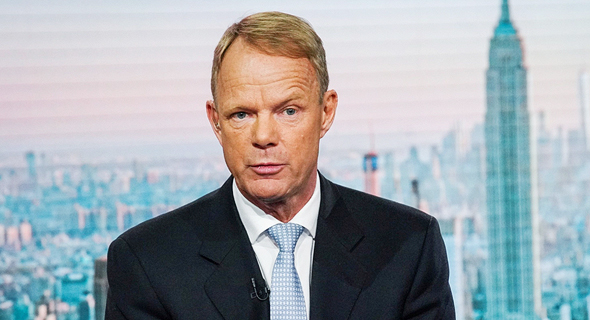 Teva Pharmaceutical Industries CEO Kare Schultz. Photo: Bloomberg

Better not to pay fines

Aside from the financial meaning of the write-off, which translates to an operational loss of $4.3 billion during the third quarter, it also has declarative significance. The write-off is proof that the company's legal challenges—specifically as related to the U.S. opioid crisis and widespread patient addiction to painkillers and the claims of price-fixing among generic U.S. drug makers— will accompany Teva for longer than it had planned. In other words, during the foreseeable future, most of its management's attention will continue to be focused on the legal arena, in an attempt to minimize damages. The current write-off doesn't necessarily mean that Teva will need to dedicate more expenses beyond the billions of dollars that it has already dedicated to the coming legal battles, rather it shows how the process may be dragged out.

Ironically, even though Teva has already returned to generating $2 billion a year in operational activity and reduced its debt to $23.8 billion, it could have been better off by simply paying the U.S. fines and putting the case to rest. However, the prolonged process is damaging its functioning and its stock, and that's why Schutlz was so frustrated. "We are still in dialogue with authorities over the pain killer case, but now we see that the valuation has been negatively affected by this event," he pointed out.

Although the company's operations haven't been harmed by the coronavirus (Covid-19), the pandemic did damage its legal standing. Schultz explained that the need to sign off on a settlement has become more urgent as the court trial nears. However, since the pandemic's outbreak, the trial has been repeatedly delayed as have hearings that could have advanced a settlement. "I remain optimistic that we can find a solution to provide drugs to help with withdrawal." Schultz was referring to the tentative plan that was agreed upon last year, in which Teva will pay a relatively small fine of $250 million, and will provide long term rehab drugs worth $23 billion.

Teva needs to close this case so that it may properly dedicate its resources to the generic drug price-fixing case, where legal proceedings have already advanced, and it seems U.S. authorities want a trial and won't settle for a fine. Although the fine is expected to be lower than in the opioid settlement, the greatest threat to Teva is that settling will send a message to the U.S. Department of Justice that it has admitted to having committed criminal actions. Such an admission would mean the company will no longer be allowed to sell its drugs in government insurance plans, exacting a price that Teva cannot afford. "We cannot confess to committing criminal activity, but we are prepared to pay a reasonable fine. Sometimes, lawsuits can bring new people to the trial, and then you reach a compromise, but because of the weak evidence we are willing to go to trial," Schultz said.

An anti-migraine drug falls short

While Teva is trying to extinguish the legal flames, the market is beginning to wonder whether it can sustain future growth. Teva succeeded in neutralizing losses from its flagship drug, Copaxone, which has seen generic alternatives pop up over the last two years, by marketing two new drugs. The first, Austedo, is designed to treat late Dyskinesia, a neurological disease, and was first sold three years ago. Profits from Austedo reached $451 million within the first nine months of 2020, signifying a 64% growth over the same period last year. According to the annual forecast, Austedo is expected to reach a revenue of $650 million.

Anti-migraine drug AJOVY was also supposed to make up for Copaxone's losses and was even expected to outsell Austedo, but has encountered obstacles mainly due to a delay in launching the drug in a syringe version, and the fact that it lagged behind its competitors. Teva first presented the syringe version, in the previous quarter but the company explained that the entire anti-migraine drug market suffered overall during that period due to the widespread lockdowns in Europe and the U.S., when fewer people visited the doctor, resulting in a decline in the number of new prescriptions. During the third quarter, AJOVY sales stood at a mere $35 million, though Schultz noted that Teva managed to improve its market share. That said, Teva lowered its AJOVY annual revenues forecast from $250 million to $200 million.

After three years at the helm, Schultz can be credited for keeping the ship steady, with the company's debts dropping to below $20 billion next year, and its profits from two new original drugs nearing $1 billion, neutralizing the losses from Copaxone. But what's next? What will drag the company that records $17 billion in revenues a year but is currently being traded at a $10 billion valuation out of the legal mud?

When asked about this on Thursday, Schultz gave a long and elaborate answer that highlighted many points, mainly biosimilar drugs, such as Truxema, which treats various types of cancer, which was launched earlier this year, and reached a market share of 20% during the last quarter. Another promising drug was Fasinumab, a drug that treats pain and arthritis, and was developed in collaboration with Regeneron, and recently entered the final stage of clinical trials. However, Schultz's bottom line was pretty subdued. "I am optimistic and anticipate that though we aren't seeing a dramatic growth in revenue, we will be able to present single-digit growth over the next few years."

Will that be enough for the venture capital market and those that recall Teva's vital youth? On Friday, Teva experienced a refreshing backwind from Wall Street, which led its stock price to increase by some 6% bringing it back to the $10 billion valuation it had fallen from due to the reported write-off. Credit for the spike can be given to American investor Bill Miller, who when interviewed on CNBC, added it to his list of recommended stocks. According to Miller, the moment the legal issues will be resolved - and he expects the company won't pay more than $1 billion in the opioid case - Teva's stock will jump from $20 to $30 next year.