BiblioTech
CTech's Book Review: How Netflix reinvented people management on its way to becoming a media giant
Sompo Digital Lab Tel Aviv's CEO, Yinnon Dolev, discusses his insights after reading "No Rules Rules" by Reed Hastings and Erin Meyer
Yinnon Dolev is the CEO of Sompo Digital Lab Tel Aviv, creating new customer experiences in safety, security and health. Recently, he shared his views on his latest read about the world's biggest streaming platorm.
Title - No Rules Rules
Authors - Reed Hastings and Erin Meyer
Format - Audio, Listened to an audio cast while running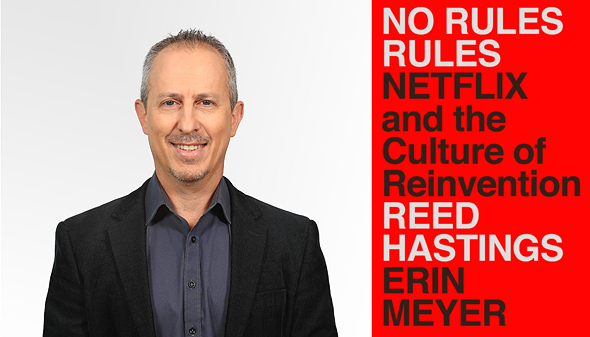 Left: Yinnon Dolev; Right: No Rules Rules. Photo: Fabian Coldorf
Summary:
Netflix's corporate culture and how it contributed to the company's massive success
Description:
The book describes how Netflix broke traditional corporate paradigms by creating an untraditional organizational culture that is the foundation of an agile and innovative media giant. Hiring top talent and forming "talent density" allowed it to empower low level employees to make important decisions. Removing corporate controls eliminated dependance on approvals and improved speed. Candid constructive feedback at every meeting, given even by junior employees to senior officers, relieved people from the need to please their bosses. All under one purpose: Do what is best for the company. Reed Hastings provides a personal perspective on how Netflix's culture evolved over time. His point of view is complimented by dozens of Netflix employees' personal experiences as captured by researcher and author Erin Meyer.
What I Learned:
Lead with context not control - Empowering people to make critical decisions is an effective way to create speed and foster innovation. It is best done when employees are given context such as clear goals and information to be able to make such decisions.
As a person who built his career in the corporate world, I am always concerned about how corporate processes limit creativity and agility. It was fascinating to learn how a market leader such as Netflix was able to beat competitors such as Blockbuster and other traditional media players by removing controls and allowing high performing employees to make decisions in a decentralized manner.
Criticism Points:
Netlix became a category leader in an existing highly competitive market by having a differentiated content and original productions strategy. The book mostly focuses on the corporate culture aspects of the company without connecting to the content that makes the company so well known. For example, wow did controls removal contribute to the success of "House of Cards"? What was the impact of candid feedback in launching "Breaking bad"? I felt that if Reed Hastings's name was dropped from the title, it could have been any media company.
Managers at all levels who are looking to be inspired by Netflix and transform their organizations to become more innovative and agile.
The Bottom Line:
The book falls into the category of "thought provokers". Even if you don't buy into the entire methodology, in an attempt to draw inspiration, it still makes you doubt existing traditional practices and consider using elements of the Netflix way