Israel's ElectReon to install wireless electric road system in Italy
The potential value of the entire project with Brebemi is estimated at around $97.5 million
Israeli company ElectReon announced on Sunday that it is set to begin a pilot in collaboration with Italian infrastructure company Societa' di Progetto Brebemi SpA to install the company's wireless electric road system in infrastructure projects in Italy.

Brebemi operates the A35 toll road in Italy that connects the cities of Brescia and Milan in the Lombardy region. The original memorandum of understanding was already signed back in January and went into effect at the end of October.

The pilot will initially include the construction of the wireless road system on a 1km-stretch of the toll road. Should it be a success, ElectReon will be able to install its system along the entire 62km road. The total potential of the project when combining both lanes and additional adjoining sections is approximately 150km.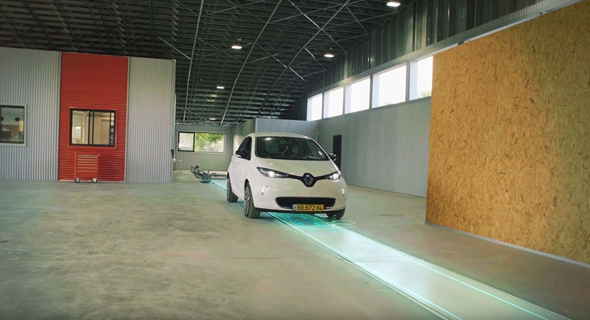 ElectReon's wireless electric road system. Photo: YouTube

The price for installing the system on a 1km-stretch is estimated at $650,000, meaning the potential value of the entire project is around $97.5 million.

ElectReon has developed a technology that enables electric vehicle batteries to be charged while the car is in full motion using copper coils placed under the middle lane of the road.

Brebemi is controlled by infrastructure company Aleatica which is owned by infrastructure fund IFM. Aleatica operates among other projects, 14 toll roads, three seaports and an airport in Mexico. It completed the acquisition of Brebemi last October. The IFM fund operates out of New York and manages $38 billion in assets.

"This is our first project with a toll-road company and this constitutes a new market for us," said Oren Ezer, co-founder and CEO of ElectReon. "The agreement with Brebemi is a continuation of the company's strategy to create partnerships with leading organizations across the world and we predict that this agreement and the global infrastructure bodies that control Brebemi, will help ElectReon enter the Italian market alongside other leading markets."

ElectReon announced last month that it had signed a deal with transport infrastructure company Eurovia, a subsidiary of the VINCI Group, one of the world's largest construction companies, to collaborate on the installation of wireless electric road systems in Germany, France and Belgium.

The pilot project will enable specially-equipped electric buses, capable of being charged directly from under-road electric infrastructure, to travel on the route. A complementary static wireless charging station will be installed at the terminal, to be used by the bus in between rounds.

ElectReon began a pilot program in Tel Aviv two weeks earlier, in partnership with the local municipality and the Dan Bus Company. The first of its kind project in Israel, will be carried out between Tel Aviv University Railway Station and Klatzkin Terminal in Ramat Aviv – a two-kilometer route including 600 meters of electric road.

ElectReon has seen its shares - traded on the Tel Aviv Stock Exchange - almost triple since the start of the year, taking the company's value to $2.6 billion.