Israeli transportation company Dan issues tender for more electric buses
The company plans to buy 86 electric buses, and another 40 articulated buses worth NIS 150 million with an option to purchase an additional 200 buses and 200 articulated versions
In a new push to increase the amount of operational electric buses in Israel, the Dan public transportation bus company recently issued a tender to buy 86 buses, with another 40 articulated buses that are worth NIS 150 million (approximately $44.5 million). The tender includes the option to purchase an additional 200 regular buses, and another 200 articulated versions.

The tender was distributed over the past few days to electric bus companies BYD Auto Co., Xiamen Golden Dragon Bus Co. Ltd, Zhengzhou Yutong Bus Co., Ltd., Solaris Bus & Coach, Anhui Ankai Automobile Co., Ltd, and Higer Bus Company Limited. The new purchases will increase Dan's fleet of electric buses to 200 out of a total of 1,300 buses, well over the Transportation Ministry's demand that 3% of the fleet be electric.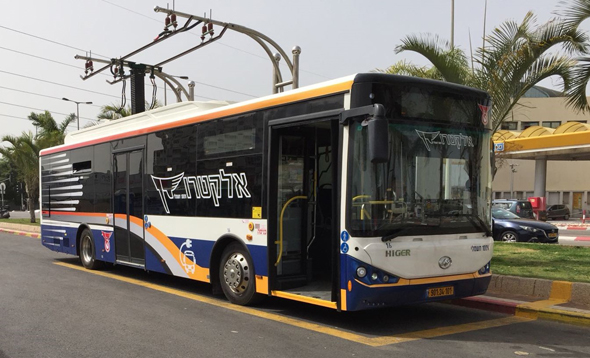 Dan plans to use more electric buses for public transport. Photo: Dan

According to the conditions of the tender, the electric intercity buses will be provided during the first quarter of 2022, and the articulated buses will be provided at the end of 2022 through the beginning of 2023. The price of an intercity electric bus is expected to be around NIS 1.2 million - NIS 1.4 million (approximately $400,000) and the articulated buses are expected to be around NIS 2 million. These buses are more expensive than traditional diesel versions, due to their batteries, though their operation is significantly cheaper, and does not contribute to air pollution or release exhaust fumes.

"The transition to using electric vehicles joins other steps taken by Dan including investing in smart public transportation with by collaborating with Via Transportation Inc., investing in Electrion's electric road technology, ticketing through the use of smart cards through the Hop-On app, and winning a tender to operate a fast electric lane network, all with the intent of turning our fleet electric and green," CEO of Dan, Ofir Karni said.