Despite Covid-19 crisis, average Israeli programmer salary closing on $10k
Companies that suspended the hiring of new recruits at the beginning of the crisis are back in the market, and yet the supply of jobs hasn't returned to pre-Covid levels
In the midst of an unprecedented economic and employment crisis, some positions in the Israeli tech sector actually saw demand for employees grow in the second and third quarters of 2020, with salaries following suit.

According to data collected by placement company see.V, the average monthyl salary in software professions increased by 5% over the past two quarters compared to the first quarter of 2020, and crossed the NIS 30,000 mark ($8,900). The average salary for programmers at the same time last year was NIS 2,000 lower, meaning it increased by 7% over the past 12 months despite the Covid-19 pandemic. DevOps programmers saw their salary jump by 14% to NIS 34,000 ($10,900) since last year while algorithm developers are earning an average 12% more than last year, which adds up to NIS 34,600. Minor drops were registered in the average salaries of Java programmers (NIS 28,500) and C++ developers (NIS 30,700).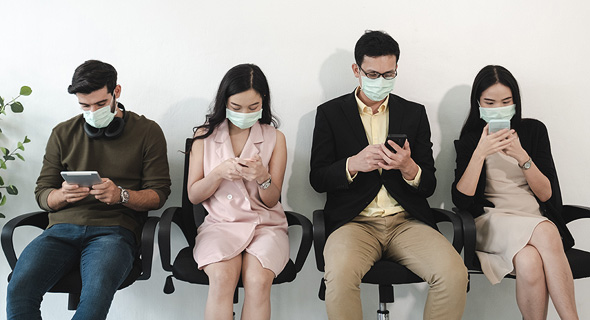 Job interview during Covid-19. Photo: Shutterstock

"When you look at these figures you would think that the Covid-19 crisis didn't even affect the tech job market, but that is obviously not true," said see.V CEO Ronen Engler. "Software developers are still very much in demand and this is resulting in an increase in salaries. However, we have identified in our analysis that there has been a change in the profiles of employees companies are recruiting. For example, when you analyze all the hirings during the pandemic you see that there has been a 10% increase in the recruiting of experienced developers with five or more years of experience. That is part of the explanation to why the average salary in these positions keeps increasing even during this time. In addition, with the move to virtual activity everywhere some of the software professions are in more demand than ever and these jobs have experienced a significant increase in the average salary. I'm talking about DevOps engineers and algorithm programmers, who currently lead the way with an average salary of more than NIS 34,000."

Companies that suspended the hiring of new recruits at the beginning of the crisis are back in the market, and yet the supply of jobs hasn't returned to pre-Covid levels, with the current supply at around 75% of what it was prior to the outbreak of the crisis. Nevertheless, in certain positions there are still more openings than there are candidates. According to see.V, there has been a 5% increase in active candidates who are searching for a job, compared to a drop of tens of percentage points in passive candidates, people who aren't actively looking for a job but are interested in hearing of possible offers.

While the tech industry suffered far less than other sectors of the economy, employee confidence has nevertheless taken a blow. Around 43% of those questioned in the survey said they had concerns regarding their job security despite their company being financially stable, while 6% expressed serious concern that they would lose their job as their company may not be able to survive the crisis.

"Employees are more concerned regarding the financial stability of their workplace, with these concerns being greater for those at a new workplace," said Engler. "We can also see candidates are more willing to compromise on their salary and conditions than previously. In the first quarter of 2020, over 70% of the candidates received offers that either matched or exceeded their expectations. That is no longer the case. Their priorities in selecting a workplace have also changed significantly. Right now they prefer established companies compared to early-stage startups, regardless of how exciting the tech they are developing might be. The appetite for risk has dropped and we are seeing a 10% increase in the number of employees at companies with over 200 workers."