Nvidia unveils the next generation of Mellanox's InfiniBand
The world's leading server manufacturers — including Atos, Dell, Fujitsu, Inspur, Lenovo and Supermicro — plan to integrate Mellanox NDR 400Gb/s InfiniBand solutions into their enterprise network offerings
NVIDIA Corporation announced a slew of new products on Monday, including the next generation of Israel-based Mellanox's InfiniBand. According to the company, the NVIDIA Mellanox InfiniBand is aimed at giving AI developers and scientific researchers the fastest networking performance available to take on the world's most challenging problems. Nvidia officially completed the acquisition of Mellanox in a deal valued at $6.9 billion back in April, with the Israeli company now going by the name of NVIDIA Networking.

As computing requirements continue to grow exponentially in areas such as drug discovery, climate research and genomics, Mellanox InfiniBand is accelerating this work through a dramatic leap in performance offered on the world's only fully offloadable, in-network computing platform.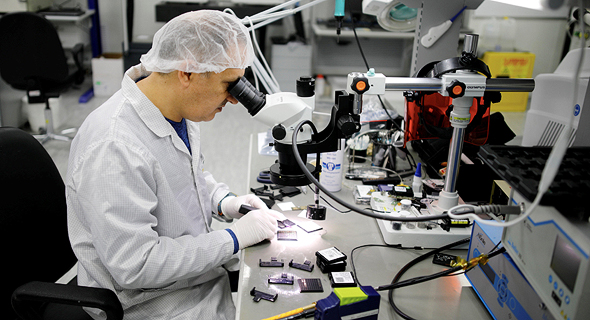 A Mellanox employee. Photo: Reuters

"The seventh generation of Mellanox InfiniBand provides ultra-low latency and doubles data throughput with NDR 400Gb/s and adds new NVIDIA In-Network Computing engines to provide additional acceleration," read the company's press release. "The world's leading server manufacturers — including Atos, Dell Technologies, Fujitsu, Inspur, Lenovo and Supermicro — plan to integrate Mellanox NDR 400Gb/s InfiniBand solutions into their enterprise network offerings. These commitments are complemented by extensive support from leading storage infrastructure partners including DDN and IBM Storage, among others."

Israeli Gilad Shainer, senior vice president of networking at NVIDIA who has worked at Mellanox for two decades, broke down some of the benefits provided by the company's new product.

"The most important work of our customers is based on AI and increasingly complex applications that demand faster, smarter, more scalable networks," he said. "The Mellanox NDR 400Gb/s InfiniBand's massive throughput and smart acceleration engines let HPC, AI and hyperscale cloud infrastructures achieve unmatched performance with less cost and complexity."

According to Nvidia, early interest in the next generation of Mellanox InfiniBand is coming from some of the world's largest scientific research organizations, including the Los Alamos National Laboratory and the Jülich Supercomputing Centre.

Nvidia also unveiled on Monday the NVIDIA A100 80GB GPU — the latest innovation powering the NVIDIA HGX AI supercomputing platform. With twice the memory of its predecessor, the new platform is set to provide researchers and engineers unprecedented speed and performance to unlock the next wave of AI and scientific breakthroughs. The company also announced the NVIDIA DGX Station A100 — the world's only petascale workgroup server — to accelerate demanding machine learning and data science workloads for professionals working in corporate offices, research facilities, labs or home offices.