Israeli cultural festivals are taking over the web
Many festivals have gone online in a new format, drawing record numbers of viewers
The cultural world has been immobilized for eight months, and many festivals and events have moved online. In a discussion with festival managers however, the Israeli community has proved it can remain faithful, a broad audience is exposed to programs, and ticket sales have increased as well. "We were very surprised, the festival was very successful," Pnina Blier, director of the Haifa International Film Festival festivals, where 30,000 people purchased tickets said. "Everything is relative of course, because this year the festival was much smaller. Every year, we show 200 films, and this year we only showed 64. Online many people can watch several films by purchasing a single ticket, so if we average that three people watched a film and we double that amount by the number of tickets, we have reached 90,000 viewers. During a regular festival, we'd only sell 70,000 tickets."

Under the new format, ticket prices are much lower this year. In Haifa, for example, the price went down to NIS 25 ($7) in place of the usual NIS 45 ($13).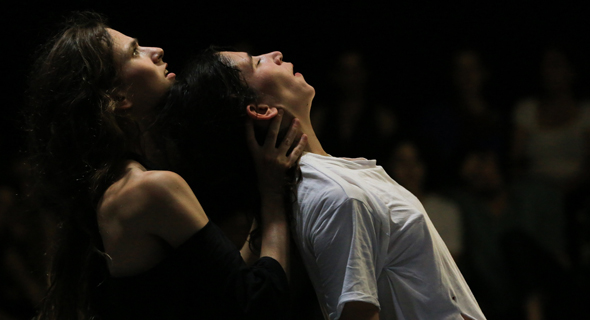 Israeli dancers train for a performance. Photo: Tamar Lam

"The feedback was very positive," Blier said. "I think that in the future we will need to combine physical festivals with online ones. The transition to the web allows communities abroad to join Israeli film industry events (but does not allow them to watch films, due to distribution rules).

The Docaviv International Documentary Film Festival was also crowned a success, and was extended due to high demand. It sold 61,000 tickets. In comparison, last year (which was regarded as highly successful), only 55,000 tickets were sold. "For about a month, site visitors reached half a million, which is extraordinary," Festival Director and CEO of Docaviv Galia Bador said. "Those 61,000 people who purchased tickets aren't watching films alone, and informal viewing greatly increased. The Israeli population appreciates events such as these, which featured live discussions and performances. The platform allowed you to bring whoever you wanted to the event. In the future we will consider the benefits of holding these events online."

"Holding events online has mainly appealed to young people, but also to the elderly who were able to join events with assistance from customer service representatives. About 70% of our viewers reside in the Tel Aviv and central districts, but we received positive feedback from the peripheral communities which often don't get to attend these festivals," Badur said.

In the theatre world, transitioning to online events seemed less natural. "Even if online events will have historic success, it won't replace sitting in an auditorium and interacting with an audience," Anat Fischer Leventon, CEO of the Suzanne Dellal Centre for Dance and Theatre, which held the Tel Aviv Dance Festival said. "Unlike music and film, dance demands interaction with an audience, and I feel that we must do something to return dancers to the stage."

Despite the challenges Fischer Leventon said that the festival was a success. "We had eight premiers, and our viewers are mainly located in Tel Aviv and the central districts. However, there were viewers from around the country and also from abroad. Viewers from 35 countries watched the performances, and we were invited to hold two additional performances, which is a great accomplishment. A total of 3,000 people viewed our performances, and we can say that we filled the auditorium. Due to the positive feedback we've received, we extended the festival for another 10 days."

Next month, Suzanne Dellal will hold the International Exposure event where viewers can attend online. "We decided to create a version ahead of time, and each performance will be about 10-15 minutes long because we know that it's not easy to sit through a long dance performance."

The Haifa International Children's Theatre Festival was postponed from Passover until the Sukkot holiday due to the lockdown and was broadcast online, to preserve and celebrate its 30 year long tradition since its founding. "We were pleasantly surprised," CEO of the Haifa Theatre Niza Ben-Zvi said. "We had more than 2,500 people who purchased tickets enjoying plays with their families, which translates to about 10,000 viewers which is a great achievement, and proves that the public has a thirst for theater. During an in-person festival, we sell 15,000 tickets (since most of the event is free, is held outside, and 60,000 people attend).

Israeli pop sensation Ivri Lider, held a virtual concert with viewers signing up from London, New York, Barcelona, and Los Angeles to watch the performance.

In addition, the Israeli Philharmonic broadcasts its concerts every Sunday on its website and on its YouTube channel. It pre-records its concerts ahead of time, and has enjoyed positive feedback.