Boaz Levy wins contested race to become the next CEO of the Israel Aeronautics Industries
The head of the IAI's missiles and space division was named to the top job after 30 years at the company
Boaz Levy, the head of the Israel Aeronautics Industries (IAI) missiles and space division, was named on Monday as the new CEO of the state-owned defense contractor.

Levy replaces outgoing CEO Maj.-Gen. (Ret.) Nimrod Sheffer, whose term ended at the end of October. The board of directors had appointed IAI's deputy CEO Eyal Younian, who was one of three internal candidates competing for the top job, as a temporary replacement but it was ultimately Levy who was chosen also beating out Yoav Turgeman, the CEO of IAI's daughter company Elta, and Maj. Gen. (Ret.) Hagai Topolansky.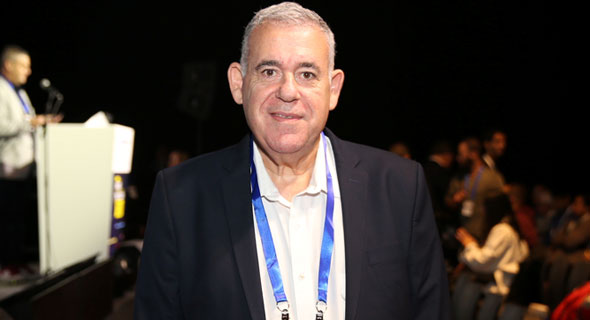 New IAI CEO Boaz Levy. Photo: Orel Cohen

Topoloansky withdrew from the race on Sunday, sending a letter to the members of the selection committee, led by IAI chairman Harel Locker, in which he wrote that he was "exposed to an inappropriate and unworthy process," and that messages passed to him prior to and throughout the process left him in "no doubt about the preferences of central members of the committee."

The IAI vehemently denied his accusations.

Levy is regarded as a global expert in the field of missiles and rockets. He first started working for the IAI 30 years ago as an engineer in the Arrow anti-ballistic missile system, a project he would go on to head. In 2013, he was appointed to lead the missiles and space division and finally completed his ascent to the top of the organization on Monday.

The Ministerial Committee on Privatization is set to convene this Thursday and finally approve the issuance of 25% of IAI shares. The company announced its highest net profit ever recorded in the first nine months of a fiscal year on Sunday, seeing a 37% growth to about $112 million and surpassing the entire annual profit for 2019. The company's sales in the three quarters of 2020 exceeded $3 billion – the highest nine-month period sales in its history. The growth in the Military Groups offset the effects of Covid-19 on the Aviation Group's operations.