Israeli VC announces first investment in UAE micro-mobility company Fenix
Maniv Mobility invested $3.8 million in the Emirati company's seed round to launch scooter operations in Abu Dhabi and beyond
Israeli investment fund Maniv Mobility is investing $3.8 million in the seed round of Emirati micro-mobility company Fenix. This appears to be the first investment by an Israeli venture capital fund in a UAE company. Fenix is a young startup that specializes in electric scooters for the Middle East region.

In an interview with Calcalist, Maniv Mobility founder and managing partner Michael Granoff and Fenix co-founder Jaideep Dhanoa discussed the investment. "Fenix is focused on micro-mobility in the Middle East. We will launch first in Abu Dhabi, with several thousand units. We feel there is a very big opportunity for micro-mobility in the region. Our experience from working at Circ, which is being acquired by Bird, strengthens that sentiment. The biggest challenge is profitability, which is what everyone is seeking. Our approach is to find quality margins. We will reduce our costs significantly," said Dhanoa. "I see no limits to where we can go in the future and Israel is one of the most active markets in the field. It is very possible that we will enter Israel, but right now we're focused on the UAE."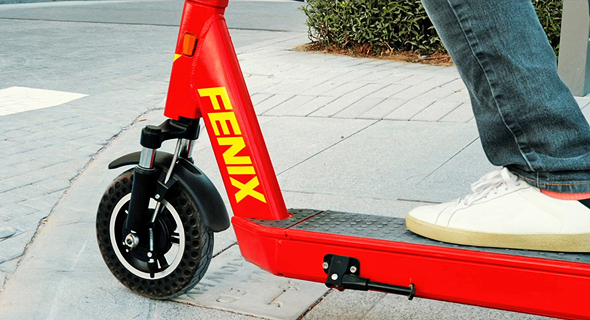 Fenix's electric scotters. Photo: Fenix

"It is a great privilege to be part of the first investment by an Israeli VC and I would like to work with the biggest investors in the sector. I feel that combining the Israeli ecosystem with our region will be a very positive thing. We want more initiatives to emerge from the region since creating an ecosystem requires a lot of successes. Israel can contribute a lot to those successes. It is very important to the economy here. This investment couldn't have happened six months ago and it's very exciting that it's happening now," Dhanoa added.

"Not long after the agreements between Israel and the UAE, I planned to fly there. I had just received an approach from them and that was followed by many in-depth conversations about the model's potential in the region," shared Granoff. "We felt comfortable with the model and with the founders and decided to invest in the seed round. It was very natural for us. We invest in many companies in the field of electric transportation and it's a sector that is very familiar to us. I am very excited about our investment in the UAE. It is in a very important context that can change the face of the region."

Fenix was founded by Dhanoa and IQ Sayed, for whom it is their third company. Both were co-founders in Circ and then executives at Careem. The company aims to launch in Abu Dhabi and then expand to the rest of the Persian Gulf states in the coming months. It aims to enter the market with the biggest fleet of scooters in the region. Following the investment, Granoff will be joining the company's board of directors.

"The challenges and opportunities of the mobility sector cross all borders — Maniv currently has portfolio companies active in the sector in six countries. When it comes to finding safe, cost-efficient, and clean ways to transport people around cities, the same solutions apply to Tel Aviv, London or Abu Dhabi. We are happy to be the first Israeli fund to invest in a UAE tech company," Granoff added. "We see huge potential in the Gulf region as a new market for micro-mobility and were blown away by Fenix's team and their drive to change the future of mobility across the region.
MAniv Mobility managing partner Michael Grannof

"We want to change the way our cities move by making mobility easier, cheaper and simpler to redesign, so we can all fulfill our potential. Our collaboration with Maniv Mobility and this historic seed investment provides the resources and expertise for Fenix to build the technological innovations most suitable to the mobility needs of the people and our partners in the region," said Sayed.