Mind The Tech TLV
Bring on SaaS IPOs: After Covid, Israeli software companies are charting a new course
The pandemic has played an important role in the boost experienced by the SaaS sector, says JFrog CEO Shlomi Ben Haim
"The founders of Israeli tech companies know that if they have something good they are better off growing it and that is why we will see many more IPOs coming from Israel, especially in the software sector," Shlomi Ben Haim, CEO and co-founder of JFrog, said in an online interview during Calcalist and CTech's Mind The Tech New York 2020 conference.
JFrog went public on Nasdaq two months ago and is currently being traded at a valuation of almost $6 billion. "It was a fantastic experience. I don't think they will ever go back to launching IPOs the traditional way because digital IPOs will take their place," noted Ben Haim. "The broadcast of the ceremony at the parking lot of our headquarters in Sunnyvale, California, was just as exciting as the traditional ceremony held at Nasdaq offices in New York."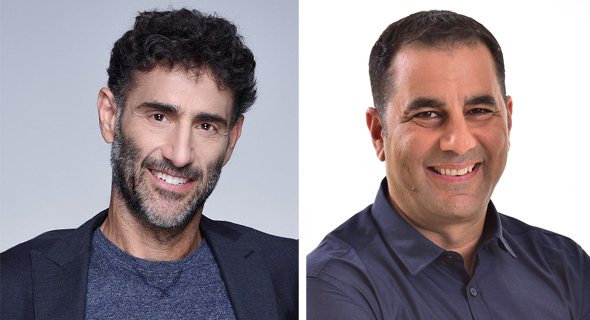 JFrog CEO Shlomi Ben Haim (right) and Qumra Capital managing partner Boaz Dinte. Photo: Courtesy

According to Boaz Dinte, managing partner and co-founder of VC Qumra Capital, there will be a wave of IPOs by Israeli companies in the near future at valuations ranging between $1 billion and $4 billion. "These are numbers we didn't even dream about several years ago. This entire SaaS (software as a service) model and the move to selling products and services online has served Israeli companies and worked in their favor," Dinte said at the conference.

Dinte explained that the way in which products are being sold has been revolutionized over recent years. "We no longer see salespeople with James Bond briefcases flying from client to client and playing golf on the weekend with other sales managers in a private club," he said. "Today we are seeing software companies that are recruiting clients online and are translating that into sales with AI, machine learning, Big Data, statistics and analytics."

Ben Haim noted that Covid-19 has played an important role in the boost experienced by the SaaS sector. "Even this interview, which we normally would have probably held face-to-face in New York, is currently being conducted through technology. That is why it is clear that if we use software to order our food, our kids use software for home schooling and the President of the United States is even chosen through software, that the entire software as a service world is booming," said Ben Haim. "As DevOps companies like JFrog provide the infrastructure for all of these developments, this has been good for us."

Ben Haim believes the ramifications of the Covid-19 pandemic will linger for a while and will continue to be felt throughout 2021. He expects the market to require even longer to recover and ultimately come to terms with what the new post-coronavirus reality will look like.

Dinte is also expecting Covid-19 to have far-reaching consequences going forward, not just for the software industry but also in sectors like remote healthcare. He said that the need for development in Industry 4.0 will only increase in the coming years, as there is still "plenty of room for disruption" with automatization and remote control, according to Dinte.

In response to the question of how he defines JFrog following its IPO in New York and the fact its headquarters are in Sunnyvale, while a large number of its employees are based in Israel, Ben Haim, who is in the U.S., said: "JFrog is a global company with deep Israeli roots. It is a great honor and privilege to stand on the Nasdaq podium and press the button to start trading while the Israel flag is in the background. At a certain stage in the life of a company the CEO needs to be next to his management, near his clients and close to his community while setting up a global team.

"With all due respect to companies that grow in Israel, our market is mainly outside Israel and I believe that once a company has the right foundations to grow from, the CEO should be where his market is," added Ben Haim. "I don't think there is a company that is traded in the U.S. that will say it is an Israeli company. We have employees in the U.S., India, France, China, and Japan, and the heart of our core is in Israel."