AI21 Labs completes $25 million round led by Pitango
AI21 Labs' first product, Wordtune, which was launched last month, is a writing companion powered by AI technology that is capable of understanding context and meanings
Israeli startup AI21 Labs has completed a $25 million series A round led by Pitango First, the seed and early stage fund of Pitango's investment platform, with participation from TPY Capital, also headquartered in Tel Aviv.
The company, which was founded in 2018 by Yoav Shoham, Amnon Shashua and Ori Goshen, employs 40 people. In 2019 it raised $9.5 million from the same investors.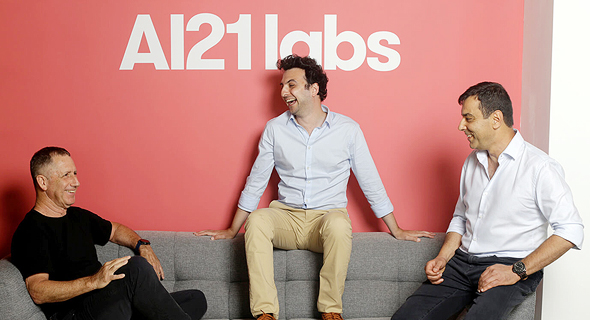 AI21 Labs founders Amnon Shashua (from right), Ori Goshen and Yoav Shoham. Photo: Courtesy
AI21 Labs' first product, Wordtune, which was launched last month, is a writing companion powered by AI technology that is capable of understanding context and meanings. It aims to help distill thoughts into the right words, rather than a copy editor focusing only on spelling and grammar mistakes. Users can use the system to rewrite whole sentences, make them more casual, more formal, shorter, or longer. Additional features include finding "tip of the tongue" missing words, "smart paste" which seamlessly fuses new text into an existing text, and more.
"Our tool helps in the writing process in a significant manner," Goshen told Calcalist. "This is a Chrome browser extension that works everywhere you write. The system creates sentences and additional ways to express yourself."
The basic version of the extension is free to download, with a premium version available for purchase.
"We have many plans for the product. We want to use AI to change the way in which people write. Writing and reading are universal and this is something that can be aided in a significant manner. Our product is a milestone in that direction," added Goshen. "There is a giant market of people who don't speak English as a mother tongue and our tool can be of significant help and that is a real revolution. We are a company that on the one hand is an academic level research lab and on the other hand a commercial company with significant aspirations. We will use this round to continue to invest in our product and in our research."
"We're just getting started on our mission to create AI solutions that will help rethink how we read and write," said AI21 co-founder Yoav Shoham. "We've got the team and we've got the vision to play in an area traditionally dominated by the tech giants, coupling deep technical innovation with compelling product experiences."
"AI21 Labs is a great company with an insanely strong team," said Eyal Niv of Pitango. "They are focused on creating AI solutions that can be as transformative to human communication as the Gutenberg press."