PlayBeyondBio Program: Corona vaccine developer, AstraZeneca, selects two Israeli startups for investment
Against the background of the global health crisis, the first cycle of the PlayBeyondBio project ended today (Tuesday) - a fast track program to transform Israeli startups in the field of digital health into groundbreaking international companies
The startups, chosen by JVP and the pharma giant, succeeded in securing international cooperation agreements.

Includes: TimeStamp that helps track a patient's medication, and DocDok app that closely monitors and treats chronic disease patients remotely.

Jerusalem, November 17, 2020 – Two Israeli digital health startups will begin international pilots and new collaborations with the pharma giant AstraZeneca following their participation in the PlayBeyondBio program. The startups were selected from nine companies that participated in the project led by pharma giant AstraZeneca, Jerusalem Venture Partners (JVP) Fund, and Margalit Startup City Community over the last six months.

As health systems across the world face unprecedented post-corona challenges JVP, pharmaceutical giant AstraZeneca (which is working with an Oxford University research team to develop a large-scale COVID-19 vaccine) and the Margalit Startup City Community launched the PlayBeyondBio program.

The selected startups participated in a six-month fast track mentoring and development program, which helped them define their vision, identify potential markets, and develop marketing strategies and technological integration.

The startups selected for the international pilot by AstraZeneca are:

Docdok.health – The 'Netflix of healthcare,' Docdok.health helps monitor symptoms when a patient is not under direct medical supervision. Docdok.health develops disease-specific apps, which monitor symptoms, alerts any deterioration, and monitors drug treatment.

TimeStamp – Too many patients fail to take their medication responsibly, potentially endangering life. TimeStamp has developed an electronic smart sticker product that records usage history, especially for asthma sufferers, and is adaptable to most inhalers without requiring patient engagement.

The PlayBeyondBio program took place in collaboration with Microsoft, Cisco, Kahn-Sagol Maccabi Research Innovation Institute and Jerusalem's Sha'are Zedek Medical Center.

Dedicated teams from the strategic partners were involved in all stages of the process - from sorting and recruiting companies, through working on product development and adapting to global market needs, examining the product in a "real environment", connecting to commercial agreements, and investing in the company. The four selected companies will continue to partner with AstraZeneca as a result of participating in PlayBeyondBio.

Mayor Moshe Leon: "The PlayBeyondBio project advocates cooperation between the worlds of hi-tech and health – fields in which Jerusalem has so much to offer, and continues to make groundbreaking achievements. This city is made up of different populations, and something which unites all of us is the issue of health."

Erel Margalit, Founder and Chairman of the JVP Foundation and Margalit Startup City Community: "Precisely during the global corona crisis, we joined together as international leaders in the field of startups and health, to give the world innovative and better health solutions in light of the plight of patients and medical staff. The connection between the worlds of startups and the innovation that JVP specializes in, together with the pharma giant AstraZeneca and its expertise in the world of health, is the key to creating new leading global solutions. We congratulate the companies that have completed the first round of PlayBeyondBio and look forward to the startups that sign up for the next round, to which we will add other significant strategic partners."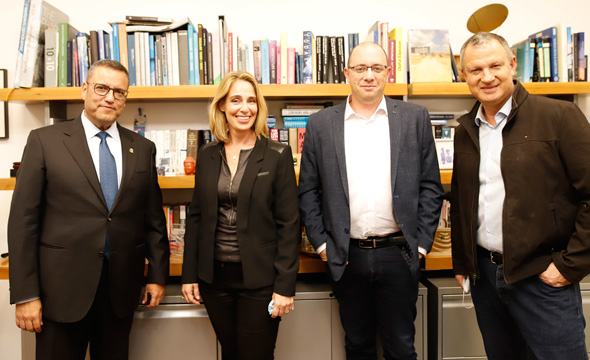 Erel Margalit, Ohad Goldberg, Michal Badash, Moshe Lion
The other companies that completed the program:
Serenus.AI – In order to help reduce the number of unnecessary surgeries and medical prescriptions, Serenus.AI's patented AI-based platform was developed to empower patients and medical professionals at critical post-diagnostic crossroads, advancing the quality of medical care while saving valuable resources.
DiA Imaging Analysis – Ultrasounds for pregnant women today rely upon the skill and experience of medical professionals performing the test. DiA has developed an AI-based technology that allows clinicians with all levels of experience to identify abnormalities that are otherwise difficult to find visually.
IDEA Bio-Medical – IDEA Bio-Medical has developed an AI-powered precision oncological decision support system, which significantly improves the ability to analyze biopsies and make decisions regarding cancer treatment.
Resemetrix - Currently, deterioration is often detected too late in those suffering from respiratory conditions, leading to severe complications and hospitalization. Resmetrix is developing a unique wearable system wirelessly connected to a smartphone app, that accurately monitors respiratory patterns of at-risk patients in real-time.
Bio-T – Bio-T provides a cloud platform built especially for medical device manufacturers. Its software enables medical device manufacturers to quickly upgrade any standalone device to an online 'medical device as a service' providing remote care.
Biobeat – With the acute need for remote medical services in a post-corona world, Biobeat is developing a cutting-edge wearable for remote non-invasive medical-grade monitoring of vital signs including blood pressure, heart rate, respiratory rate, saturation, and temperature, as well as more complex parameters.
Flaskdata.io - Drug and vaccine development, including those for COVID-19, require thorough medical experiments which often take substantial time. Flaskdata.io's real-time clinical trial platform significantly reduces the amount of time it takes to perform medical experiments using AI technology.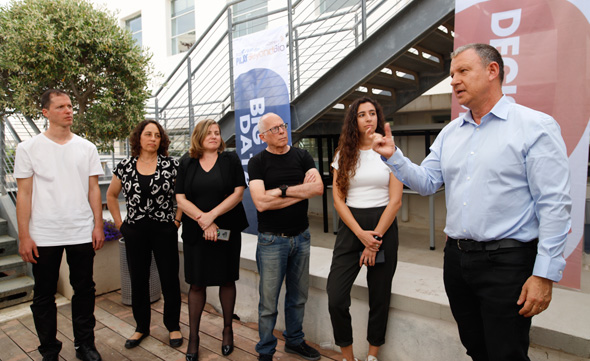 Erel Margalit, Romi Litman (BioBeat), Danni Lieberman (Flaskdata),Hillary Harel (Serenus.ai), Yael Paran (Idea imaging), Guy Vinograd (Bio T)
About JVP
Jerusalem Venture Partners (JVP), founded and led by Dr. Erel Margalit, is an internationally renowned venture capital fund. JVP has to date raised $1.4 billion across nine funds, and has been listed numerous times by Preqin, and other rankings, as one of the top-ten consistently performing VC firms worldwide. JVP has built over 140 companies, leveraging a broad network of partners and market expertise to help companies become global market leaders. JVP was recently chosen by New York City and EDC to lead the cyber security cyber hub in NYC. Among the pioneering firms of the Israeli venture capital industry, JVP has been instrumental in building some of the largest companies out of Israel, facilitating 12 Initial Public Offerings on NASDAQ, including CyberArk Software (NASDAQ: CYBR, $4.7 billion mkt. cap.), QLIK Technologies (NASDAQ: QLIK, then $4 billion mkt. cap.) and Cogent Communications (NASDAQ: CCOI, $3 billion mkt. cap.) and more.
About AstraZeneca
AstraZeneca is a leading, international, innovation-driven pharmaceutical company that initiates and promotes the research, development and marketing of innovative prescription drugs. The company operates in a number of core areas including cancer, cardiovascular, metabolic and respiratory diseases, in which the company has developed breakthrough drugs. The company operates in over 100 countries around the world and in 2007 AstraZeneca Israel was established as the official representative of the international company in the country. In Israel, the company invests in research and treatment development, promotes and encourages clinical research and works with health organizations to strengthen the health services provided in Israel for the benefit of the public as a whole.
About Margalit Startup City Community
Margalit Startup City Community is a non-profit organization, founded by Dr. Erel Margalit; amodel for socio-economic development designed to promote the advancement of different aspects and areas of the city. The unique model is based on the establishment of innovation centers that connect technological-business entrepreneurship with social and cultural entrepreneurship. Each innovation center creates a thematic ecosystem around it, an engine for collaboration between different stakeholders including investment funds and startups, in collaboration with leading universities, research institutes, and multinational companies. Crucially this is carried out in cooperation with the local municipal and national government. Margalit Startup City is serving as an engine for growth for the next generation of entrepreneurs. It is a model that is already being implemented at the International Cyber Center in New York, and at the food-tech and cyber initiatives in northern Israel and Beer Sheva respectively.