Boston Dynamics' robo-dog gets Israeli Percepto's drone capabilities
Autonomous drone startup also announced $45 million series B funding round
Israeli autonomous drone startup Percepto announced on Tuesday the completion of a $45 million series B funding round. The company also revealed that it is expanding its activity into additional sectors of robotics, including a partnership with American robotics company, Boston Dynamics.

The funding round was led by Koch Disruptive Technologies (KDT), with the participation of previous investors USVP, Spider Capital and Mori Arkin, as well as new investors: State of Mind Ventures, Atento Capital, Summit Peak Investments, and Delek-US. The new round brings the total investment in the company to $72.5 million.

The cooperation with Boston Dynamics will see the Israeli company integrate Spot, an agile mobile robot developed by the U.S. company, with AIM for the robot to automate inspection rounds completely controlled remotely via the platform. Spot, which can navigate terrain with unprecedented mobility, will carry Percepto's payloads for high resolution imaging and thermal vision to detect issues including hot spots on machines or electrical conductors, water and steam leaks around plants and equipment with degraded performance, with the data relayed via AIM.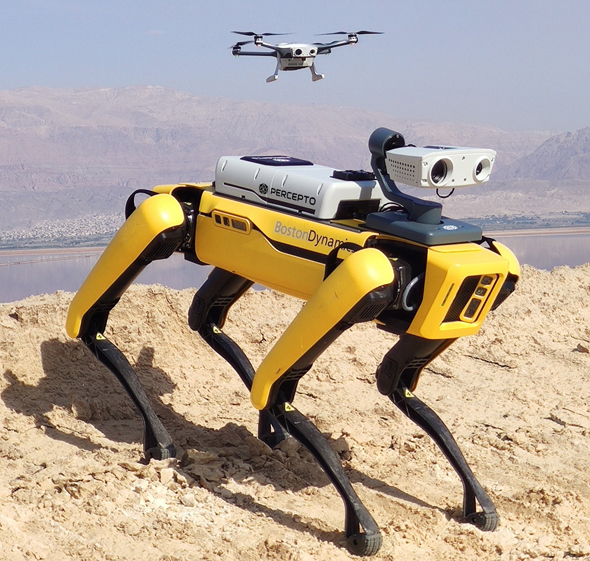 Boston Dynamics' Spot and Percepto's drone. Photo: Percepto

"Until now we provided our solution via drones, but in the past year we have been working on making adjustments to the system so that it can provide an end-to-end solution that can conduct tests and observations via any autonomous vehicle," CEO and co-founder Dor Abuhasira told Calcalist. "Our partnership with Boston Dynamics is technology-based and within it we will offer their robot as part of our solutions. We understood that our software is of the most value and that is why we decided to install it in any vehicle that allows the collection of data. Drones were and will remain our leading vehicle, but we are now also adding additional capabilities."

Abuhasira said the company is thinking of going public, although nothing is imminent, and wouldn't reveal how much the company was valued at in its recent funding round.

"The idea of putting a lot of money into our sector has diminished and only successful companies that manage to create an added value are receiving funding," added Abuhasira, who was willing to divulge that the company's value has risen but it has yet to reach the status of a unicorn. "Every company is looking to carve out its own market segment and our competitive advantage is in the end-to-end autonomous vehicle solution which we provide, which is why we have huge clients that are seeking testing and observation capabilities."

Percepto's Autonomous Inspection and Monitoring (AIM) platform operates a fleet of third party robots alongside the company's autonomous Sparrow drone, providing visual data management and analysis to report trends and anomalies and to alert of risks. Any member of staff can request data and Percepto AIM will deploy the most suitable robot independently without human accompaniment to retrieve and stream the required data. The platform also seamlessly reports to assess risk, minimize downtime, drive efficiency and reduce operational costs without human intervention.

Percepto, which was founded in 2014 by CEO Dor Abuhasira, Sagi Blonder (CTO), Raviv Raz (CFO) and Ariel Avitan (CCO), has greatly benefitted from the Covid-19 pandemic with the use of robotics increasing dramatically across the world. The company employs 80 people, most of them in Israel, but also has offices in Australia and the U.S. The company plans to double its workforce over the coming year, with openings in Israel to include positions in sales, marketing, development, cloud, software, electronics and AI.

"We believe Percepto AIM addresses a multi-billion-dollar issue for numerous industries and will change the way manufacturing sites are managed in the IoT, Industry 4.0 era," said Chase Koch, President of Koch Disruptive Technologies. "Percepto's track record in autonomous technology and data analytics is impressive, and we believe it is uniquely positioned to deliver the remote operations center of the future. We look forward to partnering with the Percepto team to make this happen."

Michael Perry, Vice President of Business Development at Boston Dynamics, said: "We are excited to see Spot integrated for the first time with an autonomous drone as part of a robotics team controlled totally remotely in such a unique setting, at the Dead Sea, the lowest point on earth. This partnership with Percepto demonstrates the value of harnessing robotic collaborations and the insurmountable benefits they can bring to industries, from safety and agility to accuracy and cost savings."

Shay Hen, ICL Dead Sea Drone Program Manager, added: "With Percepto's AIM, we can now live stream all of our missions and no longer have to be physically present on site to control decisions regarding maintenance and operations. Wherever we are, we know exactly what is happening on site. We're excited for the next phase of our partnership with Percepto, the first company in the world to integrate Boston Dynamics' Spot with autonomous drone, Percepto Sparrow, to further improve our autonomous inspection and monitoring capabilities."