Salesforce invests in Israel's AppsFlyer at $2 billion valuation
Israeli startup's $210 million round D was led by General Atlantic
Salesforce's investment arm, Salesforce Ventures, is investing in Israeli startup AppsFlyer as part of its series D round valued at $210 million. The round, announced back in January, was led by the American investment firm General Atlantic. AppsFlyer and Salesforce refused to disclose the exact amount of the latter's investment in the extension of the round, but according to a source who spoke to Calcalist under the condition of anonymity it is believed to be over $15 million. AppsFlyer employs 1,000 people in Israel and around the world, and has plans to recruit an additional 350 people next year, most of whom will be employed at its Israeli offices. According to a source who spoke to Calcalist under the condition of anonymity, the company was valued at $1.5 billion in its previous round in 2019, a figure that has risen to $2 billion since, making it one of the largest private companies in Israel.

AppsFlyer also announced that it doubled its annual recurring revenue (ARR) during the last two years, and passed the $200 million mark. AppsFlyer is an Israeli startup that was founded in 2011 by Oren Kaniel and Reshef Mann. The company developed a tool that analyzes and measures digital campaigns and it serves over 12,000 customers, and partners with over 8,000 companies.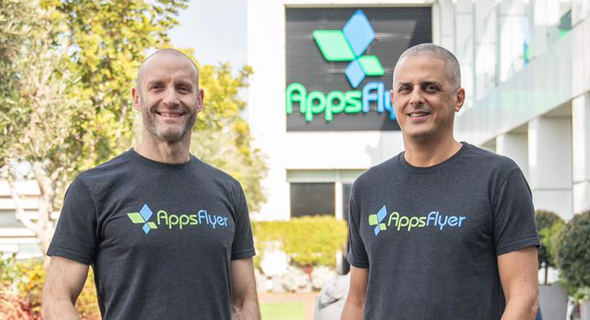 AppsFlyer co-founders Oren Kaniel (right) and Reshef Mann. Photo: Salesforce

The company employs 1,000 workers in its 19 offices around the world (the newest was opened in Australia this past month), with 600 employees based out of its Israeli offices. AppsFlyer's total funding stands at over $300 million including the present round. The company plans to recruit more employees in 2021 in order to answer customer and user demand, during which it will look to hire an additional 350 employees around the world, with the majority being in Israel. In addition, last year AppsFlyer expanded its corporate responsibility program, AppsFlyer Cares, and had an affect on tens of communities and thousands of people around the world.

In an interview with Calcalist, CEO and co-founder Oren Kaniel said that "around the world there are very high unemployment rates. With everything going online, there is now an accelerated process which was supposed to take ten years and has taken place in a few months, and there are great gaps between whoever works in the field of tech and digital to anyone who doesn't. In Israel it is obvious, but it's all over the world too.

"No one could prepare for the pandemic. On the one hand, airline companies and hotel chains have fallen on hard times, many of whom are our customers, and we support them in any technological aspect that we can, and help them not only with advertisements which cost money, but with internal work that can help them out of the crisis," Kaniel added. "The rest of the verticals have seen a dramatic rise in mobile usage. Traffic on mobile is insane. There have been other changes too that have happened with Apple and different deals which created more demand for their products, and we help our companies to meet all the necessary regulations. This process has created a lot of work, demand for our products, and yielded revenue. We are close to breaking even, and don't plan to make a profit at this stage. We raised more than $200 million not to keep it in the bank, but to help us expand. When I look at the long term plan, I don't try to time the market for an IPO. My vision is the only thing that concerns me, and what I need to do to get there."

"We will remain private for a littlel longer and as soon as we decide to go public we will want that to be something that helps accelerate our business and we will do it at a time that works for us without taking into account the crazy multiples being offered by the market," Kaniel said. "The valuations of other cloud companies have made us think about it but I'm not here for a year or two, rather for the long term. When we do go public it will be an amazing IPO that will serve us."

"I'm not here to make exits or sell to another company. There are very few opportunities in life that go well and you need to ride it out and stick with it," Kaniel says. "Salesforce often spoke with us about investing, and this move matured now. It's a company with many products and departments, and I believe that we will have a lot of joint projects to strengthen the integration of its technologies. It's the largest cloud company in the world and has operational knowledge that can greatly help us. They are a small investor with no involvement, but they help us a lot."

AppsFlyer works with thousands of customers, among them leading brands such as Macy's, Tencent Holdings Ltd., NBCUniversal Media LLC, Stitch Fix, Wayfair Inc., US Bancorp, and Nike, Inc.. The company has created an ecosystem that includes more than 8,000 technological partners, among them Facebook, Google, Twitter, Apple, Snap, Pinterest, TikTok, Search Ads, Salesforce, Adobe, and Oracle.

Its investors include DCTP, Qumra Capital, General Atlantic, GS Goldman Sachs, Deutsche Telekom Capital Partners, Salesforce Ventures, Pitango Venture Capital, Eight Roads Ventures, and Magma Venture Partners.