Israel to sell surplus F-16s to Canadian company for $100 million
Defense Ministry is in negotiations to sell 29 used planes to simulate enemy forces in a deal set to be the largest sale of Israeli Air Force surplus yet
The Israeli Defense Ministry is in negotiations to sell 29 retired F-16 fighter jets to a Canadian company, Calcalist has learned. The deal is valued at $100 million, and is set to be the largest of its kind ever.

The planes are F-16 Hawks of the A/B variety, and had been in the Israeli Air Force's possession since the 1980s, the last of which was retired from service in 2016. Planes of this variety took part in the 1981 attack on the Iraqi nuclear reactor and in the 1982 Lebanon War, but were retired from active service once more advanced versions of the F-16 came into use. The Defense Ministry's Export Agency (SIBAT) which is responsible for selling used military equipment is overseeing the deal.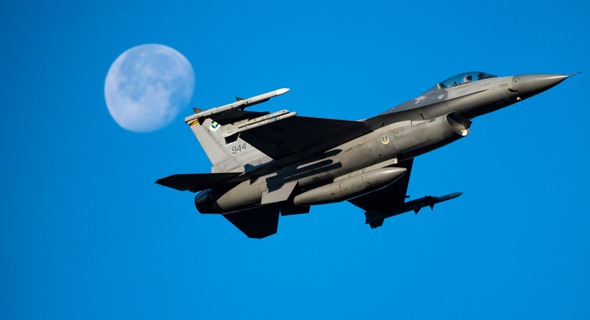 An F-16 aircraft. Photo: Jacob Wongwai

The planes will not be purchased by the Candian government, but rather by a private company called Top Aces Inc. On its website, the company has already announced that it will soon be adding F-16s to its fleet that now includes Skyhawk and Alpha jet aircraft.

Top Aces provides the Canadian Air Force, the U.S. Air Force, and the Australian Air Force aircraft that simulate enemy combat threats, also known as the "Red Force": its aircraft and pilots imitate enemy aircraft and practice interception drills against "Blue Force," or the military. The company also offers services to Western navies that are interested in conducting exercises that involve combating airstrikes.

The use of a private company to facilitate the transaction also cheapens the deal, since employing used planes and private pilots is cheaper than using new combat planes and operational pilots. In the 1980s, the U.S. Air Force purchased Israeli Kfir aircraft for these enemy smulations, but now uses private companies for the same operations. In 2019, the U.S. Air Force paid $6.4 million to seven private companies to provide enemy simulation services, some of whom purchased surplus Israeli Kfir and Skyhawk aircraft.

The Israeli Air Force operates the 115th Squadron as its "Red Squadron" to simulate enemy threats. It is composed of active pilots that operate older planes including some of the F16s that will be sold to the Canadian company. The squadron isn't operational, and during emergency situations its pilots join operational squadrons in combat.