Despite Covid conference freeze, Israel's Bizzabo completes $138 million funding round
Part of the round includes the secondary purchase of shares from existing investors; the event planning platform had to reinvent itself with the shift to virtual conferences
Event planning startup Bizzabo Inc. announced Wednesday it has completed a $138 million series E investment round. The round was led by Insight Partners with the participation of Viola Growth, Siemens AG investment arm Next47, and OurCrowd. Part of the round includes the secondary purchase of shares from existing investors. Bizzabo declined to address the size of the secondary portion of the deal but noted that it was open to prior investors and veteran employees in addition to the founders. The company also failed to note the number of employees who could realize their stock options. One of the reasons for the substantial size of the round, alongside the desire to grow the company, is the desire of many investors to take part in the round and the purchase of employee and founder's shares.

Bizzabo did not share its valuation in the current round, but one of the founders, Alon Alroy, told Calcalist "we are not yet a unicorn, but the valuations grew substantially from the previous round." He added that though the company employee headcount dropped to 110 in March, but was now back to 175 with plans of hiring 100 more people, 50 of them in Israel.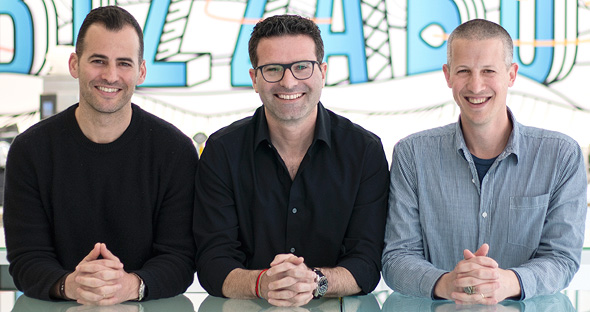 Bizzabo's co-founders Alon Alroy (left), Eran Ben-Shushan, and Boaz Katz. Photo: PR

Bizzabo was founded in 2012 by Boaz Katz, Alon Alroy, and Eran Ben-Shushan who started their venture coming out of the Zell Entrepreneurship Program at IDC Herzliya.

Bizzabo said it will use the investment to meet surging demand for its platform globally and expand its category-leading capabilities. The round comes a year and a half after its previous $27 million raise.

"In March, we saw the conference industry collapsing. Every day we had a cancellation and many wanted to be reimbursed. It forced us to say goodbye to 25% of the company and prepare for challenging days ahead," Alroy said. "We decided to reinvent ourselves and adapt to the reality of virtual conferences. In April and May the demand started coming back. We re-hired some of our employees and concluded the second quarter with record earnings. It became clear to us that the online conference industry was booming and that we had built a very impressive platform, offering an end-to-end solution."

"Up until March the events were all physical and very few were virtual, now it has reversed. We are big believers in face-to-face interactions and it is clear to us that the world wants to go back to meeting in person, but no one can ignore the reality of hybrid events that are taking form before our eyes," Alroy said. "We had been in talks with Insight Partners prior to the pandemic and the momentum was very positive. In the summer we realized that it would be a substantial round, but we didn't think it would be this big. We had the opportunity to raise an amount of capital that would allow us to become a market leader in a new category, attempting to introduce innovation into the tech world."

"Covid-19 has permanently transformed the professional events category," said Matt Gatto, a Managing Director at Insight Partners, who will join the Bizzabo board of directors. "Bizzabo's impressive growth and momentum began pre-pandemic and accelerated during it as they launched the industry's first end-to-end event technology solution. Their pedigree in both in-person and virtual events and their impressive execution capabilities have them well-positioned to lead this rapidly evolving space. We are excited to partner with their leadership team and to support them in this new phase of growth."

"Our platform has seen unprecedented demand this year," said Ben-Shushan. "Compared to the year prior, the number of events organized through us has grown 65 percent. Additionally, the number of attendees registering for events with Bizzabo has grown 500 percent, while overall usage is up 150x. With a vaccine likely and more hybrid events in the future, we anticipate even greater growth. Bizzabo has been the category leader, experiencing hyper-growth both pre-pandemic and during the virtual transition, we are excited to continue to lead the market forward by doubling down on product, technology, and user experience, to help organizations unlock the power of hybrid experiences."

Bizzabo will use its investment to build a comprehensive technology that successfully integrates the experiences of virtual and in-person — for both organizers and attendees. The company will also expand its go-to-market operations and triple its engineering, product, and experience teams with the opening of two new offices in Europe in the first half of 2021.