Going Bust: Adam Neumann is a symbol of the cash-bloated startups era
Neumann is a result of too much ambition colliding with too much money, says author of the Israeli entrepreneur's biography
When I asked Reeves Wiedeman what was the thing that most surprised him when meeting Adam Neumann, he answered directly, "his height."

His physical appearance?

"He's simply a formidable person. I was very skeptical when I came to interview him, but I saw the charm, the audacity, and the charisma. He is a person who simply takes control of the room and you want to be around him."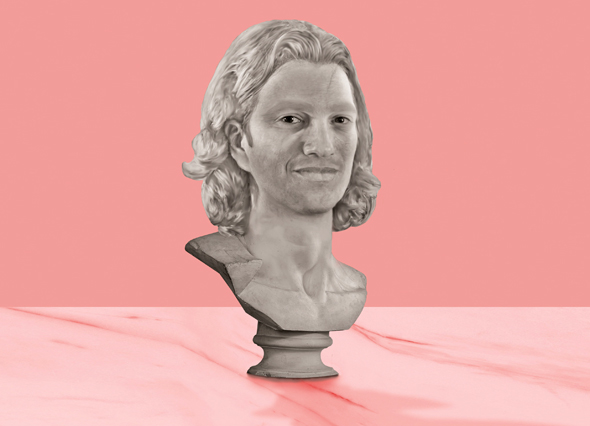 An Illustrated bust of WeWork co-founder Adam Neumann.
The surprising answer by Wiedeman, the author of "The Billion Dollar Loser", the new biography on the life of Adam Neumann which recently hit bookstores in the U.S. and has been generating interest ever since, will come up again in our conversation. And not only in our conversation. "When Adam Neumann looks at you — I suppose it's what it felt like when Julius Caesar looked at you," a WeWork community manager is quoted as saying in the book.
Reeves Wiedeman. Photo: Makayla Booker
Many other people who were interviewed for the book remark on the WeWork founder's impressive and striking appearance. What sounds like the objectification of Neumann is a thread that runs through the entire biography, a sort of hook on which much of Neumann's and WeWork's global success hangs.
Such was the case with SoftBank, Masayoshi Son's huge Japanese investment fund, which invested almost $4 billion in Neumann's company and instantly turned WeWork from another interesting start-up into one that purports to become Amazon of office real estate and change the world.
"Quite a few people at SoftBank didn't want to invest in WeWork, or at least not so heavily," says Wiedeman. "Even 'Masa' himself admits today that he made a mistake, but got confused at the time. It's not that Neumann tricked him, he just charmed him. He has the ability to convince others to do things and I think it has a lot to do with his outwards appearance. It is no coincidence, a tall handsome man is capable of convincing people."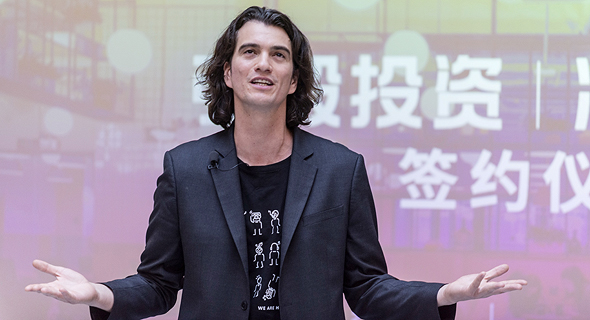 Adam Neumann. Photo: Getty Images
"A Cutthroat New Yorker"
Wiedeman's book offers a great deal more than just references to the WeWork founder's good looks. It draws a good portrait of the age of startups bloated with the big bucks of private investors and primarily spins a fascinating tale—spiced with some juicy gossip provided by employees, investors, and business rivals— On the meteoric rise and grand fall of Neumann.
Wiedeman is New York Magazine's startup reporter. His sole meeting with Neumann lasted for half an hour, during an interview last year ahead of WeWork's failed IPO. Like he did to others, Neumann managed to spark his curiosity. But since Wiedeman is not an investor with deep pockets, but a reporter, he didn't put his money into a startup and instead sat down to write a book about its founder. As someone who started his journalistic career as a fact-checker, Wiedeman worked thoroughly on his first book and spoke to no fewer than 200 people. It enabled him to publish a biography that succeeded in revealing a lot about a person we may have thought was already pretty familiar.
Among other things, Wiedeman's book exposed a meeting that took place between Neumann and President Donald Trump. Neumann, Wiedeman wrote, is part of Jared Kushner's close circle of friends. "They are roughly the same age and met as New York real estate people after the 2008 crisis. When they had just met, circa 2010, Kushner didn't trust Neumann. But later on, in part due to their religious beliefs, they became close and Neumann even rented office space for WeWork in Kushner family properties. They overcame business disputes while downing shots at a bar or by arm-wrestling, on some occasions in Neumann's office, in front of his employees."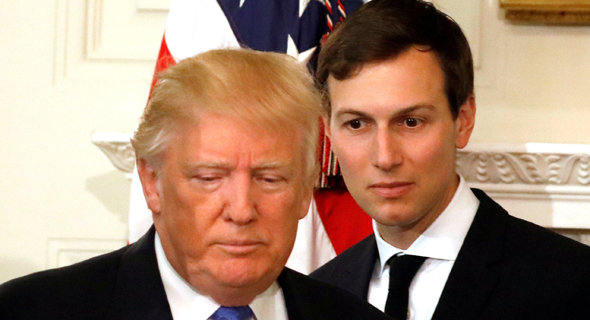 Jared Kushner and Donald Trump. Neumann was friends with one and wanted to emulate the other. Photo: Reuters
In 2017, Wiedeman wrote, shortly after Trump's inauguration, Neumann received an invitation to visit the White House. His PR people tried to convince him to politely decline. But Neumann really wanted to meet Trump and since Masayoshi Son himself had already met with Trump, he decided not to give up on his chance, only to do it in a low profile manner. Wiedeman presents testimonies by former employees who noted that after the meeting Neumann started adopting some of the new president's mannerisms. For example, he requested that crowds be exhilarated before he went on stage and he began brushing aside criticism of WeWork with the phrase "fake news."
"Despite the differences, there are a lot of similarities between them," Wiedeman says. "They are both bombastic individuals, they know what audiences want to hear and are keen to provide it. I don't know what Neumann's political leanings are, but if you are aiming high, how can you not follow Trump's example?"
Do you think that part of Neumann's charm is that he is not completely American?
"Is he American or Israeli? Apparently, he's a combination of the two. Many people have told me that he has a lot of Israeli characteristics, he is always surrounded by a close circle of Israeli friends and relatives who he sees as his tribe. But he also possesses New Yorker characteristics. At the end of the day, he's a cutthroat New Yorker."
Neumann's tribalism, Wiedeman wrote in the book, was expressed in the fact that EVERYONE was deeply involved in the company. Not only his wife Rebekah, "he had surrounded himself with friends and family since the company's early days: childhood buddies, navy pals, friends from Kabbalah, not to mention his wife, sister, multiple in-laws, and two nephews." At one point, Wiedeman wrote. "WeWork employees were asked to reserve a company email address for Adi Neumann's toddlers…. the overall feeling was that proximity to Adam was the key to advancement at the company."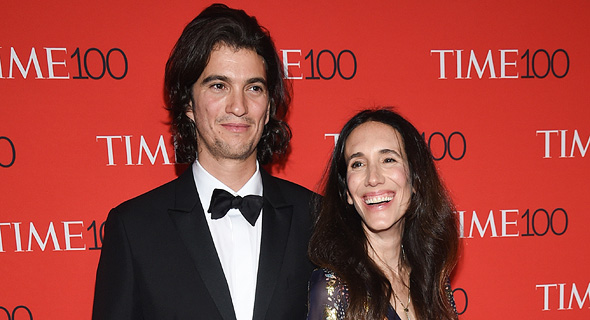 Adam and Rebekah Neumann. Photo: AP
In the book, Wiedeman describes a company event in which Neumann gave a toast and paused to ask Michael Gross, one of WeWork's top executives "'what's that word you always say—when you hire your family and friends?' 'Nepotism?' Gross said. ''That's it,' Adam said. To nepotism!'"
"The Energy of We"
Wiedeman (34), became interested in Neumann, not because of his personality, but because of WeWork's rapid growth, which caused him to encounter its logo on more and more buildings around the city. "Our office was in Soho and we began to see many WeWorks sprouting all over. It sparked our curiosity because it was a really fast development in New York real estate terms," Wiedeman said. "Pretty soon after I began taking an interest in the company, it became clear that it all converged around Neumann, both the positive aspects of WeWork and the negative ones. It was impossible to distinguish between him and the company."
For example?
"Around the time I interviewed him, the company launched a new investment fund called ARK. When I asked Neumann what the meaning of the name was he said it stood for Adam, Rebekah, and Kids. Later WeWork's communications said it stood for Asset, Return, Kicker."
Another sign of megalomania that Wiedeman identified took place in 2018 when WeWork had secured an additional $702 million in debt financing, the odd amount was arrived at, according to Neumann's associates, when Adam, who was celebrating his 39th birthday, multiplied his age by eighteen, a lucky number in Judaism.
At one stage, when Neumann became more religious and started studying Kabbalah, he urged his employees to attend Kabbalah meetups and even brought his rabbi Eitan Yardeni to the company's New York headquarters for lectures and meetups. In another instance, in July 2018 he announced, suddenly and without consulting with senior managers, during a video call with all the company's workers that he was banning the eating of meat at any of the company's sites. "It wasn't Neumann's most bizarre announcement, but it caught everyone by surprise," Wiedeman said. "People didn't understand whether it referred only to employees or also to renters. After a short time, his decree was met with real opposition. Employees who had various health issues pointed out that their diets required eating meat, while those in countries such as Uruguay and India noted that this was a culturally sensitive issue."
Despite the occasional weird anecdote, Neumann's business for years operated like a well-oiled machine, until it was exposed in all its glory and ugliness in an S-1 filing to the SEC for an IPO on Wall Street planned for September 2019.
An S-1 filing is supposed to be a dry financial document that describes the company's business model and explains to investors where their future earnings will come from. Much to the surprise and the distress of the investment bankers, the founder's attention wasn't focused on the financial elements of the filing, but rather on the details that are almost negligible in the offering document.
Neumann and his wife Rebekah treated the prospectus like any other WeWork branding document. Like one company executive described it to Wiedeman. "Rebekah treated it like the September issue of Vogue."
Instead of focusing on justifying the company's massive losses — $2 billion in 2018 alone and $3.6 over the prior three years—the Neumanns spent hundreds of thousands of dollars to pay famous fashion photographers to take pictures of famous figures posing in WeWork's office spaces.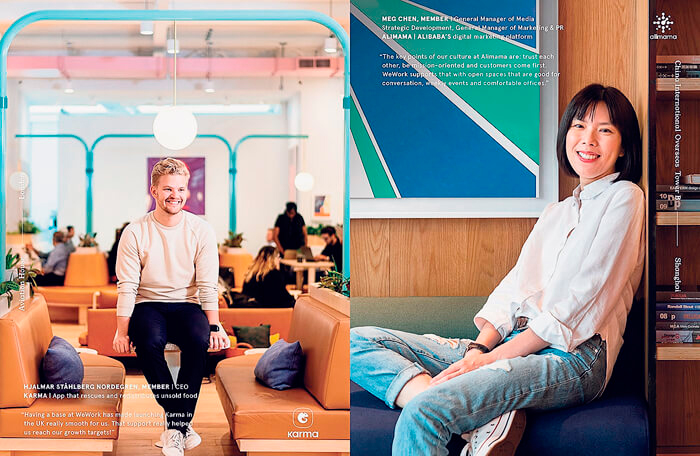 The photos that appeared in WeWork's S-1 filing . Photo: SEC Document
As a result, well-known director Ron Howard, Zoom CEO Eric Yuan, and journalist and author Ariana Huffington all ended up with pictures of themselves in the filing document. To the shock of the veteran wolves of wall street, the Rebekah Neumann photo spread took up 37 pages. Wiedeman wrote that in one of the meetings about the filing, Rebekah Neumann entered the room to "complain that the document was getting weighted down with numbers. 'We've got to tell the story of We,' she told one group of employees."
And still, nothing messed things up as much as the first page of the filing, in which the company is only meant to define its field of activity and its goals. The root of the problem was that WeWork saw itself as a life-altering technology company, while the drab reality was that it was mostly a real estate company. To the dismay of the bankers, the lawyers, and the executives, Wiedeman described, on the morning of the filing the first page included nothing but the following dedication: "To the energy of we— greater than any one of us but inside each of us." Instead of leading the company to a $50 billion valuation, the convergence of the odd document and the people of Wall Street nearly led to its collapse and did in fact lead to Neumann's noisy departure.
"A four-page List of Demands"
A long chapter of the book is dedicated to stories and descriptions of WeWork's famous annual Summer Camps. The first took place in 2012 when the company drove its 200 employees by bus to an event that cost $200,000 and indeed took place in a campground. In 2014, it grew to include more than 1,400 WeWork employees, members, and friends. Canoes were stacked with bottles of Coors Light and Smirnoff Ice, hookah pipes were lined up on tables, and the smell of marijuana spread across the grounds.
By the summer of 2015, the cost of the Summer Camps had reached seven digits. Comedian TJ Miller was recruited to host it and singer/musical producer the Weeknd was flown in for a set. One night during camp, Neumann went missing and employees told Wiedeman there was a concern for his safety. Everyone had been drinking and a jet ski was missing. Mark Lapidus, Rebekah's cousin, whose family owned the grounds, went out looking for him on a boat. In the morning, Neumann was found safe and sound on the other side of the lake at another part of the camp. According to testimonies by his friends, that was when he began to realize that he was losing control and perhaps as a solution, turned more to religion.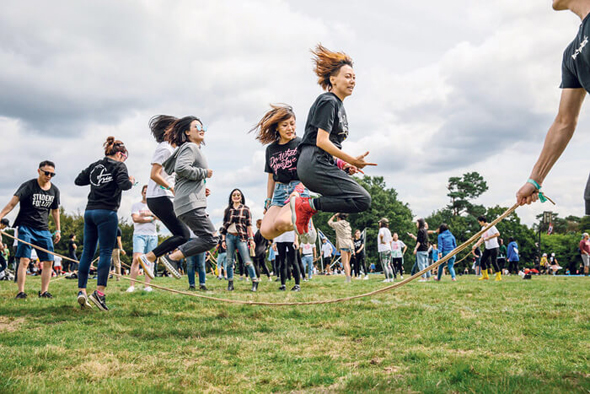 Employees at a WeWork Summer Camp. Photo: Andrew Whitton
The final and most famous Summer Camp took place in 2018, shortly after SoftBank agreed to invest another billion dollars in the company. This camp required 6,000 employees to be flown to London to sleep on mattresses in tents — supposedly to reflect the Kibbutz upbringing Neumann experienced at Nir Am and the spirit of the commune WeWork's co-founder Miguel McKelvey grew up in.
However, according to Wiedeman, that's where the gaps between the two founders were exposed. "WeWork's event team had a one-page list of requests for Miguel's campsite: a fire pit, some Popchips, and enough beer, wine, and coconut water to last the long weekend," he wrote. The list of demands presented by the Neumanns, who arrived at the event on a WeWork's brand-new Gulfstream jet, which the company had purchased for more than $60 million at Adam's behest, was slightly longer.
How much longer? Wiedeman details the list of demands over four pages in the book. It included: three air conditioners, a king-sized bed, two refrigerators, a Signature Range Rover, a Mercedes V Class, 400 plastic shot glasses, and four types of tea. The highlight was an endless list of alcoholic beverages that detailed specific drinks they wanted, including two $1,000 bottles of 30-year-old Highland Park whiskey and eight bottles of kosher Petit Castel 2014 red wine.
Most of the employees enjoyed the Summer Camps, but they quickly became notorious for the sexual harassment that took place during them. One female employee woke up one morning to the sound of running water and discovered that her colleagues were urinating on her tent. Another female employee filed a formal complaint about sexual harassment at the camp.
According to the book, instances of improper behavior and sexual harassment took place outside of the camps as well, when Neumann urged several of the female employees to date Mark Lapidus, the company's head of real estate. Later on, Neumann's personal assistant Medina Bardhi filed a complaint against him over gender discrimination. She said that while she was on maternity leave he had hired a male assistant at double her salary after she had refused to fly on a private jet with him while he was pregnant and he was smoking marijuana.
What about the partner, McKelvey? Did he and Neumann end their shared adventure on the outs?
"McKelvey is an entirely different character, he liked to be in the trenches. He wasn't into striking deals, but rather remained an architect who enjoyed the design parts of WeWork. He, like the other executives, didn't possess the temperament to rein Adam in. They were all caught up in his charm and success. They were always an odd couple and didn't share a lot of similarities in appearance or personality, aside from the fact that both are tall men. There is tension between them over how things concluded, but they are not enemies. McKelvey may have come out with less money than Neumann, but he did alright for himself and currently lives in London."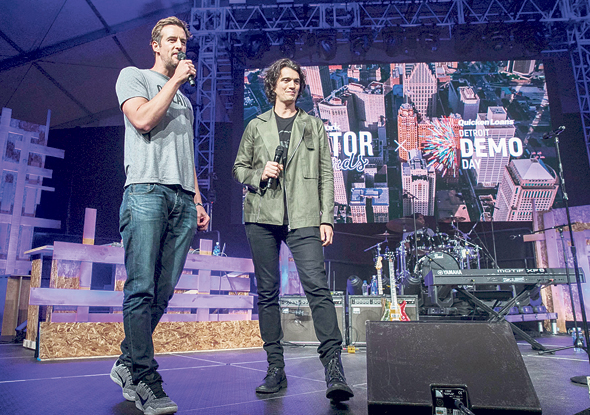 WeWork co-founders Miguel McKelvy and Adam Neumann. Photo:AFP
"Limitations that Neumann Wasn't Aware Of"
Beyond the anecdotes, Wiedeman's book also provides the big picture and a clear central message: What happened with WeWork was a fairly rare, but not a singular, event — a case in which too much ambition collided with too much money. "A lot of startups have the urge to grow as quickly as possible and expand to different fields. That ambition has a positive side, but sometimes it veers you off course," Wiedeman said. "in order to be a successful entrepreneur, one needs to be a unique and extravagant character. There were plenty of other people who launched workspace companies in parallel to Neumann, but for many various reasons, they didn't grow as fast and hit as high valuations as WeWork did. Some of them may not have wanted to, or hesitated, or were simply aware of limitations that Neumann wasn't aware of, or was aware of them and wanted to shatter. After all, that's how you create giant companies, and Neumann is the encyclopedia definition of Chutzpah. It is what's required to be a leader."
When it comes to Neumann's megalomaniac ambitions, Wiedeman said he "spoke to many real estate people in New York who were supposedly his rivals, but Neumann didn't perceive them as such. If you ask him, he'd say his rivals are Elon Musk of Tesla, Brian Chesky of Airbnb, and the rest of the big tech company founders." On that note, Wiedeman commented that two years after Neumann declared that "WeWork Mars is in our pipeline," he finally was granted a meeting with Musk.
"Adam met Musk, along with Michael Gross, at SpaceX headquarters in Los Angeles. Musk was late, as Adam usually was, and he spared only a few minutes for Neumann," Wiedeman wrote. "Adam told Musk that if he could get humans to Mars, WeWork could help build them a home, and a community, that would allow them to thrive on another planet. Musk planned to have humans on Mars by 2024, and in the meantime, Adam offered to set up a simulated WeWork Mars on Earth so they could begin working on the problem. Sustaining life would be the hard part, Adam said. But Musk brushed him off. Getting there was the hard part. Musk said he didn't need WeWork."
So, what can be learned from Neumann's story?
"That every founder requires humility, and that sometimes you need to refuse too much money. As one of the investors in WeWork said, 'the problems of many entrepreneurs is not hunger but rather indigestion.'" The problem was that these words of reproach were only uttered in retrospect and not in real-time. At the time, everyone was blinded by Neumann and his company's success. "WeWork kept growing, its valuation climbed to reach $47 billion and no one, including veteran investors like Bruce Dunlevie from Benchmark or Michael Eisenberg from Aleph, had the motivation to intervene. They preferred to hold back," Wiedeman said.
Why?
"Because you had to be crazy to come out against something that was working so well. The convergence of Neumann and Masayoshi Son was the perfect encounter between two very different people from a physical standpoint — one is tall and the other short —but very similar in their way of thinking. Both were men who wanted to break out. And the timing was good."
Adam Neumann and Masayushi Son. Photo: Sanjay.K.Sharma
One of the book's chapters describes a meeting between the two men in India, followed by a brief encounter in New York in which Son scribbled on his iPad, a sort of "digital napkin," his plan to transform WeWork into a global powerhouse.
"When Son arrived at WeWork the company was nearly out of money," said Wiedeman. "They were looking for stability, were after a modest issuance or an additional investment and suddenly they received $4 billion. It was more than anyone at the time had ever received. Nowadays, in retrospect, employees and investors told me they would have preferred it if the SoftBank investment never happened. But they too can't blame Neumann for taking the money, what was he supposed to do?"
Today Neumann is filing a huge lawsuit against Son. Do you think he's out of the game?
"I think he'll get another chance. It was his first business adventure that ended on a sour note — in part because of his personality, but also because he was sort of a 'child' left without adult supervision. Since he quit he's made some investments and in the past, he's spoken about politics. He's only 41 and he's not the type of person who can just spend his time surfing. But he was right to decide to lower his profile."