Interview
NewRocket's next-generation engines aren't just futuristic, they're green
After NewRocket receives a seed stage investment to produce its low-cost, green engines that rely on clean nontoxic gel fuel, the company is looking to partner with aerospace groups for further testing
The aerospace industry is on the rise now. In recent years, space tech companies have been booming, and several countries including the U.S., India, and Israel are producing the next generation of rockets, engines, fuel, and more. As the private industry expands – due to increasing demand and curiosity – the sector is seeing a sharp rise of new innovative solutions to old-school problems. Despite the financial setbacks caused by the coronavirus (Covid-19) pandemic, one small Israeli startup is blasting forward to the next generation of rocket engines and gel-based fuel that aren't harmful to the environment, and don't pose health risks for employees.

NewRocket is a startup based out of Israel's Technion Israel Institute of Technology in Haifa, and is at the forefront of developing the newest version of clean PowerGel-propellants and environmentally-friendly rocket engines. NewRocket CEO Ilan Harel told Ctech during an interview about how the company is utilizing the NewSpace sector of private spaceflight, to shape the future of space travel.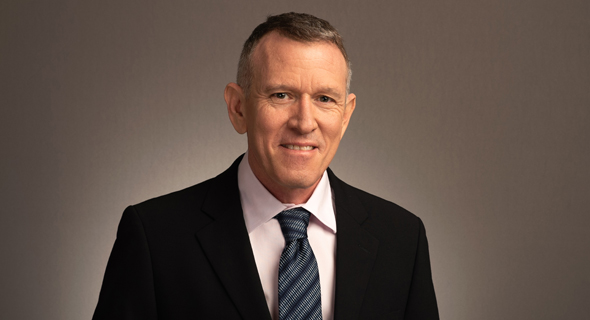 NewRocket CEO Ilan Harel. Photo: Paravoz Photography
Futuristic, yet green
The fuels used today are highly toxic, and are composed of hydrazine - a chemical that has been banned under EU regulations. NewRocket's gel-like fuel is cheaper to produce, non-toxic, and reduces storage and other costs. It has also developed an engine capable of running on this gel-fuel, and recently received a $1 million investment from U.K. group, the Consensus Business Group (CBG), led by investor Vincent Tchenguiz. NewRocket wants to raise an additional $5 million for the rest of its project.
Aerospace companies are on the rise now, with new Israeli space missions in the works, and the expansion of the private industry. Has that had an influence on your company?
"I think it's at the heart of it because our specialized solution which is a combination of powerful controllable engines that are also green contain a certain uniqueness for NewSpace applications. Our product will be able to put an object into a specific orbit, in a specific location, or clean space debris, send moon landers, or even reach asteroids, it's all possible. Our technology can put anything into a specific orbit and enable the user to have complete control of the engine, switching it on and off an unlimited number of times," he said.
The trend of going green is taking off, he noted, mentioning the EU's REACH (Registration, Evaluation, Authorisation and Restriction of Chemicals) regulations that propose finding alternatives to hydrazine fuel, which is marked as a substance of high concern and can be especially hazardous for workers to breathe in. Concepts such as these, which were previously viewed as futuristic, are becoming the norm while adhering to green standards.
"We are replacing those substances with our fuel which is easy to handle, store, and has been tested under strict lab conditions so that we can dissuade people from using toxic materials while reducing the operational cost," he explained.
Although hydrazine fuel is praised as being a green alternative to traditional fuels, the substance itself is particularly concerning if it spills on employees, requiring a hospital visit.
"I think that the combination of this specific application, namely that it can be controlled while using green propellants, is a particularly unique application for NewSpace systems," Harel added.
How is your company contributing to the local Israeli space tech ecosystem?
"We are still in the development phase, and aren't only aiming to reach the Israeli market," he elaborated, "but we have been in touch with several offshore companies. Our next targets are getting additional investments – we recently received our first $1 million investment that helped us further develop our new engines. Our second step would be to partner with a space company – whether Israeli or overseas, to get our engines into space. Our product works perfectly on the ground, but we'd like to test it in space. We're looking for a strategic space-tech partner while adding investments."
"A space engine is not something you can build yourself and put on a spacecraft, but is specially designed per spacecraft," he noted, adding that the company is looking for a partner to further the development of NewRocket's engines.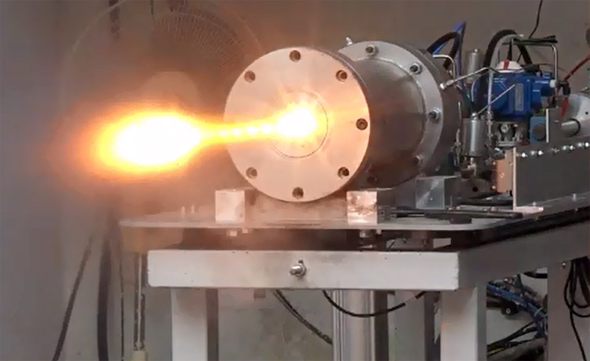 NewRocket's space engine and gel-fuel in action in the lab. Photo: NewRocket
In what ways is your product green? Does it contribute to less atmospheric pollution?
"The green aspect relates especially for the procedures on the ground, and less to do with pollution in the air, but it is a nontoxic material," he shed light on. "Most fuels that are both energetic and controllable applications use hydrazine fuel which is toxic, but our advantages are primarily on the ground, namely in the environment of manufacturing and integration. It doesn't require suits and clean rooms."
Is it difficult to spur investors to fund your company's products?
"I think NewSpace is very appealing to investors, and we got seed investments from Incubit Ventures Elbit Systems' deep-tech startup incubator, who identified potential with our rocket engines and gel-based fuel."
This was followed up with defense and aerospace corporations, who invested in development, as well as funding from Israel Aerospace Industries (IAI). Some of NewRocket's programs were covered by strategic cooperation from government agencies, such as the Israel Space Agency. It also received an investment from a private investor and is on the lookout for further partners, who are willing to invest and send its engines into space.
NewRocket was founded by Zohar Schlagman and Moti Elyashiv at Incubit Ventures, an incubator owned and backed by Elbit Systems and supported by the Israel Innovation Authority (IIA). Incubit Ventures invests in early-stage, deep-tech startups with groundbreaking and disruptive technologies.
Although the company is based out of Haifa and the Technion which owns the patent, it has been fully licensed to the company by Prof. Benny Natan of the Faculty of Aerospace Engineering. Natan was the original inventor and is also a member of the company's advisory board. All of the R&D teams are located in Haifa, while the office space is in Israel's central region. The startup is small and has some 20 employees and subcontractors, two of whom are women. NewRocket's corporate division has some leading female engineers, including some from defense industries, such as IAI's Inbal Kreiss.
Has the coronavirus (Covid-19) pandemic affected your operations in any way?
"All over the market, I haven't seen investors backing out. Today, we mostly speak over Zoom, although I wouldn't say it's business as usual, it has had a minimal effect."
As for his message to young space tech startups out there, he advises them to have a clear plan for investors.
"I think this is the time to promote space startups. You need a clear view and a clear solution to a problem. You need to prove that you're better than somebody else out there. If your message is clear, then investors will follow along," he said.
"Put it in writing and keep it in mind every day."