Gigantic raises $7 million to expand online transformation of real world arcade games
The Israeli startup is behind the game Clawee, which enables playing real claw machines through live video streaming, and the delivering of real prizes to the winner's doorstep
Israeli gaming startup Gigantic Ltd. has completed a $7 million funding round led by NFX Capital and Union Tech Ventures. The company, founded in 2017 by Oded Frommer and Ron Brightman, has to date raised a total of $9 million. Gigantic is the company behind the game Clawee, which enables playing real claw machines through live video streaming, and the delivering of real prizes to the winner's doorstep.

"We were under the radar since we were founded and we now felt big enough to announce our arrival. We want to grow quickly and we are facing a very big challenge. This is a new sector in the gaming world and it has only begun," Brightman told Calcalist. "These machines exist almost in every country in the world. It all began with an organic growth stemming from people's attraction to it. Almost every person has played these machines at least once."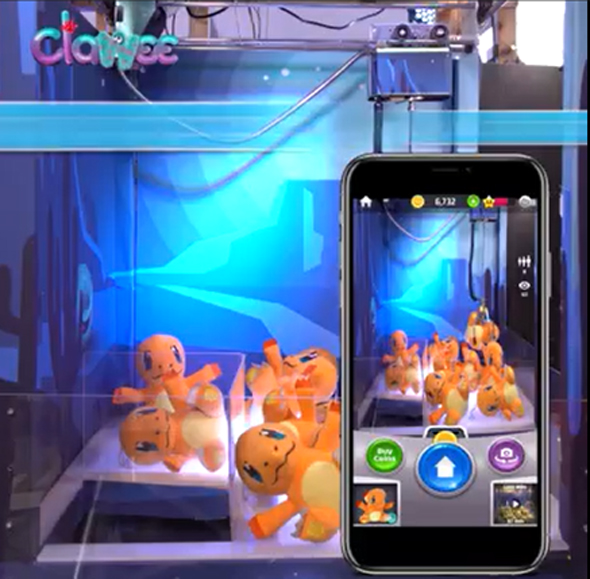 A Gigantic claw machine. Photo: Gigantic

Gigantic builds its own machines and anyone playing Clawee is in fact operating a machine located in the company's studio in Petah Tikva. "We have 220 machines there and we are now opening another studio," noted Brightman. "The machines work 24 hours a day and all the time we have people filling them up with prizes and checking them for errors. There is a vast range of prizes including: makeup, drones, accessories and of course dolls and stuffed animals. The users buy tokens to play the machines and any prize they catch is sent to their home.

"Initially we only bought machines and added our own sensors to keep track of any possible problems," added Brightman. "The app has already been downloaded by eight million people and we mail out 100,000 prizes a month. We have partnerships with the biggest toy manufacturers in the world. The most popular prizes are still dolls, mainly of superheros."

While the claw machines are the most popular in the app, there is also the option to play soccer, basketball and golf games, as well as operate a toy gun to shoot plastic clowns.

Gigantic's headquarters are based in Tel Aviv and the company employs 60 people. The startup plans to expand its workforce in the coming year and improve the playing experience by adding additional options and developing a new app that will be launched during 2021.

"Ron and the Gigantic team created a fun, new, and different playing experience which suits many players across the world," said NFX general partner Gigi Levy-Weiss. "The game is played remotely on a physical machine and this opens up an entire world of remote entertainment which has great potential. As investors, we are always looking for innovation and for people who are thinking outside the box. A new genre of gaming is an excellent reason to invest in a company, especially when it has such an excellent team."