Mind The Tech TLV
Portfolio diversification is challenging for the young and old, says UBS executive
"We use digital tools and we have systems that monitor whether our strategy is being maintained in the clients' portfolios," said Gerry Livnat, Executive Director, General Manager of Wealth Management Israel at UBS
"There are many issues that pose obstacles to the investment process," said Gerry Livnat, Executive Director, General Manager of Wealth Management Israel at UBS during a conversation with neuroscientist Prof. Moshe Bar at Calcalist's Mind the Tech Tel Aviv Conference.

"Say we have an investor who created his wealth through real estate. He knows the sector and all of its parameters. He may diversify his portfolio with different assets, but his portfolio won't be diverse enough. We see that with young people as well, in the cybersecurity or fintech sectors. These youngsters will have a tendency to invest in their company or in other companies from the same sector," Livnat said.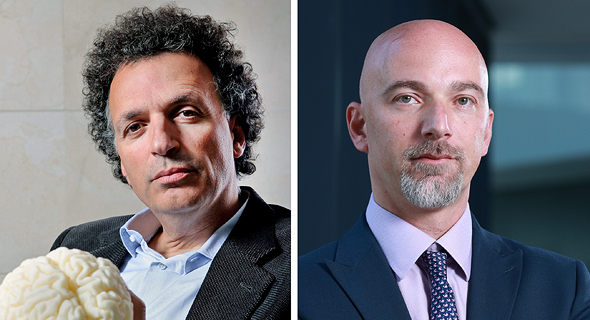 Gerry Livnat, Executive Director, General Manager of Wealth Management Israel at UBS (right) and neuroscientist Prof. Moshe Bar. Photo: Orel Cohen and Amit Shaal

Bar, who is the director of the Gonda Multidisciplinary Brain Research Center at Bar-Ilan University and heads the MINDSET consulting company, said: "During our waking hours our brain is most of the time occupied by reducing uncertainty, and not just in the investment world. We want to survive and we need to know what will happen in the future and when it will affect us. That is why our brain uses its knowledge, like our background, history and experience, and tries to reflect that onto our future so that we can survive and succeed. When people have succeeded in a certain area it is hard to take them away from it. It isn't just a comfort zone, but a zone they are acquainted with.

"We all know the model of the modern entrepreneur —the risk taker," added Bar. "The things that are beneficial when founding a company aren't necessarily beneficial when retaining an investment portfolio that needs to hold for many years. A person needs to be aware of his tendencies. A person needs to decide what type of investor he is or receive assistance from consultants. Regardless, the solution is access to knowledge. Knowledge helps in the decision-making process."

Livnat said that a quarter of the global workforce is currently employed in technology related sectors and that has affected UBS's strategy. "We use digital tools and we have systems that monitor whether our strategy is being maintained in the clients' portfolios. Investment managers are also susceptible to tendencies. But our supporting systems neutralize the effect of the investment managers. The human touch is of course significant and it is difficult to describe strategy to a computer. People change and their lives change."