Israel's At-Bay raises $34 million for cyber insurance
"The significant raise we completed this year allows us to deepen our risk and security monitoring services," says the company's CRO
Israeli company At-Bay, which insures companies against cyberattacks during the digital age has raised $34 million in a series C round led by Qumra Capital. The company also revealed that Microsoft's M-12 fund doubled its investment in this round. To date, the company has raised some $91 million, and its investors include entrepreneur Shlomo Kramer, Lightspeed Venture Partners, insurance giant Munich Re Ventures, Acrew Capital fund, and Khosla Venture. The current investment will be used by the company to recruit additional employees, launch new products, improve its existing platform, and form new collaborations.

"We are an insurance company similar to Lemonade Ltd. and Next Insurance. The main difference is that we are only active in the cyber field. Our expertise is in cyber, and we offer better solutions. We are a combination of a security and an insurance company all in one," CEO Rotem Iram told Calcalist in an interview. "The cybersecurity industry in the U.S. stands at $5 billion, which makes up 90% of the global market."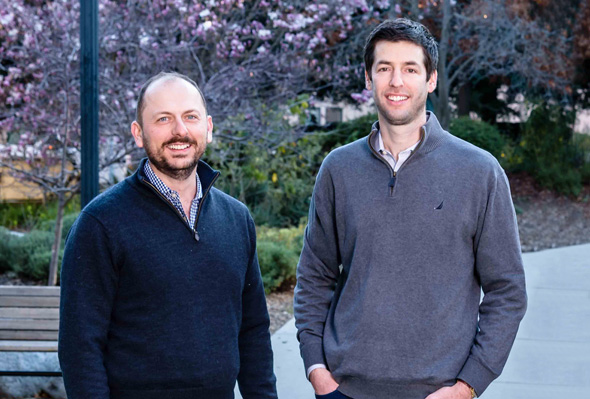 At-Bay co-founders Rotem Iram (right) and Roman Itskovich. Photo: Kevin Neilson
"Demand this past year rose slightly during the coronavirus (Covid-19) pandemic since many were disturbed by the risks of remote connectivity, and more companies began purchasing our product," Iram said. "Our coverage is very broad, and working from home hasn't made any significant changes (to cybersecurity). The greatest change came mainly as a result of ransom claims that have risen sharply during the past two years, not only in the number of attacks but also because ransom demands have doubled over the past four years. In the U.S. today there's a leap in ransom demands that are around $200,000-$400,000. We've seen ransom claims in the millions, and it made our competitors raise the price of their products. We know how to identify risk with our insured companies, and spot vulnerabilities, and that's why we've created a better price for our product."
"Every company and its insurance partners are vulnerable to hacking attacks, and the Shirbit case isn't any different," Iram said of the attack on the Israeli insurance company that unfolded last week. "There still aren't full details about the incident yet, but it probably was a technical problem that we would know how to spot," Iram added. "The insurance covers the company even if there is a low level of professionalism or negligence. Our insurance is limited and I don't know how much Shirbit insured, but my guess is that it probably did not purchase complete coverage that protects against any damages that could occur."
"The fines that companies receive in the U.S. over leaked private customer information are high, and in Israel, things is less strict. Shirbit's equivalent in the U.S. would be more severely harmed. Every Week we see companies deal with ransomware attacks, and even help them negotiate with the attackers. We have experts assisting us.
"In addition to funding expenses and cooperation, we are raising capital for the balance, so that we have enough money in the bank. You must raise large amounts of money, not only from venture capital, but from the institutional world. The time hasn't come yet for Insurtech companies to raise large amounts of money, but we estimate it will be soon."
"The entire topic of ransomware attacks has passed from classic encryption attacks to complete takeover and exposure of information, which is often worth more money to the attacker since most companies' data is backed up. A threat to release information is scarier," Iram said.
At-Bay was founded in 2016, by two co-founders: Iram and CRO Roman Itskovich. The company has seen 60% growth over the past year in insurance premiums and the number of its customers. Since 2019, At Bay has tripled its manpower and opened offices in New York, Atlanta, Chicago, Portland, Los Angeles, and Dallas.
"Cybersecurity has become critical over the years due to the threats and damage that cyberattacks can now cause. At-Bay provides businesses with a significant security network before a cyberattack happens, by using a security team that constantly follows the company's systems, and offers them ways to improve or upgrade their company's data protection," Iram said. "This innovative approach allows us to minimize losses for the insured, and to improve our products, and the high demand for them."
Boaz Dinte, Managing Partner at Qumra Capital said: "The success of Lemonade, Root, and Hippo's have proved that the old insurance office, many centuries old, is ready for drastic changes. At-Bay is an insurtech startup that will do well, due to its original product that is far-reaching and leaves its signature on security and data protection consumers."
Lior Litwak, partner at Microsoft's M-12 fund said: "At-Bay is a new insurtech company that is built to deal with technological dangers of the modern business world. Protecting data systems is a significant challenge for every business, especially for small and medium-sized businesses with limited resources. We see great potential in the company's ability to successfully lead the field of cybersecurity."
"The significant raise we've made this year allows us to deepen our risk and security monitoring services," Itskovich added.