Alstom investing $7 million in Israeli rail cyber protection startup Cylus
The technology will be implemented first in the Tel Aviv metropolitan light rail system with a capacity of 200,000 passengers a day
Alstom will invest $7 million in Israeli railway cybersecurity startup Cylus Cyber Security Ltd. The investment will grant Alstom a minority stake in the company and a seat on its board of directors. The deal also includes a strategic cooperation agreement to build a commercial partnership allowing the companies to combine their respective strengths and provide best-in-class cybersecurity solutions for the rail market.

Together, Alstom and Cylus will integrate cybersecurity technology into railway processes, components, and solutions. The technology will be implemented first in the Tel Aviv metropolitan light rail system with a capacity of 200,000 passengers a day. Alstom previously won a contract to supply the signaling and train control systems for the Tel Aviv Red Line tramway in 2017.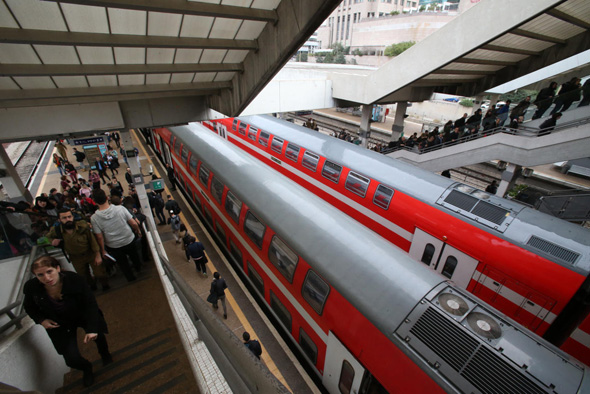 Trains in Tel Aviv. Photo: Shaul Golan

Cylus, which was founded in 2017 and is based in Tel Aviv, specializes in cybersecurity solutions for the railway sector. The company raised $12 million in 2019, which combined with the current investment and a $5 million seed round in 2018, brings its total funding to date to $24 million. Other investors in the company include former Chancellor of Austria Christian Kern, who is currently a partner at The Blue Minds and the former CEO of the state-owned Austrian Federal Railways (OBB), Magma Venture Partners, Vertex Ventures, Cyient, Cerca Partners, SBI Group, and Argus security co-founder Zohar Zisapel.

With this agreement, the companies are joining forces to ensure that the rail industry is equipped to tackle cybersecurity challenges all over the world. The partnership will enhance existing rail systems' cybersecurity capabilities and boost the ongoing development of cybersecurity solutions designed for mobility, to ensure a rapid and resilient response to operator demands.

"Alstom is reinforcing its position in cybersecurity by making sure that it is at the core of all our systems. The expansion of connectivity, the Internet of Things, and Big Data require new measures to protect transport systems," Eddy Thésée, VP of Cybersecurity at Alstom said.

The connection between the two companies is part of Alstom's innovation initiatives in Israel, which includes scouting for Israeli startups, both for investment and for direct innovation collaboration opportunities.

Alstom has been active in the Israeli railway sector, as a rolling stock supplier, railway system integrator, and maintenance service provider, for more than three decades. Alstom was the first to build a tramway in Israel (in Jerusalem) and is responsible for building the signaling system for the Tel Aviv red line tramway.