OrCam sets sights on $3 billion valuation in 2021 IPO
The artificial vision company, set up by the founders of Mobileye, joins ironSource and Monday.com, among others, in ever-growing list of Israeli unicorns targeting a lucrative public offering
Mobileye's little sister is on its way to New York, with OrCam Technologies Ltd., founded and run by Amnon Shashua and Ziv Aviram, set to go public in New York during 2021, a source told Calcalist under the condition of anonymity.
OrCam, which develops devices to help blind or visually impaired people navigate day-to-day life with greater ease, is hoping to raise $300 million in the IPO according to a valuation of $3 billion. OrCam is currently finalizing the list of underwriters for the public offering, which is set to be led by Goldman Sachs, which also guided Mobileye in its IPO.
OrCam is planning to complete one more pre-IPO funding round in the near future in which it is set to raise $150-200 million at a valuation of $1.5-2 billion. Mobileye, which was also founded by Shashua and Aviram in 2010, took a similar route, raising $400 million at a $1.5 billion valuation one year before going public on Nasdaq in 2014 at a valuation of $5 billion. Mobileye was then sold to Intel for $15 billion in 2017. Aviram has estimated in the past that OrCam could one day leapfrog the automotive chip developer in growth and value as the market for its technology is "infinite." OrCam currently employs 200 people, most of them out of its headquarters in Jerusalem.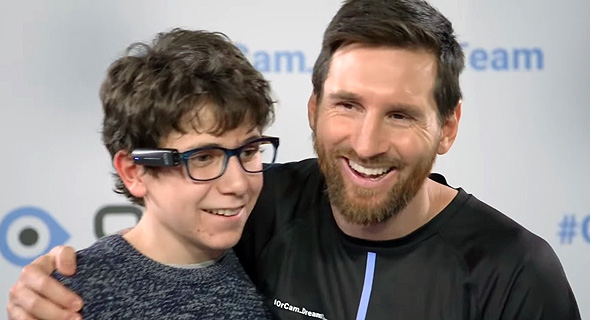 Lionel Messi gifts a boy the OrCam MyEye. Photo: OrCam
According to estimates, OrCam is currently closing on annual revenue of $100 million and is profitable. OrCam's most recent funding round was in 2018 when it raised $30 million at a valuation of just over $1 billion.
Other than the existing investors, including Intel Capital and Aviv Ventures, the latest round also included Israel-based pension fund Meitav Dash Investments Ltd. and Israel-based Clal Insurance. OrCam has raised a total of $90 million to date.
OrCam made international headlines earlier this year when it announced that football legend Lionel Messi will be the company's new ambassador. As a component of the project, OrCam will arrange meetings between dozens of visually impaired people from around the world with the soccer superstar. Every year, Messi will gift the OrCam MyEye, a wireless, lightweight, artificial vision device that discreetly reads printed and digital text, to people with inspiring stories who are blind or visually impaired, some of whom he will personally meet in Barcelona. These individuals will each become members of the "OrCam Dream Team," led by Messi.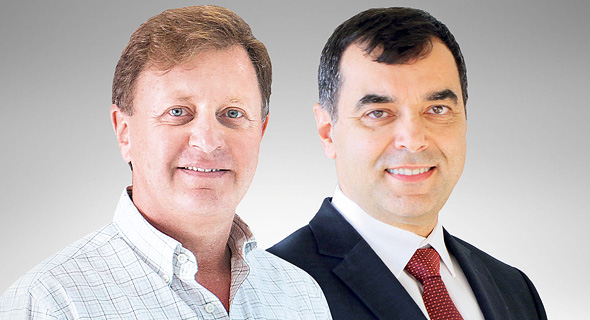 The founders of OrCam and Mobileye, Amnon Shashua (right) and Ziv Aviram. Photo: Tommy Harpaz
Approximately 300 million people worldwide suffer from blindness or varying degrees of visual impairment, and OrCam already supports 25 different languages.
OrCam joins an ever growing list of Israeli unicorns looking to take advantage of the surge in valuation of tech companies on Wall Street by going public during 2021, joining the likes of ironSource, Monday.com and Kaltura. IronSource is believed to be targeting a valuation of between $7 billion and $8 billion when it goes public in the first half of 2021, with Monday.com preparing for a Nasdaq IPO in the first six months of next year at a valuation of at least $3.5 billion. The most lucrative IPO of an Israeli company to date was achieved by Mobileye, which hit the market at a valuation of $5.3 billion in 2014.