Israel's Montfort expands its brain-monitoring app to test for Post-Covid symptoms
The FDA-approved smartphone technology can help patients after their battle with Covid-19 symptoms
Medical startup Montfort, which specializes in neurological disorders, has introduced its real-time, remote brain monitor to offer tests for Covid-19. Conventionally, the solution uses smartphone technology alongside AI to conduct digital neurological tests for patients suffering from conditions such as Parkinson's disease, Huntington's disease, and schizophrenia.
"For reasons that are not fully understood at this stage, the coronavirus is associated with several neurological symptoms that may have a long-lasting effect," says Ziv Yekutieli, Montfort Co-Founder and CEO. "Our platform now offers a post-Covid-19 test protocol which covers the basic motor and cognitive functions, to be used at the clinic or remotely at home."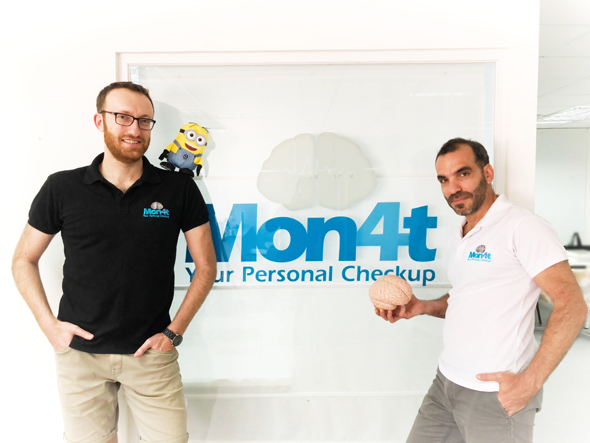 Ziv Yekutieli and Dima Gershman. Photo: Montfort

In the last six months, Montfort has provided the Brazillian 'Hospital de Clínicas de Porto Alegre' with a Remote Patient Monitoring (RPM) platform for monitoring motor and cognitive symptoms in hundreds of people who contracted Covid-19. The company is currently conducting projects and collaborations with a variety of institutes, such as US-based Henry Ford Health System and Medtronic, Hong Kong's Queen Marry hospital, and the Italian Campus Bio-Medico di Roma, among others.

The Montfort app is available in two versions: an app to be used by the physician, and a home version for patients to use from wherever is comfortable for them. It measures behavior such as motor skills, cognitive abilities, and social interaction habits. The data, which is partnered with genetic records or brain scans, can make clinical research simpler and ongoing treatment more efficient.

Montfort was co-founded in 2014 by Yekutieli with Dima Gershman, who serves as the company's CTO. In 2018, the company won the Henry Ford Health System's AI challenge in Israel from more than 50 applicants.