The rise of FinTok: TikTok fraught with danger for fledgling investors
Financial advice videos have been gaining steam on the preferred social network of Generation Z, but should someone be regulating who is educating youngsters on investing?
TikTok, the social network of Generation Z, known mainly for its short viral videos, has been attracting a new crowd over recent weeks. These people are joining in order to receive financial advice. The app is trying to appeal to those who are seeking advice on anything from alternative investment channels to pension fund management. Financial advice may not be what first comes to mind when thinking of a platform which made its name with viral lip sync and dance videos and which has a very young user base. Nevertheless, these extraordinary times have also allowed self-proclaimed finance experts to blossom on TikTok and for young users to find an interest in economics.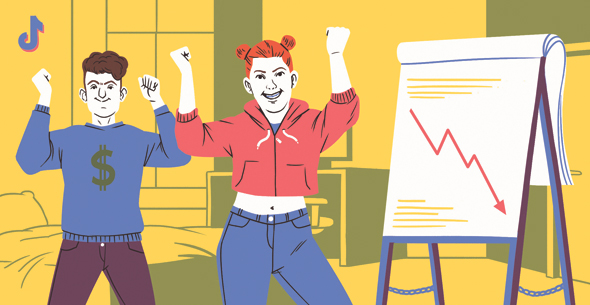 TikTok and Generation Z. Illustration: Yonatan Popper

1. Choose your expert

TikTok is the social network that recorded the greatest growth during the pandemic. Not only did teenagers flock to it, but users from varied sectors of the population found in the platform, with its endless stream of videos, a perfect solution for boredom and fatigue brought on by Covid-19 and its consequences. TikTok reached 2 billion users in April of this year and currently has almost 800 million active users, more than double the combined number of two of its rivals, Snapchat and Twitter.

As TikTok has matured, so has its content and creators who developed and expanded. The severe recession, rising unemployment, and probably also the boredom that came with coronavirus, increased the collective interest in financial independence and responsibility. #FinTok has gained significant traction over recent months and has featured over 80 million videos. #StockTok is even more popular with 187 million videos. These videos provide varied financial advice for users who called themselves 'finktores,' including providing tips on hot stocks, teaching basic economic terminology, providing tools for making a quick profit on Amazon, tricks to increase a credit line and instructions on how to effectively leverage platforms like Fiverr, Etsy, and Robinhood.

Most of this content isn't provided by authorized or experienced financial advisors, with some being more qualified than others. User @queenrmm reminded viewers, for example, that it can take 30 years to pay back a loan but you only get 15 years in prison for robbing a bank. Another user recommended not saving money in a pension fund but rather investing it all in real estate. One user was even convicted of real estate fraud and was fined $750,000 by a U.S. court.

Not only have these advisors become opinion leaders in the TikTok bubble, but other media organizations, especially those trying to appeal to a young audience, have started to market these new influencers as a legitimate source of information.

2. Entry for occasional investors is barred

The new trend on TikTok is part of a movement that began several years ago, but only completely exploded at the start of the pandemic, in which youngsters are seeking to actively experiment in the financial world. This practice was facilitated mainly due to the rise of digital platforms that succeeded in reducing the complexity of the financial world and are pushing for the democratization and mass adoption of the sector.

The company that signified this trend more than any other is Robinhood, a simple digital application to trade in stocks and digital assets, which since the start of the year has added three million new users to the 10 million it amassed in its first seven years of existence. Most of the new traders are in their 20s and 30s and have no previous experience in the field. As a result, the investing made by the new users is sometimes uneducated and rash, and in other instances even includes a basic lack of understanding which results in catastrophic results. That was the case with a 20-year-old student named Alexander Kearns whose family said he died by suicide after being confused and distraught over a negative $730,000 balance on his Robinhood trading account. "How was a 20-year-old with no income able to get assigned almost a million dollar's worth of leverage?" Kearns wrote in a letter he left behind.

The traditional market makers immediately cried out that this incident is a prime example of the danger in trading for the masses. This was an opportunity for them to defend their territory and loudly voice their objection to the easy access uneducated investors received to the investment world. They pushed regulators to investigate, punish and regulate platforms like Robinhood, as well as TikTok.

3. The medium is not the message

Alongside the accessibility provided by TikTok, the platform also creates unique problems. Information on all social media platforms is delivered at a blinding pace aimed to provide its users with a constant sense of satisfaction while flooding them with endless and filterless content. TikTok has taken it up a notch, with the application's algorithm helping videos become viral at a far greater pace than any other platform. This system is necessary for TikTok's survival as it creates more stars with more followers who then create many incentives to create more videos and so on. The same mechanism is also applicable in videos focused on dry financial topics. Therefore, it can be assumed that fact checking and professional accuracy are not at the top of the creators' priority list.

There is no question that young people can make level-headed financial decisions if they are given the opportunity. The fact that young users are less sophisticated and seasoned than investors and market makers is not their fault, and the solution shouldn't be limiting or blocking their access to information. The blame falls on the shoulders of the regulators who turned the economy into what it is today, an inaccessible and daunting world, as well as a society that doesn't provide them with tools and skills that will help them make better decisions and deal with the challenges of information.