Netanyahu urges to seal the skies amid fears of coronavirus mutation
The Israeli prime minister said the price of shutting down air traffic was negligible compared to the risk of a new strain breaking out; Effectiveness of vaccines uncertain
Israeli Prime Minister Benjamin Netanyahu on Sunday said Israel should close off all points of entry immediately, amid reports of a mutation of the coronavirus that is spreading across some parts of the globe.

Speaking at the meeting of the so-called Coronavirus Cabinet, Netanyahu said the efficacy of the existing vaccines against the new strain of the virus is not yet clear and that stopping flights coming in from all countries was a small price to pay for preventing the new strain from reaching Israel.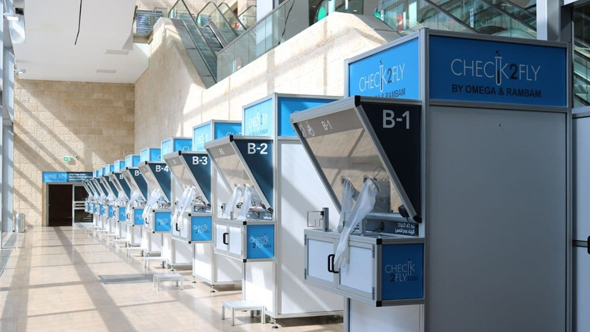 Covid-19 testing booths at Israel's Ben Gurion Airport. Photo: Ynet

"We need to immediately seal the entrances from all countries, only allow businesspeople to enter under strict regulations. The price of doing so is small in the event that the vaccine does not neutralize the mutation," Netanyahu said.

Netanyahu was following the advice of coronavirus czar Dr. Nachman Ash, who said at the meeting that until all flights are canceled, people arriving in Israel from the UK, Australia, South Africa, and Denmark should enter strict quarantine, possibly at government-arranged facilities, and undergo tests to see if they had been infected by the new strain. Ash and other health experts noted that it was not clear whether the existing vaccines produced by pharma companies Pfizer and Moderna, which Israel began administering publicly on Sunday, were effective on the mutated virus. "I stress, there is no proof that the vaccine doesn't work and there is a high likelihood that it does, but we want to be certain," he said.

Health Minister Yuli Edelstein also said he hoped the decision to close the airport altogether would be taken. "We must protect our borders. The priority must be safety and steps we can take now may come too late if we wait," he said.

"It is an extreme step," said Netanyahu, "but there is no legal obstacle to closing off the skies to everyone apart from returning Israelis."

His proposal received some pushback from Transportation Minister Miri Regev, who said there was no reason to cease flights, but Netanyahu contradicted her, saying: "there are all the reasons in the world to stop flights. The cost is negligible. We will make sure to bring back all the Israelis as we did in the past. We can stop this virus from entering the country."

While most Israelis have kept put due to international travel restrictions, it is estimated that upwards of 10,000 Israeli businesspeople and tourists are currently in the UAE, a destination that has become extremely popular due to the signing of the peace agreement earlier this year and its designation as a "green" state that until this week didn't require people returning from there to enter quarantine.

Israel began administering vaccines to medical staff on Sunday. Next in line are elderly Israelis or those in high-risk groups. The wider adult population is slated to get shots in early 2021. On Sunday, HMO call centers were collapsing under the volume of requests by people to register to receive the vaccines.

With a population of 9 million, Israel has logged 373,368 coronavirus cases and 3,074 deaths to date. It has imposed two national lockdowns and is mulling new curbs on high-contagion areas.