A Billion Dollars Or Bust
Unicorn School Lesson 5: Don't turn down money that hits you in the face
The founders of Tipalti, Gong, and Next Insurance, whose companies' valuations have leaped beyond $2 billion offer insights and tips for building unicorns
A large number of private Israeli companies have achieved unicorn status in recent months, meaning that their valuation has hit above $1 billion. Calcalist's Sophie Shulman sat down with some of the founders behind these highly valued companies for a series of eight lessons on how startups can reach this level, and what investors these days are looking for. Lesson #5 is all about not turning down investors' money that hits you in the face.

Lesson 5: Don't turn down money that hits you in the face

So why do companies raise money if they don't touch it? Is it impossible to turn down money?

"We raise as much money as we can, just so that it's there. During good periods, people want to give you a check, and it's irresponsible not to accept it. You can't take money from everyone who wants to give it to you and at every investment round, at any valuation, because you need to ensure that you aren't diluting your holdings or those of your previous investors. Even if there was a potential investor who'd be willing to invest $20 million in Gong, I would refuse the offer," said Chen Amit co-founder and CEO of Tipalti.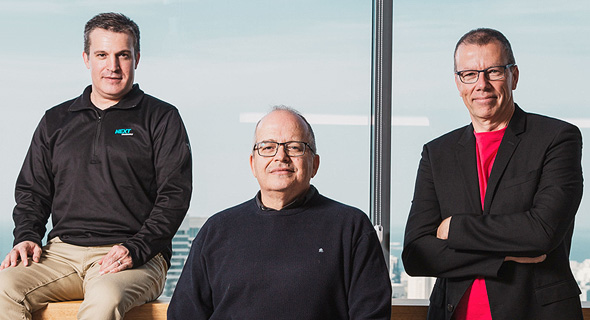 From right to left Amit Bendov, Chen Amit, and Alon Huri. Photo: Tommy Harpaz
In the past, Amit made money playing professional poker, but as a manager he emphasizes that one must be careful with finances. "We are all in control of our finances here. We make informed decisions, and people who invest in our company really believe in our work. But there's too much money in the market today."
According to CRGO and co-founder of Next Insurance Alon Huri, "investment funds have made a lot of money in recent years, it's money that sits on the trees and starts to fall. During the first few months, we didn't plan to raise any money, but after we officially completed all of our tasks, we said 'let's see what investors are saying.' We wanted to get feedback so that we'd have more items on our to-do list. We thought that maybe we'd raise $5 million tops, and didn't plan on it. That's when Guy (Goldstein, one of the co-founders) presented our company to (investor) Oren Zeev. He met us at Cafe Venetia (a well-known cafe in Palo Alto, California where Zeev is a regular) one Friday, and said to him 'By Sunday, you'll have $10 million in your bank account, start working.' Immediately after that, additional investment funds came along, almost without reason, because it was impossible to know how far our idea would get us. It was only because of our reputation in the field."
CEO and co-founder of Gong Amit Bendov admits that his first investment rounds came as a result of his reputation and previous experience, and not because of his product.
The money also flows into the founders' own pockets. Today, investors occasionally pressure company founders to take money home, even before making an exit, something that wasn't customary in the past.
"In 2012, Oren Zeev said to me: 'Sell some shares, you need to have financial backing, take home $300,000,' and I said to him: 'What? We only just started, how can I take money?' Amit said. "After that, he convinced me, and I understood that he was doing it so that I would have financial backing. Since then, an exit hasn't interested me."