Interview
"We are witnessing a digital acceleration in nearly every aspect of life"
Rapid digitalization, reliance on clouds, work from home, and cyberattacks: Ronit Atad sums up her bizarre first year running Microsoft Israel
"The Covid-19 pandemic, and extreme events in general, are process accelerators. Beginning with a company's internal workings and carrying on to production and the services that you offer customers," Ronit Atad, the general manager of Microsoft Israel said in an interview with Hagar Ravet at Calcalist and Microsoft's 'Recalibrating Organizations' conference. "You can see what played out in Israel, people are at home and expect to receive far more personalized services. As a result, we are witnessing a digital acceleration in nearly every aspect of life. Naturally, the larger a company is, the more preparations it requires to carry out changes, not only when it comes to production or external relations but also internally, in managing employees and the organization as a whole."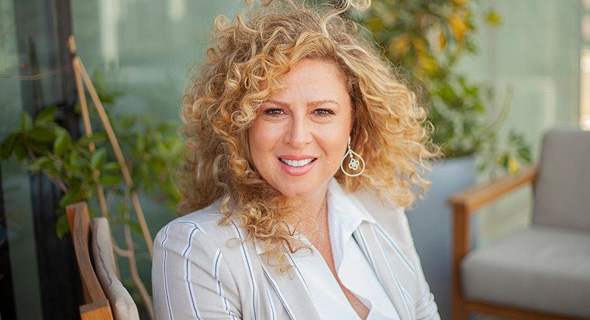 Ronit Atad, General Manager of Microsoft Israel . Photo: Guy Hecht
In our daily lives, we are experiencing working and learning from home and lots and lots of online shopping, but it seems like Israel was behind the curve when the pandemic broke out, did our infrastructures pass the test?
"Certainly, what played out here in eight or nine months would have otherwise taken two or three years, and I hear this from CEOs across the market. It was known that digital acceleration was something that had to be addressed, but some organizations thought they would have more time to prepare for it. Covid-19 forced them to dive into the deep end, starting with the simplest of things — enabling employees to work from home. We are a global organization and are used to enabling remote and shared working platforms. In Israel, because of our size and our culture, it was less common and required more of a change. You need to teach your employees how to work. The platform enables far more than just conversing, it requires a shift in the way you work and it has a large impact on management practices. The goal is to maintain business continuity across all aspects of the organization regardless of the crisis."
In regards to infrastructure, just prior to the Covid-19 outbreak, Microsoft had announced the launch of the first public cloud in Israel. How is it impacting the market?
"It enables computational independence, which is necessary for every country, definitely for Israel. It enables independence — organizations can benefit from everything the new technology has to offer while ensuring the data remains within Israel's borders, whether for their own reasons or for regulatory reasons. The platform is extremely secure and allows you to utilize advanced services, such as artificial intelligence, augmented reality, IoT, autonomous vehicles, 5G networks, gaming, personalized healthcare, and many other technologies we see in use around the world.
"We're aware that people aren't that interested in leaving their homes and coming into the office, but they do want the organization to get to know them better. The demand for personalization that we're witnessing is enabled by using the cloud. Companies, nowadays can't operate on local computing power, no enterprise can sustain such a large volume on their own premises."
We have been hearing in recent weeks about more and more cyberattacks in Israel and all over the world, is the increase a result of these processes or of something companies did incorrectly?
"I think it's proving to companies that they need to switch to working on the cloud. A cyberattack is an assault on the organization's computing system, whether local or on the cloud. It is harder to attack organizations when they're on a secured cloud than when they operate their own servers. Organizations invest a lot in security, but there are limits to how much they can invest and also to the knowledge they possess internally."
You took on the role a year ago, you had a few months of quiet before shifting into managing a huge operation when everyone is working remotely. What were the challenges you face?
"You do it by focusing. I have spent more months managing the company from home than I did from the office and there is a big difference, particularly when you're new. You need to study the organization at the same time as you're leading to changes, all while your clients are undergoing changes too. It highlights the need for focus. The second necessity is continuous communication with the organization at large so that everyone is in sync and everyone sees the bigger picture. By the way, knowing what not to get hung up on is also important. Knowing how to say 'Okay, now I'm doing A, and putting B off to the side'. The third thing is that since you no longer have free time at the office for chance encounters, you need to dedicate many hours to one-on-one conversations. I also initiated roundtable activities— a time to meet up over a cup of coffee and simply talk things over as if we were at the kitchen in the office, mostly it revolves around updating on things that we're doing and the viewing of endless videos that employees created and shared.
"I really miss working in the office. Working on a remote digital platform enables more focus because time is limited, but the absence from the office is felt. The hybrid work model has also taught us a few positive things that we'll take with us going forward. We will find the correct balance."