eToro is on its way to a Nasdaq IPO at a $5 billion valuation
The Israeli company, which has developed a platform to manage investments, is targeting an IPO in the second quarter of 2021 after doubling its revenue to $500 million and gaining five million new customers in 2020
Israeli fintech company, eToro, a social trading and multi-asset brokerage company, is on its way to an initial public offering on Nasdaq at a valuation of $5 billion. The company is currently in talks with investment bank Goldman Sachs regarding leading the IPO. The IPO is scheduled to be completed during the second quarter of 2021. eToro is set to join an ever-growing list of Israeli tech companies embarking on a U.S. IPO in the coming months, including ironSource, Monday.com, OrCam, Payoneer, REE, Taboola, and Outbrain. Similarly to some of those aforementioned companies, eToro is also examining the possibility of completing a SPAC (special-purpose acquisition company) merger in order to hasten its entrance to Wall Street.
eToro has developed a platform to manage investments for private investors, and has enjoyed a sharp increase in its value since the pandemic's outbreak. The spike in valuation to as much as $2.5 billion was confirmed following the recent purchase of shares in the secondary market by a U.S. institutional investor at a sum of at least $50 million, with the unnamed U.S. firm purchasing shares from previous investors and employees.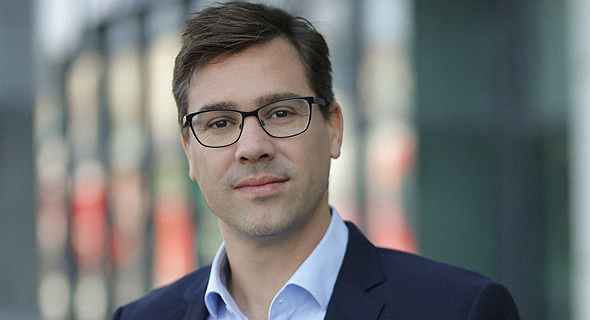 eToro CEO Yoni Assia. Photo: Dudi Hasson
Trading volume has tripled since the beginning of the year
eToro was founded in 2007 by brothers Ronen and Yoni Assia, with the latter currently serving as the company's CEO. In an ironic twist, Israeli customers can't trade using the eToro platform, as it doesn't have approval from the local regulator. eToro has been recognized by regulatory authorities in the U.K, Australia, and Cyprus, and has gained in popularity in European and Asian countries.
The 2020 financial crisis turned young investors into one of the most significant players in the stock market, with the general public's volume of trading rising from 10%-15% to over 20%. That has helped eToro enjoy an unprecedented year, recruiting five million new users, and climbing to a total of 17 million registered customers. In addition, its volume of stock trading through the platform has tripled. The company's revenue doubled to $500 million, and it is profitable.
eToro is following in the footsteps of Robinhood
eToro has recruited hundreds of employees over the past year, and today employs some 1,100 people, with 700 of them in Israel. The company plans to recruit hundreds of additional employees in 2021. Since its founding, eToro has raised $200 million. Some of its investors include the well-known venture capitalist Chemi Peres, Ping An Insurance, and China Minsheng Financial.
The value being targeted by eToro may seem high, but it is less than half of the $11 billion valuation of Robinhood during its recent funding round from private investors in August 2020. Robinhood has 15 million users, and the number of transactions that are conducted on its platform doubled to a daily average of 4.3 million per day in the summer months. Robinhood is also on its way to Wall Street and aims to be valued at $20 billion. According to recent estimates, its revenue was close to $1 billion in 2020. Like eToro, it also aims to attract younger users.
The business model of fintech trading apps is based on charging users a minimum fee and increasing revenue by charging commission from market makers. Robinhood also has a premium level of subscription, where for a fee of $5 a month, users can gain access to a loan platform as well as portfolio investment managing tools. eToro, which started out as a type of social network platform for investments, doesn't charge users for following other investment portfolios.
In response to the report, eToro said: "The company does not respond to market rumors."